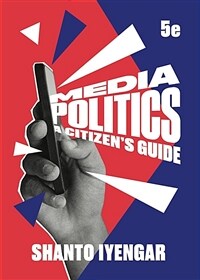 000
00000cam u2200205 a 4500
001
000046154804
005
20230801140541
008
230731s2023 nyua b 001 0 eng
010

▼a

2022058210
020

▼a

9780393887778

▼q

(paperback)
020

▼z

9781324040415

▼q

(ebook)
035

▼a

(KERIS)REF000020102751
040

▼a

DLC

▼b

eng

▼e

rda

▼c

DLC

▼d

211009
042

▼a

pcc
043

▼a

n-us---
050

0

0

▼a

P95.82.U6

▼b

I94 2023
082

0

0

▼a

302.230973

▼2

23
084

▼a

302.230973

▼2

DDCK
090

▼a

302.230973

▼b

I97m5
100

1

▼a

Iyengar, Shanto

▼0

AUTH(211009)144819.
245

1

0

▼a

Media politics :

▼b

a citizen's guide /

▼c

Shanto Iyengar.
250

▼a

Fifth edition.
260

▼a

New York :

▼b

W.W. Norton & Company,

▼c

2023.
264

1

▼a

New York :

▼b

W.W. Norton & Company,

▼c

2023.
300

▼a

xvii, 398 p. :

▼b

ill. ;

▼c

24 cm.
336

▼a

text

▼b

txt

▼2

rdacontent
337

▼a

unmediated

▼b

n

▼2

rdamedia
338

▼a

volume

▼b

nc

▼2

rdacarrier
504

▼a

Includes bibliographical references and index.
505

0

▼a

Introduction : image is everything -- The press and the democratic process : the American system in comparative perspective -- The media marketplace : where Americans get the news -- Reporters, official sources, and the decline of adversarial journalism -- New media, new forms of communication -- Campaigning through the media -- Campaigns that matter -- News and public opinion -- Going public : governing through the media -- Evaluating media politics.
520

▼a

"A current perspective from a leading scholar. This significant revision shows how current issues like the normalizing of "alternative facts," the management of the COVID-19 crisis, the 2020 election and Trump's exit from office, and the proliferation of social media fit into a larger understanding of political communication. Shanto Iyengar, a leading scholar in the field, makes contemporary research accessible and engaging with new examples and data throughout. No book illuminates more clearly how media influences politics and how politicians use media to get elected, stay in power, and achieve policy goals"--Provided by publisher.
650

0

▼a

Mass media

▼x

Political aspects

▼z

United States.
650

0

▼a

Press and politics

▼z

United States.
651

0

▼a

United States

▼x

Politics and government.
945

▼a

ITMT
---
Holdings Information
No.
Location
Call Number
Accession No.
Availability
Due Date
Make a Reservation
Service

No.

1

Location

Main Library/Western Books/

Call Number

302.230973 I97m5

Accession No.

111883207

Availability

Missing

Due Date

Make a Reservation

Service

No.

2

Location

Main Library/Western Books/

Call Number

302.230973 I97m5

Accession No.

111883208

Availability

Missing

Due Date

Make a Reservation

Service

No.

3

Location

Main Library/Western Books/

Call Number

302.230973 I97m5

Accession No.

111885943

Availability

Available

Due Date

Make a Reservation

Service

No.

4

Location

Main Library/Course Reserves(Main Library)/

Call Number

302.230973 I97m5

Accession No.

111886650

Availability

Course Reserve

Due Date

Make a Reservation

Service
Contents information
Book Introduction
This significant revision shows how current issues like the normalizing of "alternative facts," the management of the COVID-19 crisis, the 2020 election and Trump's exit from office, and the proliferation of social media fit into a larger understanding of political communication. Shanto Iyengar, a leading scholar in the field, makes contemporary research accessible and engaging with new examples and data throughout. No book illuminates more clearly how media influences politics and how politicians use media to get elected, stay in power, and achieve policy goals.

Information Provided By: :

Author Introduction
샨토 아이엔가
(지은이)
스탠포드 대학교 정치학과 교수이자 후버 연구소(Hoover Institution)의 선임 연구원이다. 뉴스 미디어와 매스 커뮤니케이션이 현대 정치에서 차지하는 역할을 주로 연구하고 가르치고 있고, <워싱턴포스트>에도 정규적으로 칼럼을 기고하고 있다. 저작에는 <News That Matters: Television and American Opinion>(1987, 2010), <Is Anyone Responsible?>(1991), <Explorations in Political Psychology>(1993), <Going Negative: How Political Advertisements Shrink and Polarize the Electorate>(1995), <A Citizen's Guide>(2007) 등이 있다. 정치학 연구와 관련해서는 머레이 에델만 공로상(Murray Edelman Career Achievement Award), 여론 분야 최우수 도서에 수여하는 필립 컨버스 상(Philip Converse Award, <News that Matters>)과 골드스미스 도서상(Goldsmith Book Prize, <Going Negative>) 등을 수상했다.
Information Provided By: :

Table of Contents
Chapter 1. Introduction: Image Is Everything

Chapter 2. The Press and the Democratic Process: The American System in Comparative Perspective

Chapter 3. The Media Marketplace: Where Americans Get the News

Chapter 4. Reporters, Official Sources, and the Decline of Adversarial Journalism

Chapter 5. New Media, New Forms of Campaigning

Chapter 6. Campaigning through the Media

Chapter 7. Campaigns That Matter

Chapter 8. News and Public Opinion

Chapter 9. Going Public: Governing through the Media

Chapter 10. Evaluating Media Politics


Information Provided By: :