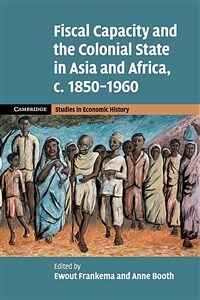 000
00000nam u2200205 a 4500
001
000046136020
005
20221206181958
008
221206r20222020nyua b 001 0 eng d
020

▼a

9781108714297
040

▼a

211009

▼c

211009

▼d

211009
043

▼a

a------

▼a

f------

▼a

e------
050

4

▼a

HJ1441

▼b

.F54 2022
082

0

4

▼a

339.5/209509041

▼2

23
084

▼a

339.52095

▼2

DDCK
090

▼a

339.52095

▼b

F528
245

0

0

▼a

Fiscal capacity and the colonial state in Asia and Africa, c. 1850-1960 /

▼c

edited by Ewout Frankema, Anne Booth.
250

▼a

1st pbk. ed.
260

▼a

New York :

▼b

Cambridge University Press,

▼c

2022.
300

▼a

xv, 303 p. :

▼b

ill. ;

▼c

23 cm.
490

1

▼a

Cambridge studies in economic history
504

▼a

Includes bibliographical references and index.
650

0

▼a

Fiscal policy

▼z

Africa

▼x

History.
650

0

▼a

Fiscal policy

▼z

Asia

▼x

History.
651

0

▼a

Europe

▼x

Colonies

▼x

Administration

▼x

History.
700

1

▼a

Frankema, Ewout,

▼e

editor.
700

1

▼a

Booth, Anne,

▼d

1946-,

▼e

editor.
830

0

▼a

Cambridge studies in economic history.
945

▼a

ITMT
---
Holdings Information
No.
Location
Call Number
Accession No.
Availability
Due Date
Make a Reservation
Service

No.

1

Location

Main Library/Western Books/

Call Number

339.52095 F528

Accession No.

111872338

Availability

Available

Due Date

Make a Reservation

Service
Contents information
Author Introduction
앤 부스
(엮은이)
호소력 짙은 데뷔 소설 《다하우에서 온 편지》를 출간하여 2015 카네기 상 후보, 워터스톤즈 어린이책 상 후보에 올랐다. 이 책을 기획한 편집자 논 프랫은 이 책이 "읽는 이들의 마음과 정신을 변화시킬 것"이라고 평했다. 남편과 십 대인 네 명의 자녀, 개 두 마리, 닭 세 마리와 함께 살고 있다. 서점을 운영하고 대학에 강의를 나가면서 요양 시설에서 봉사 활동을 하며 지낸다. 친구와 가족, 그리고 우리가 일상에서 직면하는 소소하되 의미심장한 선택의 순간들을 주제로 한 청소년 소설을 쓰고 있다. 지은 책으로는 《다하우에서 온 편지》 등이 있다.
Information Provided By: :

Table of Contents
1. Fiscal capacity and the Colonial State. Lessons from a comparative perspective Ewout Frankema and Anne Booth; 2. Towards a modern fiscal state in Southeast Asia, c. 1900-60 Anne Booth; 3. Why was British India a limited state? Tirthankar Roy; 4. Indigenous and colonial institutions in the fiscal development of French Indochina Montserrat Lopez Jerez; 5. Fiscal development in Taiwan, Korea and Manchuria: was Japanese colonialism different? Anne Booth and Kent Deng; 6. From coast to hinterland. Fiscal capacity building in British and French West Africa, c. 1880-1960 Ewout Frankema and Marlous van Waijenburg; 7. New colonies, old tools. Building fiscal systems in East and Central Africa Leigh Gardner; 8. Local conditions and metropolitan visions: fiscal policies and practices in Portuguese Africa, c.1850-1970 Kleoniki Alexopoulou; 9. How mineral discoveries shaped the fiscal system of South Africa Abel Gwaindepi and Krige Siebrits.