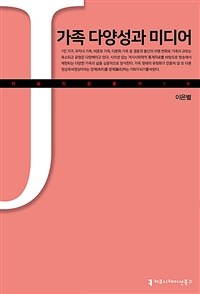 000
00000cam c2200205 c 4500
001
000046135353
005
20221130152444
007
ta
008
221130s2022 ulk b 000c kor
020

▼a

9791128864711

▼g

04300
035

▼a

(KERIS)BIB000016555717
040

▼a

244008

▼c

244008

▼d

211009
082

0

4

▼a

070.4

▼2

23
085

▼a

070.4

▼2

DDCK
090

▼a

070.4

▼b

2021z4

▼c

19
100

1

▼a

이은별
245

1

0

▼a

가족 다양성과 미디어 /

▼d

이은별
260

▼a

서울 :

▼b

커뮤니케이션북스,

▼c

2022
300

▼a

77 p. ;

▼c

19 cm
490

1

0

▼a

저널리즘 총서 ;

▼v

19
504

▼a

참고문헌 수록
830

0

▼a

저널리즘 총서 ;

▼v

19
945

▼a

ITMT
---
Holdings Information
No.
Location
Call Number
Accession No.
Availability
Due Date
Make a Reservation
Service

No.

1

Location

Main Library/Monographs(3F)/

Call Number

070.4 2021z4 19

Accession No.

111871966

Availability

Available

Due Date

Make a Reservation

Service
Contents information
Book Introduction
미디어는 당대 가족상을 재현하여 동시대성을 획득하는 동시에 오늘날 변화하는 가족상과 균열을 일으키며 역사성을 드러낸다. 혼인과 출산 이행의 변화로 인해 가족 구성의 모양새가 변하면서 방송 프로그램도 다양한 가족 형태를 대변하고 있다. 전에 없던 새로운 형태의 가족이 프로그램에 등장하고, 이러한 미디어의 가족 다양성은 기존 가족 기능의 변화를 수반할 수밖에 없다. 이 책을 통해 가족다양성을 재현하는 미디어의 역할을 살펴보는 동시에 가족 형태의 유형화가 만들어 낼 또 다른 정상과 비정상이라는 경계(境界)를 경계(警戒)하는 기회가 되기를 기대한다.
미디어에 나타난 별별 가족
>고딩엄빠> >나 혼자 산다> >물 건너온 아빠들> 등 변화하는 가족상 재현

동정녀 마리아가 예수를 잉태한 것은 신화다. 그러나 KBS >슈퍼맨이 돌아왔다>의 예능인 사유리는 현대 의학의 도움으로 결혼 없이 아이를 낳은 현실의 슈퍼우먼이다. 출산에 관한 자기결정권을 내세우며 자발적인 비혼모의 삶을 선택한 그녀는 '결혼은 원치 않지만 아이는 원하는' 일부 여성들에게 큰 반향을 일으켰다.
MBN >어른들은 모르는 고딩엄빠>에는 이른 나이에 부모의 책임감을 짊어진 고딩엄빠들이 등장한다. 철부지 불장난으로 낳은 신생아가 연일 버려지고 있는 현실에서 새생명을 포기하지 않고 기특한 선택을 한 이들에게 닥친 어려움과 갈등, 극복 과정을 보여준다. SBS >동상이몽-너는 내 운명>에서는 혈연주의를 넘어선 입양에 대한 사회적 인식의 변화와 무자녀 부부, 그중에서도 난임을 경험한 부부의 사례가 가족 다양성의 외연을 확장한다. MBC >물 건너온 아빠들>에서는 다양한 문화적 배경을 가진 대한외국인 가족의 일상을 선보이기도 한다.

미디어는 당대 가족상을 재현하여 동시대성을 획득하는 동시에 오늘날 변화하는 가족상과 균열을 일으키며 역사성을 드러낸다. 혼인과 출산 이행의 변화로 인해 가족 구성의 모양새가 변하면서 방송 프로그램도 다양한 가족 형태를 대변하고 있다. 전에 없던 새로운 형태의 가족이 프로그램에 등장하고, 이러한 미디어의 가족 다양성은 기존 가족 기능의 변화를 수반할 수밖에 없다.
결혼과 출산의 이행 변화로 가족의 규모는 축소되고 유형은 다양해지는 현실을, 시의성 있는 거시사회학적 통계자료를 바탕으로 방송에서 재현되는 다양한 가족의 삶을 심층적으로 분석하는 것이 이 책의 주된 목적이다. 이 책을 통해 가족다양성을 재현하는 미디어의 역할을 살펴보는 동시에 가족 형태의 유형화가 만들어 낼 또 다른 정상과 비정상이라는 경계(境界)를 경계(警戒)하는 기회가 되기를 기대한다.
Information Provided By: :

Author Introduction
이은별
(지은이)
한국외국어대학교 미디어외교센터 전임연구원이다. 고려대학교 언론학과(현 미디어학부)에서 "튀니지의 한류 팬덤 연구"로 박사학위를 받았다. 한류의 글로벌 수용에 관한 ??The Korean Wave: Evolution, Fandom and Transnationality (2017)??의 챕터 "When Korean Wave flows into the Islamic world: Hallyu in Tunisia"를 저술하였다. 논문으로는 "한국의 중동·아랍·이슬람 보도 지형"(2022), "한국 영화 <7번방의 선물> 리메이크를 통해 본 한국-터키 문화 비교 연구"(2022), "보이지만 보이지 않는 '그들': 구소련권 여성 관련 유튜브 콘텐츠의 재현과 수용"(2022) 등이 있다. 문화연구자로서 현장과 학계를 오가며 글로벌 문화 수용을 탐색하고 있다.
Information Provided By: :

Table of Contents
가족의 재발견

01 청년 1인 가구의 명암
02 결혼 안팎의 중년 1인 가구
03 노년 1인 가구의 자유와 고독
04 한부모 가족의 솔로 육아
05 돌아온 가족, 재혼 가족
06 무자녀 가족의 동상이몽
07 자발적 비혼모 가족의 등장
08 청소년 부모 가족의 역습
09 이웃집 다문화 가족의 조건
10 이방인의 이산가족