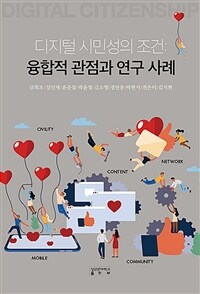 000
00000cam c2200205 c 4500
001
000046134458
005
20221118150804
007
ta
008
221117s2022 ulka b AL 000c kor
020

▼a

9791155505618

▼g

03330
035

▼a

(KERIS)REQ000057791338
040

▼a

222001

▼c

222001

▼d

211009
082

0

4

▼a

303.4833

▼2

23
085

▼a

303.4833

▼2

DDCK
090

▼a

303.4833

▼b

2022z37
245

0

0

▼a

디지털 시민성의 조건 =

▼x

Digital citizenship :

▼b

융합적 관점과 연구 사례 /

▼d

금희조 [외]
260

▼a

서울 :

▼b

성균관대학교 출판부,

▼c

2022
300

▼a

211 p. :

▼b

삽화 ;

▼c

23 cm
500

▼a

공저자: 임인재, 윤준섭, 박윤정, 김소영, 정민웅, 박현지, 전은미, 김지현
504

▼a

참고문헌: p. 197-211
536

▼a

이 저서는 2021년 대한민국 교육부와 한국연구재단의 지원을 받아 제작됨

▼g

(NRF-2021S1A5C2A02088387)
700

1

▼a

금희조,

▼g

琴喜朝,

▼d

1973-,

▼e

저

▼0

AUTH(211009)56327
700

1

▼a

임인재,

▼e

저
700

1

▼a

윤준섭,

▼e

저
700

1

▼a

박윤정,

▼e

저
700

1

▼a

김소영,

▼e

저
700

1

▼a

정민웅,

▼e

저
700

1

▼a

박현지,

▼e

저
700

1

▼a

전은미,

▼e

저
700

1

▼a

김지현,

▼e

저
945

▼a

ITMT
---
Holdings Information
No.
Location
Call Number
Accession No.
Availability
Due Date
Make a Reservation
Service

No.

1

Location

Main Library/Monographs(3F)/

Call Number

303.4833 2022z37

Accession No.

111871444

Availability

In loan

Due Date

2023-02-10

Make a Reservation

Available for Reserve

Service
Contents information
Book Introduction
디지털 전환시대를 맞아 융복합 미디어를 통한 커뮤니케이션 과정에서 인문사회적 가치가 훼손되는 다양한 사례가 발생하고 있다. 악성 댓글, 허위 정보, 혐오 표현 등 디지털 커뮤니케이션의 반시민성 사례는 나열하기 힘들 정도로 수없이 많다. 이 책은 디지털 미디어상에서 인간적 커뮤니케이션의 회복을 위해서 문제를 융합적 관점에서 토론하고, 다학제적 이론 연구를 통해 학술적 이해를 제공하고, 다양한 방법론을 통해 원인과 결과를 분석하는 과정의 초석을 제공하기 위해 기획되었다.
융합적, 멀티 방법론적 연구의 기반을 마련하는 데 기여하고, 디지털 시민성 증진을 위한 문제해결형 AI 알고리즘 개발 등 창의적 개입을 가능하게 하고, 공동체 건강과 가치를 회복하는 데 기여한 연구서

디지털 전환시대를 맞아 융복합 미디어를 통한 커뮤니케이션 과정에서 인문사회적 가치가 훼손되는 다양한 사례가 발생하고 있다. 악성 댓글, 허위 정보, 혐오 표현 등 디지털 커뮤니케이션의 반시민성 사례는 나열하기 힘들 정도로 수없이 많다. 이 책은 디지털 미디어상에서 인간적 커뮤니케이션의 회복을 위해서 문제를 융합적 관점에서 토론하고, 다학제적 이론 연구를 통해 학술적 이해를 제공하고, 다양한 방법론을 통해 원인과 결과를 분석하는 과정의 초석을 제공하기 위해 기획되었다.
이 책은 디지털 시민성/반시민성에 관한 융합적 관점과 연구 사례를 총 8장으로 구성했다. 1장부터 3장까지는 디지털 커뮤니케이션의 시민성/반시민성을 개념화하고 측정, 식별하기 위한 방법론들과 기초 과정을 제안했고, 4장부터 8장까지는 다양한 관련 주제에 대한 다학제적 이론과 연구 사례들을 소개했다.
먼저 1장은 디지털 커뮤니케이션 시민성/반시민성을 학문적으로 개념화하고 과학적 척도를 개발하기 위한 사전 과정으로 전문가 대상 델파이 조사의 진행 과정을 기술했다. 2장에서는 선거 과정에서 나타난 뉴스 온라인 댓글의 반시민성에 대한 양적 내용 분석을 실시하고 기술적 데이터를 통해 그 실태를 보고했다. 이 내용 분석 코딩 결과를 기반으로, 3장은 머신러닝 기법을 활용하여 댓글 자연어 데이터에서 반시민성을 검출해내는 과정과 방법을 제안했다. 4장에서는 인공지능 저널리즘 현상을 소개하고, 그 과정에서 언론의 시민성 훼손과 기자 신뢰도에 미치는 영향에 관해 연구 사례를 기술했다. 5장은 디지털 커뮤니케이션 반시민성의 대표적인 형태인 사이버 불링과 사회 규범의 관계에 대해 다양한 이론적 관점과 연구 사례를 통합적으로 분석했다. 6장은 사이버 공간에서 MZ세대의 시민성/반시민성과 관련되는 요인을 도출하기 위한 설문조사 방법을 제안하며 부정적 영향의 예방 및 개입에 기여할 기초적인 자료를 제공하고자 했다. 7장에서는 SNS 이용자들이 사건 사고의 피해자들에 대해 사회적 지지를 보내고 도덕성을 평가하는 과정에서 나타나는 시민성/반시민성의 연구 사례를 다양한 심리학의 이론적 관점을 통해 해석했다. 마지막으로 8장에서는 정체성 정치의 위기를 맞아 디지털 시민성의 지향 방향에 대해 비판 이론적 관점에서 해석과 실천 방안을 제시하고자 했다.
이 책이 융합적, 멀티 방법론적 연구의 기반을 마련하는 데 기여하고, 디지털 시민성 증진을 위한 문제해결형 AI 알고리즘 개발 등 창의적 개입을 가능하게 하고, 공동체 건강과 가치를 회복하는 데 도움이 될 것으로 기대한다.
Information Provided By: :

Author Introduction
금희조
(지은이)
성균관대학교 미디어커뮤니케이션학과 교수다. 위스콘신-매디슨대학교에서 박사학위를 받았다. 레거시 미디어뿐 아니라 SNS 등 뉴미디어가 이용자 개인과 사회 전반에 어떤 임팩트를 가지는지 사회과학적 관점으로 탐구하고 있다. 삼성영상사업단 프로듀서와 텍사스?샌안토니오 대학교 조교수를 역임했다. 현재 성균관대학교 미디어문화융합대학원 원장과 한국여성커뮤니케이션학회 기획이사 및 편집위원을 맡고 있다. 한국언론학회 연구이사, 한국사이버커뮤니케이션학회 편집이사, 특임이사, 한국여성커뮤니케이션학회 총무이사 등을 역임했다. 주요 연구 분야는 미디어 효과, 뉴미디어의 사회적 임팩트, 정치 커뮤니케이션이다. Communication Research, Human Communication Research, Political Communication, Journal of Advertising, Journal of Broadcasting & Electronic Media, Journalism and Mass Communication Quarterly, International Journal of Communication, ≪한국방송학보≫, ≪한국언론학보≫ 등에 다수의 논문을 발표했다.
임인재
(지은이)
성균관대 글로벌융·복합콘텐츠연구소 선임연구원
전은미
(지은이)
글로벌융·복합콘텐츠연구소 선임연구원
김소영
(지은이)
성균관대 미디어커뮤니케이션학과 박사 수료
박윤정
(지은이)
성균관대 글로벌융·복합콘텐츠연구소 선임연구원
박현지
(지은이)
성균관대 문화예술미디어융합원 선임연구원
김지현
(지은이)
성균관대 문화예술미디어융합원 선임연구원
윤준섭
(지은이)
성균관대 글로벌융복합콘텐츠연구소 연구원
정민웅
(지은이)
성균관대 글로벌융복합콘텐츠연구소 선임연구원
Information Provided By: :

Table of Contents
머리말 디지털 시민성의 조건: 융합적 관점과 연구 사례 / 금희조

01 반시민성 척도 개발을 위한 델파이 조사 / 임인재
02 뉴스 댓글의 시민성에 대한 내용 분석 / 윤준섭
03 머신러닝을 활용한 온라인 뉴스 댓글에서의 비시민성 검출 / 박윤정
04 인공지능 기자에 대한 신뢰 / 김소영
05 사이버 불링과 사회 규범 / 정민웅
06 청소년과 연결된 세계로서의 사이버 공간 / 박현지
07 기대불일치가 SNS에서 나타난 피해자 지지에 미치는 영향 / 전은미
08 정체성 정치에서 디지털 시민성의 방향 / 김지현

참고문헌