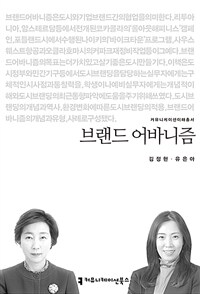 000
00000cam c2200205 c 4500
001
000046124571
005
20220816115233
007
ta
008
220811s2021 ulk b 000a kor
020

▼a

9791128816260

▼g

04330
040

▼a

211009

▼c

211009

▼d

211009
082

0

4

▼a

658.827

▼2

23
085

▼a

658.827

▼2

DDCK
090

▼a

658.827

▼b

2021z28
100

1

▼a

김정현
245

1

0

▼a

브랜드 어바니즘 /

▼d

김정현,

▼e

유은아 지음
260

▼a

서울 :

▼b

커뮤니케이션북스,

▼c

2021
300

▼a

xx, 78 p. ;

▼c

19 cm
490

1

0

▼a

커뮤니케이션이해총서
504

▼a

각 장마다 참고문헌수록
700

1

▼a

유은아,

▼e

저
830

0

▼a

커뮤니케이션이해총서
---
Contents information
Book Introduction
브랜드 어바니즘은 도시와 기업 브랜드 간의 협업을 의미한다. 리투아니아, 암스테르담 등에서 전개된 코카콜라의 '롤 아웃 해피니스' 캠페인, 포틀랜드시에서 수행된 나이키의 '바이크타운' 프로그램, 사우스웨스트항공과 오클라호마시의 커파크 재정비 작업 등이 그 예다.

브랜드 어바니즘의 목표는 더 가치 있고 살기 좋은 도시 만들기다. 이 책은 도시 정부와 민간 기구 등에서 도시 브랜딩을 담당하는 실무자에게는 구체적인 시사점과 통찰력을, 학생이나 예비 실무자에게는 개념적 이해와 도시 브랜딩의 최근 동향 파악에 도움을 주기 위해 쓰였다. 도시 브랜딩의 개념과 역사, 환경 변화에 따른 도시 브랜딩의 적용, 브랜드 어바니즘의 개념과 유형, 사례로 구성됐다.

도시의 가치를 높이는 도시 브랜딩 가이드북
도시정부 실무자에게 구체적인 시사점과 통찰력 제공

2918년 7월 서울시내 초등학교 앞에 마스크 자판기가 등장했다. 이 자판기는 미세먼지가 심한 날이면 자판기 앞을 지나는 어린이들을 인식해 자동으로 마스크를 제공했다. 특히 이 마스크는 온도가 변하면 색이 달라지는 특수 장치를 적용해 아이들이 착용하면 입김에 따라 미세먼지 캐릭터가 모습을 드러냄으로써 마스크를 착용하는 것을 답답해하는 아이들에게 신기함과 재미를 느끼고 마스크를 스스로 착용하도록 유도했다. 서울시와 제일기획의 협업으로 진행된 '피카부 마스크' 캠페인이다. 브랜드 어바니즘의 일례다.

브랜드 어바니즘을 간략히 요약하면 도시와 기업의 브랜드 간 협업이다. 브랜드 어바니즘은 도시와 기업의 브랜드 간의 협업을 통하여 도시가 당면한 다양한 문제를 해결함과 동시에 기업의 입장에서는 소비자의 집객 공간이자 멀티 플랫폼의 역할을 하는 도시 내에서 브랜드에 대한 경험과 관여, 공감을 높일 수 있는 전략의 일환이다. 성공적인 브랜드 어바니즘은 도시의 입장에서는 도시민들이 당면한 문제를 해결하고 도시민의 삶을 개선시키는 동시에 도시의 가치를 높이고, 기업의 입장에서는 자사의 브랜드 자산을 높이는 효과 있다.

이 책은 도시와 브랜딩에 대한 고민에서 출발했다. 그동안 도시는 브랜딩을 통하여 다양한 인식과 이미지를 만들어 갔다. 그러나 이런 도시 브랜딩이 단순히 도시에 대한 브랜드 인식과 이미지를 만드는 데에서 그치는 것이 아니라 도시가 직면한 다양한 문제들을 해결하고 도시민의 삶과 도시의 가치를 실제로 증대시킬 수는 없을까? 이런 질문에 대해 저자들은 브랜드 어바니즘을 답으로 제시한다. 그리고 아직은 생소할 수 있는 브래드 어바니즘의 개념부터 역사, 사례, 그리고 앞으로 나아가야할 방향을 제시한다.

학계와 마케팅 현장에서 브랜드에 대한 연구와 실무 경험을 다년간 쌓아온 저자들은 이 책이 "실제 도시의 정부 기관 및 민간 기구 등에서 도시의 문제를 해결하고 도시 브랜딩을 실행하고자 하는 실무자들에게 구체적인 시사점과 통찰력을 제공할 수 있다"고 밝혔다. 또한 도시 브랜딩에 대한 이해를 높이고자 하는 학생이나 예비 실무자에게도 개념적 이해와 함께 도시 브랜딩에 대한 최근의 동향을 파악하는 데에 도움이 될 수 있을 것이다.
Information Provided By: :

Author Introduction
김정현
(지은이)
중앙대학교 광고홍보학과 교수다. 서울대학교에서 불어불문학으로 학사학위를, 미국 펜실베이니아대학교 아넨버그스쿨에서 커뮤니케이션 석사학위를, 서울대학교 대학원 언론정보학과에서 문학박사학위를 받았다. SBS 서울방송 기획실, 금강기획 마케팅전략 연구소 책임연구원, 중앙대학교 광고PR연구소장, 서울브랜드위원회 부위원장, 언론중재위원회 중재위원, 한국자율광고심의기구 심의위원, 국립수목원·노동부·국토교통부 정책홍보 자문위원, 한국광고홍보학회 회장, 한국언론학회·한국PR학회 이사 등을 역임하였다. 저역서로는 『브랜드 자산관리』, 『브랜드 어바니즘』, 『광고와 마케팅의 새로운 세계』, 『미디어 방정식』, 『서구민주주의와 정치광고』 등이 있다.
유은아
(지은이)
서울대학교 대학원 경영학과에서 경영학 석사학위를, 중앙대학교 대학원 광고홍보학과에서 광고홍보학 박사학위를 받았다. 광고대행사 나라기획, 하쿠호도제일에서 기획(AE)으로, 앤더모스트에서 브랜드 컨설턴트로 근무하였다. 중앙대학교, 숙명여자대학교, 건국대학교 등에서 광고 및 브랜드 커뮤니케이션에 대하여 강의하였으며, 새로운 소비자와 브랜드 간의 관계에 대하여 연구하고 있다. "Exploring the effect of personal traits on advertising combining TV and the QR code"(공저, 2013), "오프라인의 실제적 자아와 SNS에서의 자아 간의 자아불일치에 영향을 미치는 선행요인과 결과요인"(공저, 2015), "The holistic brand experience of branded mobile applications affects brand loyalty"(공저, 2016), "SNS 내 브랜드 경험의 선행 및 후행요인 연구"(공저, 2016) 등의 논문이 있다.
Information Provided By: :