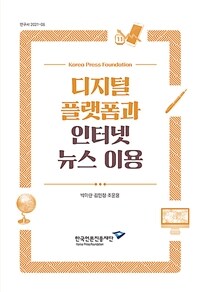 000
00000nam c2200205 c 4500
001
000046108908
005
20220315151622
007
ta
008
220302s2021 ulkad b 000c kor
020

▼a

9788957116289

▼g

93070
040

▼a

211009

▼c

211009

▼d

211009
082

0

4

▼a

070.430285

▼2

23
085

▼a

070.430285

▼2

DDCK
090

▼a

070.430285

▼b

2021z1
100

1

▼a

박아란,

▼d

1972-

▼0

AUTH(211009)105591
245

1

0

▼a

디지털 플랫폼과 인터넷 뉴스 이용 /

▼d

박아란,

▼e

김민정,

▼e

조윤용
260

▼a

서울 :

▼b

한국언론진흥재단,

▼c

2021
300

▼a

161 p. :

▼b

삽화, 도표 ;

▼c

23 cm
490

1

0

▼a

연구서 ;

▼v

2021-06
504

▼a

참고문헌: p. 159-161
700

1

▼a

김민정,

▼d

1974-,

▼e

저

▼0

AUTH(211009)40932
700

1

▼a

조윤용,

▼d

1979-,

▼e

저

▼0

AUTH(211009)144665
830

0

▼a

연구서 (한국언론진흥재단) ;

▼v

2021-06
945

▼a

ITMT
---
Holdings Information
No.
Location
Call Number
Accession No.
Availability
Due Date
Make a Reservation
Service

No.

1

Location

Main Library/Monographs(3F)/

Call Number

070.430285 2021z1

Accession No.

111859679

Availability

Available

Due Date

Make a Reservation

Service
Contents information
Book Introduction
디지털 언론 환경에서 포털을 비롯한 인터넷뉴스서비스 사업자의 영향은 지대하다. 국내 포털 사업자뿐만 아니라 구글, 페이스북 등 해외 플랫폼 사업자가 국내 언론에 미치는 영향력도 점차 증가하고 있다. 이러한 상황에서 미디어 이용자들이 인터넷뉴스서비스사업자의 언론에 대한 영향과 기능, 사회적 책무에 대해 어떻게 인식하고 있는지 알아보기 위해 설문조사를 실시하여 그 결과를 분석했다. 또한 이 연구는 뉴스 관련 플랫폼을 규제할 때는 뉴스가 사회적 가치 내지 공적 가치와 밀접한 연관이 있으며 시민의 표현의 자유와 언론의 자유, 알 권리와도 직접적 연관이 있음이 고려되어야 함을 강조한다.
디지털 언론 환경에서 포털을 비롯한 인터넷뉴스서비스 사업자의 영향은 지대하다. 국내 포털 사업자뿐만 아니라 구글, 페이스북 등 해외 플랫폼 사업자가 국내 언론에 미치는 영향력도 점차 증가하고 있다. 이러한 상황에서 미디어 이용자들이 인터넷뉴스서비스사업자의 언론에 대한 영향과 기능, 사회적 책무에 대해 어떻게 인식하고 있는지 알아보기 위해 설문조사를 실시하여 그 결과를 분석했다. 또한 이 연구는 뉴스 관련 플랫폼을 규제할 때는 뉴스가 사회적 가치 내지 공적 가치와 밀접한 연관이 있으며 시민의 표현의 자유와 언론의 자유, 알 권리와도 직접적 연관이 있음이 고려되어야 함을 강조한다. 음악과 영화를 제공하는 디지털 플랫폼은 알고리즘을 통해 이용자의 취향에 부합하는 콘텐츠만 전달하더라도 사회적으로 심각한 문제가 발생하지 않는다. 그러나 뉴스 콘텐츠는 이용자의 취향만을 기준으로 제공하기에는 편향성을 가중시킬 수 있는 사회적 위험이 따른다. 좋은 뉴스가 디지털 플랫폼을 통해 더 잘 노출되기 위해서는 콘텐츠 생산자와 매개자, 이용자 간의 힘의 균형이 필요하며 이를 위한 각국의 정책적 노력도 함께 수록하였다.

Information Provided By: :

Author Introduction
박아란
(지은이)
한국언론진흥재단 책임연구위원이다. 미국 오리건대학교 저널리즘·커뮤니케이션 스쿨에서 박사학위를 받았다. 서울대학교 언론정보학과에서 석사를, 경영학과에서 학사를 마쳤다. 현재 연세대학교 언론정보대학원에서 '미디어법', '디지털 표현의 자유' 과목을 강의하고 있다. 주된 전공분야는 미디어법과 정책이며 언론윤리, 저널리즘에 대해서도 강의 및 연구를 했다. 비교법적 연구방법론을 사용하여 인터넷법과 미디어법에 대한 많은 연구를 진행하였으며 국내 및 국제학술대회에서 발표했다. 『International Encylopedia of Media Law: South Korea』, 『온라인 허위정보와 뉴스 미디어』, 『디지털 시대의 잊힐 권리와 기사 삭제』, 『공인 보도와 언론의 자유』, 『언론 자유 향상을 위한 법률적 방안』, 『미디어와 명예훼손』, 『인터넷 표현의 자유』 등의 저서를 집필했으며 언론법과 저널리즘 관련 다수의 논문을 발표했다.
김민정
(지은이)
한국외국어대학교 미디어커뮤니케이션학부 교수다. 한국외국어대학교 영어과 학사, 신문방송학과 석사, 미국 노스캐롤라이나대학교 저널리즘&매스커뮤니케이션 석사, 박사를 졸업했다. 미국 하와이퍼시픽대학교와 미국 콜로라도주립대학교에서 교수로 재직했다. 한국언론법학회 연구이사와 카카오 미디어자문위원을 맡고 있으며, KBS 미디어 비평프로그램 <미디어인사이드> 자문교수로 활동했다. 미디어법과 디지털 미디어를 중심으로 연구를 하고 있다. 국내 학술지와 Communication Law and Policy, Journal of Copyright Society of USA, Journal of Computer-Mediated Communication, Telecommunications Policy와 같은 해외 저명 학술지들에 논문을 게재했다.
Information Provided By: :

Table of Contents
01. 디지털 시대의 뉴스 소비
1. 언론 개념과 시대적 변화
1) 논의의 배경
2) 언론 개념의 변화
2. 디지털 시대 뉴스 소비와 언론 신뢰
1) 뉴스 이용 방식과 경로 변화
2) 온라인 뉴스 인식 및 신뢰도

02. 해외 정책동향: 유럽
1. 서론
2. 유럽 각국의 동향
1) 논의의 배경
2) 유럽연합(EU) 디지털 단일시장 저작권지침
3) 독일
4) 프랑스
5) 덴마크
6) 영국
7) 소결

03. 해외 정책동향: 호주와 미국
1. 호주
1) 논의의 배경
2) 뉴스미디어와 디지털 플랫폼의 강제 협상법(News Media and Digital Platforms Mandatory Bargaining Code)
3) 입법 전후로 이뤄진 뉴스 사용료 협상 체결
4) 소결
2. 미국
1) 논의의 배경
2) 언론사 공동협상 허용: 저널리즘 경쟁보호법(안)
3) 지역 언론 지원방안
4) 기타 제언
5) 소결
3. 해외동향 요약 및 논의

04. 시민인식조사: 연구방법
1. 연구대상 및 조사방법
2. 응답자 특성

05. 인터넷뉴스 이용 현황과 인식
1. 인터넷 뉴스 이용 현황
1) 포털 뉴스서비스 이용 현황
2) 소셜미디어를 통한 뉴스 이용 현황
2. 인터넷 뉴스에 대한 시민 인식
1) 인터넷 뉴스의 언론 역할에 대한 시민 인식
2) 포털 뉴스에 대한 시민 인식
3) 소셜미디어를 통한 뉴스에 대한 시민 인식
4) 알고리즘 개별 맞춤 뉴스에 대한 시민 인식

06. 인터넷뉴스서비스에 대한 인식
1. 인터넷뉴스 문제점에 대한 시민 인식
2. 인터넷뉴스서비스사업자의 책무에 대한 시민 인식

07. 인터넷뉴스서비스에 대한 논의
1. 시민 인식조사 요약 및 함의
1) 인터넷뉴스 이용 현황
2) 인터넷뉴스서비스에 대한 인식
3) 인터넷뉴스서비스의 사회적 책무에 대한 인식
2. 인터넷뉴스서비스의 사회적 책무와 규제 논의
1) 논의 배경과 해외 동향
2) 미국의 플랫폼 관련 법개정 최신 논의
3) 온라인 뉴스 관련 국내외 판결 동향
4) 인터넷뉴스서비스사업자 관련 법개정안과 논의