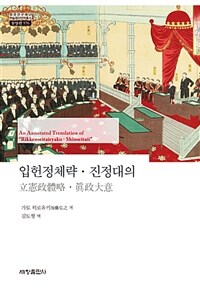 000
00000cam c2200205 c 4500
001
000046100959
005
20211214154157
007
ta
008
211214s2017 ulk 001c kor
020

▼a

9788984116726

▼g

93340
035

▼a

(KERIS)BIB000014482993
040

▼a

211046

▼c

211046

▼d

211032

▼d

211009
041

1

▼a

kor

▼h

jpn
082

0

4

▼a

320.952

▼2

23
085

▼a

320.952

▼2

DDCK
090

▼a

320.952

▼b

2017z6
100

1

▼a

加藤弘之,

▼d

1836-1916
245

1

0

▼a

입헌정체략 ;

▼a

진정대의 =

▼x

An annotated translation of "Rikkenseitairyaku·Shinseitaii" /

▼d

가토 히로유키 저 ;

▼e

김도형 역
246

0

9

▼a

立憲政體略
246

3

▼a

Rikken seitairyaku
246

3

1

▼a

Annotated translation of "Rikkenseitairyaku·Shinseitaii"
260

▼a

서울 :

▼b

세창출판사,

▼c

2017
300

▼a

265 p. ;

▼c

24 cm
490

1

0

▼a

한국연구재단 학술명저번역총서.

▼a

동양편 ;

▼v

576
500

▼a

'진정대의'의 원표제는 '真政大意'임
500

▼a

색인수록
500

▼a

"가토 히로유키 연보" 수록
500

▼a

원문 영인 수록
700

1

▼a

김도형,

▼g

金度亨,

▼d

1974-,

▼e

역

▼0

AUTH(211009)5193
830

0

▼a

한국연구재단 학술명저번역총서.

▼p

동양편 ;

▼v

576
900

1

0

▼a

Kato, Hiroyuki,

▼e

저
900

1

0

▼a

가토 히로유키,

▼e

저
940

▼a

Shinsei taii
945

▼a

KLPA
---
Holdings Information
No.
Location
Call Number
Accession No.
Availability
Due Date
Make a Reservation
Service

No.

1

Location

Main Library/Monographs(3F)/

Call Number

320.952 2017z6

Accession No.

111855710

Availability

Available

Due Date

Make a Reservation

Service
Contents information
Book Introduction
한국연구재단 학술명저번역총서 동양편 576권. 가토 히로유키는 에도시대 후기로부터 메이지시대를 관통하는 근대 일본의 지적 전환기를 상징하는 인물이라고 해도 과언은 아니다. 그는 독일을 모델로 하는 근대 일본 국가학의 개조였고, 막부 말기에 설치된 반쇼시라베쇼로부터 도쿄대학에 이르는 근대적 연구.교육기관의 수장이었으며, 진화론에 입각한 사회학, 국가학을 전면에 내세워 일본의 국가주의 강화에 일조했던 보수적인 학자이기도 했다.

<입헌정체략>과 <진정대의>는 그가 아직 진화론을 받아들이기 이전에 저술한 소위 초기 삼부작 중 두 권으로, 여기에서 가토는 천부인권론에 입각하여 서양의 제도와 사상을 수용하는 것이 당시 막 탄생한 메이지 일본이 나아갈 길이라는 점을 역설하고 있다.

특히 가토는 '안민', '인정'과 같은 유교적 관념에 기초하면서도 그 구체적 내용으로서 '권리와 의무', '삼권분립', '참정권' 등 서구의 새로운 제도 및 정치사상을 이해하고 수용하는 양상을 보여 주고 있다는 점에서 이 책은 근대 일본, 나아가 동아시아의 서구제도 및 사상의 수용이 전통적 관념과 어떤 영향관계 속에서 이루어지고 있는지를 보여 주는 흥미로운 저작이라고 말할 수 있다.
가토 히로유키加藤弘之(1836-1916)는 에도시대 후기로부터 메이지시대를 관통하는 근대 일본의 지적 전환기를 상징하는 인물이라고 해도 과언은 아니다. 그는 독일을 모델로 하는 근대 일본 국가학의 개조開祖였고, 막부 말기에 설치된 반쇼시라베쇼蕃書調所로부터 도쿄대학東京大學에 이르는 근대적 연구·교육기관의 수장이었으며, 진화론Darwinism에 입각한 사회학, 국가학을 전면에 내세워 일본의 국가주의 강화에 일조했던 보수적인 학자이기도 했다. 『입헌정체략立憲政體略』과 『진정대의眞政大意』는 그가 아직 진화론을 받아들이기 이전에 저술한 소위 초기 삼부작 중 두 권으로, 여기에서 가토는 천부인권론天賦人權論에 입각하여 서양의 제도와 사상을 수용하는 것이 당시 막 탄생한 메이지 일본이 나아갈 길이라는 점을 역설하고 있다. 특히 가토는 '안민安民' '인정仁政'과 같은 유교적 관념에 기초하면서도 그 구체적 내용으로서 '권리와 의무' '삼권분립' '참정권' 등 서구의 새로운 제도 및 정치사상을 이해하고 수용하는 양상을 보여 주고 있다는 점에서 이 책은 근대 일본, 나아가 동아시아의 서구제도 및 사상의 수용이 전통적 관념과 어떤 영향관계 속에서 이루어지고 있는지를 보여 주는 흥미로운 저작이라고 말할 수 있을 것이다.
Information Provided By: :

Author Introduction
가토 히로유키
(지은이)
1836년 출생. 양학자, 계몽사상가, 교육관료, 초대 도쿄대학(東京大學) 총장을 역임하면서 근대적 학제형성 및 확립에 큰 영향을 끼쳤다. 일본에서 입헌정체와 의회론을 최초로 다룬 저서인 『도나리구사(隣草)』를 썼고, 이후로도 정치학, 국가학 관련 저술을 다수 남겼다. 특히 진화론의 초기 수용자로, 진화론에 입각한 세계관, 국가관이 일본에서 유행하는 데 산파역할을 했으며, 자신의 정치론과 국가론도 모두 진화론에 입각해 전개하게 되면서 후기에는 대표적인 보수주의자, 국가주의자로 알려지게 되었다. 1916년 81세의 나이로 사망할 때까지 왕성한 학문 활동을 펼쳐 다수의 저작, 강연집 등을 남겼다.
김도형
(옮긴이)
성균관대학교 철학과 졸업. 성균관대학교 동아시아학술원에서 근대 일본 학자로 도쿄대학 초대 총장을 역임한 가토 히로유키(加藤弘之)의 초기 정치사상과 유학과의 관련성을 다룬 박사논문을 썼다. 현재 성균관대학교 동아시아학술원 책임연구원으로 재직 중이며, 주로 동아시아의 근대, 그중에서도 서양의 제도와 사상과 문물이 어떻게 동아시아에 들어오고 변용되었는지의 문제에 관심을 두고 연구 중이다. 〈근대 동아시아의 '天'과 '進化'―嚴復과 加藤弘之의 진화론 수용양상 비교연구―〉(2017), 〈가토 히로유키의 진화론과 전쟁 인식―청일·러일전쟁 관련 저술 분석을 중심으로―〉(2018), 〈A Comparative Study on Acceptance and Distribution of Modern Medical Care in Japanese Colonies〉(2018) 등 여러 편의 논문을 저술했으며, 《입헌정체략·진정대의》(2017) 등 다수의 번역서를 냈다.
Information Provided By: :

Table of Contents
일러두기·6
해제·7

입헌정체략立憲政體略
머리말 43
정체총론 45
1. 군정君政 46
갑. 군주천제·46 을. 군주전치·46 병. 상하동치(또는 군민동치)·46
2. 민정民政 47
갑. 귀현전치·47 을. 만민공치·47
상하동치 51
국헌 52
삼대권병 52
입법권병·52 시정권병·58 사율권병·59
만민공치 61
국헌 63
삼대권병 63
입법권병·63 시정권병·65 사율권병·66
국민 공사公私의 두 가지 권리 67
사권 68
공권 70

진정대의眞政大意
서序 107
자서自序 111
상권卷上 113
하권卷下 187

가토 히로유키 연보 256
찾아보기 263