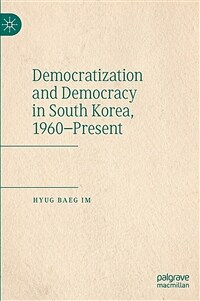 000
00000cam u2200205 a 4500
001
000046088396
005
20210805150426
007
ta
008
210805s2020 si a b 001 0 eng d
020

▼a

9789811537028
035

▼a

(KERIS)BIB000015683047
040

▼a

211046

▼c

211046

▼d

211009
082

0

4

▼a

320.9519

▼2

23
084

▼a

320.953

▼2

DDCK
090

▼a

320.953

▼b

I31d
100

1

▼a

Im, Hyŏk-paek.
245

1

0

▼a

Democratization and democracy in South Korea, 1960-present /

▼c

Hyug Baeg Im.
260

▼a

Singapore :

▼b

Palgrave Macmillan,

▼c

c2020.
300

▼a

xxiii, 319 p. :

▼b

ill. ;

▼c

22 cm.
504

▼a

Includes bibliographical references (p. 299-308) and index.
650

0

▼a

Politics and culture

▼z

Korea (South).
651

0

▼a

Korea (South)

▼x

Politics and government.
900

1

0

▼a

Im, Hyug Baeg.
945

▼a

KLPA
---
Holdings Information
No.
Location
Call Number
Accession No.
Availability
Due Date
Make a Reservation
Service

No.

1

Location

Main Library/Western Books/

Call Number

320.953 I31d

Accession No.

511047924

Availability

Available

Due Date

Make a Reservation

Service
Contents information
Author Introduction
임혁백
(지은이)
고려대학교 정치외교학과 명예교수, 광주과학기술원GIST 석좌교수. 서울대학교를 졸업하고 시카고대학교에서 박사학위를 받았다. 이화여대, 조지타운대, 듀크대, 스탠퍼드대, 존스홉킨스대 등에서 교수를 지냈다. 고려대학교 정책대학원 원장, 평화와 민주주의연구소 소장, BK21교육연구단 단장 등을 역임했으며, 1998년부터 2004년까지 대통령 정책기획위원회 정치행정분과 위원장을 역임하고 대통령직속 사회통합위원회 위원, 통일부 정책평가위원, 국회입법조사처(NARS) 자문위원 등을 지냈다. 주요 저서로 《시장, 국가, 민주주의》 《세계화시대의 민주주의》 《신유목적 민주주의》(2010년 한국정치학회 학술상 수상), 《1987년 이후의 한국 민주주의》(2011년 학술원 우수학술도서), 《산과 강은 바다에서 만나고: 지중해 역사문화》(2015년 문화체육관광부 우수교양도서), 《비동시성의 동시성: 한국 근대정치의 다중적 시간》(2015년 대한민국 학술원상 수상, 2015년 학술원 우수학술도서, 2017년 ICAS(아시아학자세계총회) 우수학술도서상), Democratization and Democracy in South Korea, 1960-Present 등이 있다.
Information Provided By: :

Table of Contents
1. Introduction: My democratization studies in retrospect.2. The rise of bureaucratic authoritarianism in South Korea.3. Recasting Park Chung Hee''s authoritarianism: myths, reality, and legacies.4. Politics of democratic transition from authoritarian rule in South Korea.5. Christian churches and democratization in South Korea.6. Opportunities and constraints to democratic consolidation in South Korea.7. From affiliation to association: the challenge of democratic consolidation in Korean industrial relations.8. Faltering democratic consolidation in South Korea: democracy at the end of Three Kims era.9. The development and change of Korean democracy since democratic transition in 1987: Three Kims Politics and after.10. Democratic development and authoritarian development compared.11. Better democracy, better economic growth?