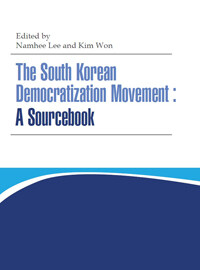 000
00000cam u2200205 a 4500
001
000046077786
005
20210420105717
008
210419s2016 ko a 000 0 eng d
010

▼a

2017460298
020

▼a

9791158661168 (pbk.)
035

▼a

(KERIS)REF000018521603
040

▼a

HLS

▼b

eng

▼c

HLS

▼e

rda

▼d

OCLCO

▼d

OCLCF

▼d

OCLCQ

▼d

DLC

▼d

211009
042

▼a

lccopycat
043

▼a

a-ko---
050

0

0

▼a

DS922.15

▼b

.S68 2016
082

0

4

▼a

321.809519

▼2

23
084

▼a

321.80953

▼2

DDCK
090

▼a

321.80953

▼b

S727
245

0

4

▼a

The South Korean democratization movement :

▼b

a sourcebook /

▼c

edited by Namhee Lee and Kim Won.
260

▼a

Seongnam, Korea :

▼b

Academy of Korean Studies Press,

▼c

2016.
264

1

▼a

Seongnam-si, Korea :

▼b

The Academy of Korean Studies Press,

▼c

2016.
300

▼a

xxviii, 345 p. :

▼b

illustrations ;

▼c

25 cm.
336

▼a

text

▼b

txt

▼2

rdacontent
337

▼a

unmediated

▼b

n

▼2

rdamedia
338

▼a

volume

▼b

nc

▼2

rdacarrier
650

0

▼a

Democracy

▼z

Korea (South)

▼x

History

▼y

20th century

▼v

Sources.
651

0

▼a

Korea (South)

▼x

History

▼y

1960-1988

▼v

Sources.
700

1

▼a

Lee, Namhee,

▼e

editor.
700

1

▼a

Kim, Wŏn,

▼e

editor.
945

▼a

KLPA
---
Holdings Information
No.
Location
Call Number
Accession No.
Availability
Due Date
Make a Reservation
Service

No.

1

Location

Main Library/Western Books/

Call Number

321.80953 S727

Accession No.

111847529

Availability

Available

Due Date

Make a Reservation

Service
Contents information
Book Introduction
한국 근현대사, 특히 민주화운동 관련 사건들의 배경, 사회적 맥락, 논점 등을 다룬 핵심적인 1차 자료를 번역 소개하고 해설한다. 1960년 4월 혁명 시기 민주화운동, 5·16 군사쿠데타 이후 민주화운동, 유신 시기 민주화운동, 서울의 봄 시기 민주화운동, 1980년 광주민주화운동, 1987년 민주화운동 전후 등을 중심으로 다룬다.

'현대한국 영문자료총서'는 현대 한국 사회가 단기간 내에 이룩한 산업화, 민주화, 사회변동 등에 대한 해외 한국학 분야의 학문적 관심에 부응하고자 한국 현대사회와 문화에 대한 이해와 연구를 돕는 1차 자료를 주제별, 분야별로 정리·제공하는 시리즈이다.
Information Provided By: :

Author Introduction
Namhee Lee
(지은이)
Namhee Lee is Associate Professor of Modern Korean History in the Department of Asian Languages and Cultures at the University of California, Los Angeles.
Kim Won
(지은이)
Kim Won is Associate Professor of Political Science in the Division of Social Sciences at the Graduate School of Korean Studies, The Academy of Korean Studies.
Information Provided By: :

Table of Contents
PartI.  The Democratization Movement before and after the April Revolution of 1960(1960?1961)

PartII. The Democratization Movement after the May 16 Military Coup d'Etat(1961?1972)

PartIII. The Democratization Movement during the Yusin Regime(1972?1979)

PartIV. The Seoul Spring and the Gwangju Democratization Movement(1979?1980)

PartVI. The Democratization Movement before the June Uprising of 1987

PartV.  Democratization in 1987 and the Revival of Civil Society
Information Provided By: :