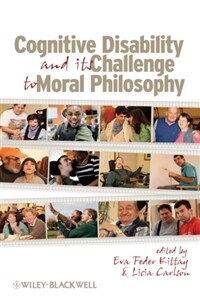 000
00000cam u2200205 a 4500
001
000046077173
005
20210413092429
008
210412s2010 enka b 001 0 eng
010

▼a

2009045860
020

▼a

9781405198288 (pbk. : alk. paper)
020

▼a

1405198281 (pbk. : alk. paper)
035

▼a

(KERIS)REF000016143684
040

▼a

DLC

▼c

DLC

▼d

BTCTA

▼d

BWKUK

▼d

YDXCP

▼d

BWK

▼d

YHM

▼d

BWX

▼d

NLM

▼d

DLC

▼d

211009
050

0

0

▼a

RC553.C64

▼b

C6277 2010
060

0

0

▼a

2010 H-704
060

1

0

▼a

WM 300
082

0

4

▼a

616.8001

▼2

23
084

▼a

616.8001

▼2

DDCK
090

▼a

616.8001

▼b

C676
245

0

0

▼a

Cognitive disability and its challenge to moral philosophy /

▼c

edited by Eva Feder Kittay and Licia Carlson.
260

▼a

Chichester, West Sussex ;

▼a

Malden, MA :

▼b

Wiley-Blackwell,

▼c

2010.
300

▼a

xiii, 426 p. :

▼b

ill. ;

▼c

23 cm.
490

1

▼a

Metaphilosophy series in philosophy
500

▼a

Originally published as volume 40, nos. 3-4 (July 2009) of Metaphilosophy.
504

▼a

Includes bibliographical references and index.
505

0

▼a

1. Introduction: Rethinking Philosophical Presumptions in Light of Cognitive Disability / Licia Carlson and Eva Feder Kittay -- 2. The Limits of the Medical Model : Historical Epidemiology of Intellectual Disability in the United States / Jeffrey P. Brosco -- 3. Developmental Perspective on the Emergence of Moral Personhood / James C. Harris -- 4. The Capabilities of People with Cognitive Disabilities / Martha Nussbaum -- 5. Equality, Freedom, and/or Justice for All : A Response to Martha Nussbaum / Michael Bérubé -- 6. Respecting Human Dignity : Contract Versus Capabilities / Cynthia A. Stark -- 7. Duties of Justice to Citizens with Cognitive Disabilities / Sophia Isako Wong -- 8. Cognitive Disability in a Society of Equals / Jonathan Wolff -- 9. Holding One Another Well, Wrongly, Clumsily -- in a Time of Dementia / Hilde Lindemann -- 10. Agency and Moral Relationship in Dementia / Bruce Jennings -- 11. Cognitive Disability, Paternalism, and the Global Burden of Disease / Daniel Wikler -- 12. Responsibility, Agency, and Cognitive Disability / David Shoemaker -- 13. Alzheimer's Disease and Socially Extended Mentation / James Lindemann Nelson -- 14. Thinking About the Good : Reconfiguring Liberal Metaphysics (or Not) for People with Cognitive Disabilities / Anita Silvers and Leslie Pickering Francis -- 15. How We Have Been Learning to Talk About Autism : A Role for Stories / Ian Hacking -- 16. The Thought and Talk of Individuals with Autism : Reflections on Ian Hacking / Victoria Mcgeer -- 17. The Entanglement of Race and Cognitive Disability / Anna Stubblefield -- 18. Philosophers of Intellectual Disability : A Taxonomy / Licia Carlson -- 19. Speciesism and Moral Status / Peter Singer -- 20. Cognitive Disability and Cognitive Enhancement / Jeff Mcmahan -- 21. Caring and Full Moral Standing Redux / Agnieszka Jaworska -- 22. The Personal Is Philosophical Is Political : A Philosopher and Mother of a Cognitively Disabled Person Sends Notes from the Battlefield / Eva Feder Kittay.
650

0

▼a

Cognition disorders.
650

0

▼a

Ethics.
650

1

2

▼a

Cognition Disorders.
650

1

2

▼a

Mental Retardation.
650

2

2

▼a

Personhood.
650

2

2

▼a

Philosophy, Medical.
700

1

▼a

Kittay, Eva Feder.
700

1

▼a

Carlson, Licia,

▼d

1970-.
730

0

2

▼a

Metaphilosophy.
830

0

▼a

Metaphilosophy series in philosophy.
945

▼a

KLPA
---
Holdings Information
No.
Location
Call Number
Accession No.
Availability
Due Date
Make a Reservation
Service

No.

1

Location

Main Library/Western Books/

Call Number

616.8001 C676

Accession No.

111847162

Availability

Available

Due Date

Make a Reservation

Service
Contents information
Author Introduction
에바 페더 커테이
(엮은이)
미국 뉴욕주립대학교(SUNY-Stony Brook) 철학과 석학교수(distinguished professor)이다. 페미니스트 철학과 윤리, 장애학(disability studies), 언어철학 분야의 대표적인 석학이다. 페미니스트 철학 분야에서의 공로를 인정받아, 2003-2004년 올해의 여성철학자에 선정되기도 하였다. 주요 편저서로는 Cognitive Disability and Its Challenge to Moral Philosophy(2010), Blackwell's Studies in Feminist Philosophy(2006), The Subject of Care (2003), Theoretical Perspectives on Dependency and Women(2002), Love's Labor(1999), Metaphor(1987), Women and Moral Theory(1987) 등이 있다. 특히 Love's Labor는 한국어 이외에 일본어 및 이태리어로 번역되었다. 그 외에도 100편에 가까운 논문들과 북챕터가 있다.
Information Provided By: :

Table of Contents
Notes on Contributors. 1. Introduction: Rethinking Philosophical Presumptions in Light of Cognitive Disability (Licia Carlson and Eva Feder Kittay). Part 1: Intellectual Disability: The Medical Model and Beyond 2. The Limits of the Medical Model: Historical Epidemiology of Intellectual Disability in the United States (Jeffrey P. Brosco). 3. Developmental Perspective on the Emergence of Moral Personhood (James C. Harris). Part 2: Justice 4. The Capabilities of People with Cognitive Disabilities (Martha Nussbaum). 5. Equality, Freedom, and/or Justice for All: A Response to Martha Nussbaum (Michael Berube). 6. Respecting Human Dignity: Contract Versus Capabilities (Cynthia A. Stark). 7. Duties of Justice to Citizens with Cognitive Disabilities (Sophia Isako Wong). Part 3: Care 8. Cognitive Disability in a Society of Equals (Jonathan Wolff). 9. Holding One Another (Well, Wrongly, Clumsily) in a Time of Dementia (Hilde Lindemann). 10. Agency and Moral Relationship in Dementia (Bruce Jennings). Part 4: Agency 11. Cognitive Disability, Paternalism, and the Global Burden of Disease (Daniel Wikler). 12. Responsibility, Agency, and Cognitive Disability (David Shoemaker). 13. Alzheimer s Disease and Socially Extended Mentation (James Lindemann Nelson). 14. Thinking About the Good: Reconfiguring Liberal Metaphysics (or Not) for People with Cognitive Disabilities (Anita Silvers and Leslie Pickering Francis). Part 5: Speaking About Cognitive Disability 15. How We Have Been Learning to Talk About Autism: A Role for Stories (Ian Hacking). 16. The Thought and Talk of Individuals with Autism: Reflections on Ian Hacking (Victoria Mcgeer). 17. The Entanglement of Race and Cognitive Disability (Anna Stubblefield). 18. Philosophers of Intellectual Disability: A Taxonomy (Licia Carlson). Part 6: Personhood 19. Speciesism and Moral Status (Peter Singer). 20. Cognitive Disability and Cognitive Enhancement (Jeff Mcmahan). 21. Caring and Full Moral Standing Redux (Agnieszka Jaworska). 22. The Personal Is Philosophical Is Political: A Philosopher and Mother of a Cognitively Disabled Person Sends Notes from the Battlefield (Eva Feder Kittay). Index.