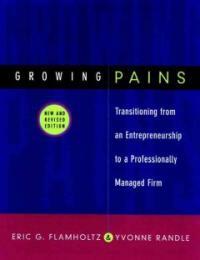 Growing pains : transitioning from an entrepreneurship to a professionally managed firm / New and rev. ed
000
00000cam u2200205 a 4500
001
000046067067
005
20210208133821
008
210205s2000 caua b 001 0 eng d
010

▼a

99086346
020

▼a

078794694X
035

▼a

(KERIS)REF000009744328
040

▼a

DLC

▼c

DLC

▼d

DLC

▼d

211009
042

▼a

pcc
050

0

0

▼a

HD62.5

▼b

.F535 2000
082

0

0

▼a

658.4/063

▼2

23
084

▼a

658.4063

▼2

DDCK
090

▼a

658.4063

▼b

F578g1
100

1

▼a

Flamholtz, Eric.
245

1

0

▼a

Growing pains :

▼b

transitioning from an entrepreneurship to a professionally managed firm /

▼c

Eric G. Flamholtz, Yvonne Randle.
250

▼a

New and rev. ed.
260

▼a

San Francisco :

▼b

Jossey-Bass,

▼c

c2000.
300

▼a

xxvi, 388 p. :

▼b

ill. ;

▼c

25 cm.
490

1

▼a

Jossey-Bass business & management series
500

▼a

Rev. ed. of: How to make the transition from an entrepreneurship to a professionally managed firm. 1st ed. / Eric G. Flamholtz.
504

▼a

Includes bibliographical references and index.
650

0

▼a

New business enterprises

▼x

Management.
650

0

▼a

Organizational change.
700

1

▼a

Flamholtz, Eric.

▼t

How to make the transition from an entrepreneurship to a professionally managed firm.
700

1

▼a

Randle, Yvonne.
830

0

▼a

Jossey-Bass business & management series.
945

▼a

KLPA
---
Holdings Information
No.
Location
Call Number
Accession No.
Availability
Due Date
Make a Reservation
Service

No.

1

Location

Main Library/Western Books/

Call Number

658.4063 F578g1

Accession No.

511045600

Availability

Available

Due Date

Make a Reservation

Service
Contents information
Author Introduction
에릭 플램홀츠
(지은이)
캘리포니아 주립대(UCLA)의 앤더슨 경영 대학원 교수이며 매니지먼트시스템컨설팅사의 회장이다. 경영 컨설턴트로서, 작은 신생기업에서부터 포춘지 선정 500대 기업에 이르기까지 기업 성장과 관련된 많은 연구 프로젝트를 수행했으며 여러 나라에서 조직발전 프로그램과 관련된 세미나를 개최했다. 지은 책으로는 <인적자원회계>, <효과적인 조직 컨트롤>, <경영관리의 진실게임>, <게임 바꾸기: 조직의 변신관리> 등이 있다.
이본 랜들
(지은이)
캘리포니아 주립대학(UCLA) 앤더슨 경영 대학원의 기업 관련 프로그램 담당 강사로 매니지먼트시스템컨설팅사의 부회장이다. 에릭 플램홀츠와 함께 기업조직의 효율성을 극대화하는 방안에 대한 많은 프로젝트를 수행했다.
Information Provided By: :

Table of Contents
Tables, Figures and Exhibits. Preface. Acknowledgements. The Authors. Introduction: The Transitions Needed to Keep a Growing Firm Successful. A FRAMEWORK FOR DEVELOPING SUCCESSFUL ORGANIZATIONS. How to Build Successful Companies: The Pyramid Of Organizational Development. Identifying And Surviving The First Four Stages Of Organizational Growth. Recognizing Growing Pains And Assessing The Need For Change. MANAGEMENT STRATEGIES FOR EACH STAGE OF ORGANIZATIONAL GROWTH. The New Venture And Expansion Stages. The Professionalizing Stage: Developing Management Systems. The Consolidation Stage: Managing The Corporate Culture. MASTERING THE TOOLS OF PROFESSIONAL MANAGEMENT. Strategic Planning. Organizational Structure. Management Development. Organizational Control Systems. Effective Leadership. Corporate Culture Management. ROLE OF THE ENTREPRENEUR IN A GROWING AND CHANGING COMPANY. Managing The Advanced Stages Of Growth: A Preview Of Future Challenges. The Transition Ceos Must Make To Survive Beyond The Entrepreneurial Stage. References: Key Resources For Further Information. Endnotes. Index.