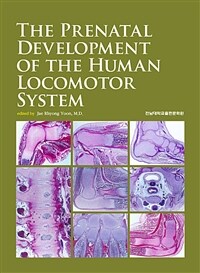 000
00000nam u2200205 a 4500
001
000046045735
005
20200910175901
008
200909s2019 ko a b 001 0 eng d
020

▼a

9788968496516
040

▼a

211009

▼c

211009

▼d

211009
082

0

4

▼a

612.64

▼2

23
084

▼a

612.64

▼2

DDCK
090

▼a

612.64

▼b

P926
245

0

4

▼a

The prenatal development of the human locomotor system /

▼c

edited by Jae Rhyong Yoon.
260

▼a

Gwangju, Korea(South) :

▼b

Chonnam National University Press,

▼c

2019.
300

▼a

xi, 188 p. :

▼b

col. ill. ;

▼c

26 cm.
504

▼a

Includes bibliographical references and index.
700

1

▼a

Yoon, Jae Rhyong.
945

▼a

KLPA
---
Holdings Information
No.
Location
Call Number
Accession No.
Availability
Due Date
Make a Reservation
Service

No.

1

Location

Science & Engineering Library/Sci-Info(Stacks2)/

Call Number

612.64 P926

Accession No.

521005220

Availability

Available

Due Date

Make a Reservation

Service
Contents information
Book Introduction
초기배아에서 만기태아까지 각 시기별로 또한 몸의 뼈와 관절을 부위별로 그 발생과정을 정리한 교재다. 초기 배아단계에서 만기 태아까지 형태학적 발달과정을 잘 이해하면, 인체의 정상적인 구조의 형성뿐만 아니라 선천성 기형의 발생 원인을 이해하는 데 크게 도움이 될 것이다.
발생학(embryology)은 사람 뼈와 관절의 구조와 기능의 발달을 이해하는 데 매우 중요하다. 인체의 성장과 발달과정에서, 뼈와 관절의 일반적인 형태는 태아발달 초기단계에 형성되고 성인의 것과 매우 비슷하다. 따라서 초기 배아단계에서 만기 태아까지 형태학적 발달과정을 잘 이해하면, 인체의 정상적인 구조의 형성뿐만 아니라 선천성 기형의 발생 원인을 이해하는 데 크게 도움이 될 것이다.
최근 진단 초음파 및 자기공명영상의 기술 효율성이 향상됨에 따라, 태아의 발달과 성장에 관한 연구는 중요한 학문연구 분야로 재부상했다. 그럼에도 불구하고 사람배아와 태아를 대상으로 하는 연구는 여러 가지 법률적, 윤리적 제한점으로 진전이 힘든 것도 주지의 사실이다.
이렇듯 어렵고 힘든 상황에 저자가 약 30년간 수행한 연구결과를 집대성하여 "The Prenatal Development of the Human Locomotor System"이라는 저작을 내놓게 되었다. 즉, 초기배아에서 만기태아까지 각 시기별로 또한 몸의 뼈와 관절을 부위별로 그 발생과정을 정리한 결과이다.
이 책의 모든 조직은 전남대학교병원 산부인과에서 치료적 유산을 목적으로 얻게 된 사람배아와 태아로부터 수집한 것이다. 대부분의 내용과 컬러 현미경사진은 전남대학교 의과대학 해부학교실에서 수행한 과거의 연구에서 비롯된 것이다. 일부 사진은 저자와 동료들이 공동 저술한 결과로 얻은 것이고, 이 책에 포함된 대부분의 연구결과는 이미 다양한 학술지에 발표된 바 있다.
아무쪼록 이 저작물이 인간배아와 태아의 전체 발달과정뿐만 아니라, 선천기형을 포함한 병적 상태의 임상적 중요성을 더 잘 이해하는 데 도움이 될 것으로 믿는다.
Information Provided By: :

Author Introduction
Table of Contents
Chapter 01  The Development of the Limb Buds / 1

Chapter 02  The Growth of Long Bones / 7

Chapter 03  The Development of the Joint / 17

Chapter 04  The Early Development of the Vertebrae / 27

Chapter 05  The Development of the Cervical Vertebrae / 35

Chapter 06  The Development of the Thoracic Vertebrae / 47

Chapter 07  The Development of the Lumbar Vertebrae / 61

Chapter 08  The Development of the Shoulder Joint / 75

Chapter 09  The Development of the Elbow Joint / 91

Chapter 10  The Development of the Wrist and Hand / 103

Chapter 11  The Development of the Pelvis and the Sacroiliac Joint / 119

Chapter 12  The Development of the Hip Joint / 129

Chapter 13  The Development of the Knee Joint / 145

Chapter 14  The Development of the Ankle and Foot / 165



Index / 185
Information Provided By: :