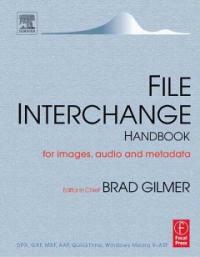 000
00000cam u2200205 a 4500
001
000046044837
005
20200910174739
008
200902s2004 maua b 001 0 eng d
010

▼a

2004300184
020

▼a

0240806050
035

▼a

(KERIS)REF000010097229
040

▼a

VYF

▼c

VYF

▼d

DLC

▼d

211009
050

0

0

▼a

TK6680.5

▼b

.F42 2004
082

0

0

▼a

006.6/96

▼2

23
084

▼a

006.696

▼2

DDCK
090

▼a

006.696

▼b

F481
245

0

0

▼a

File interchange handbook for images, audio, and metadata /

▼c

editor in chief, Brad Gilmer.
260

▼a

Burlington, MA :

▼b

Focal Press,

▼c

c2004.
300

▼a

xi, 307 p. :

▼b

ill. ;

▼c

24 cm.
504

▼a

Includes bibliographical references and index.
650

0

▼a

Digital video

▼v

Handbooks, manuals, etc.
650

0

▼a

Digital television

▼v

Handbooks, manuals, etc.
650

0

▼a

Metadata

▼v

Handbooks, manuals, etc.
650

0

▼a

Image processing

▼x

Digital techniques

▼v

Handbooks, manuals, etc.
650

0

▼a

Sound

▼x

Recording and reproducing

▼x

Digital techniques

▼v

Handbooks, manuals, etc.
650

0

▼a

Digital media

▼v

Handbooks, manuals, etc.
650

0

▼a

Video compression

▼v

Handbooks, manuals, etc.
700

1

▼a

Gilmer, Brad.
710

2

▼a

Society of Motion Picture and Television Engineers.
710

2

▼a

European Broadcasting Union.
945

▼a

KLPA
---
Holdings Information
No.
Location
Call Number
Accession No.
Availability
Due Date
Make a Reservation
Service

No.

1

Location

Science & Engineering Library/Sci-Info(Stacks2)/

Call Number

006.696 F481

Accession No.

521005111

Availability

Available

Due Date

Make a Reservation

Service
Contents information
Table of Contents
Intro--Brad Gilmer, Gilmer & Associates, Inc.
1. History / background--Hans Hoffman, EBU
2. Metadata dictionary--Oliver Morgan, Metaglue Corporation
3. Digital Picture eXchange (DPX)--Dave Bancroft, Thomson
4. General eXchange Format (GXF)--Bob Edge and Ray Baldock, Thomson Grass Valley
5. Material eXchange Format (MXF)--Jim Wilkinson, Sony, and Bruce Devlin, Snell & Wilcox, Ltd
6. Advanced Authoring Format (AAF)--Phil Tudor, BBC
7. Windows Media 9-Advanced System Format (ASF)--Nick Vicars-Harris, Microsoft Corporation
8. Apple QuickTime--George Towner, Apple Computer, Inc.