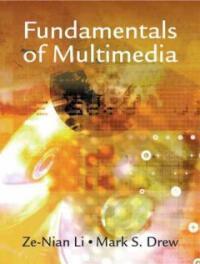 000
00000cam u2200205 a 4500
001
000046044778
005
20200904140744
008
200901s2004 njuaf b 001 0 eng d
010

▼a

2004301490
015

▼a

GBA3-W6026
020

▼a

0130618721
035

▼a

(KERIS)REF000013900093
040

▼a

UKM

▼c

UKM

▼d

TXA

▼d

DLC

▼d

211009
050

0

0

▼a

QA76.575

▼b

.L5 2004
082

0

0

▼a

006.7

▼2

23
084

▼a

006.7

▼2

DDCK
090

▼a

006.7

▼b

L6932f
100

1

▼a

Li, Ze-Nian.
245

1

0

▼a

Fundamentals of multimedia /

▼c

Ze-Nian Li and Mark S. Drew.
260

▼a

Upper Saddle River, NJ :

▼b

Pearson Prentice Hall,

▼c

c2004.
300

▼a

xvi, 560 p., [8] p. of plates :

▼b

ill. (some col.) ;

▼c

24 cm.
504

▼a

Includes bibliographical references and index.
650

0

▼a

Multimedia systems.
650

0

▼a

Data compression (Computer science).
650

0

▼a

Computer networks.
650

0

▼a

Multimedia systems

▼v

Problems, exercises, etc.
650

0

▼a

Data compression (Computer science)

▼v

Problems, exercises, etc.
650

0

▼a

Computer networks

▼v

Problems, exercises, etc.
700

1

▼a

Drew, Mark S.
945

▼a

KLPA
---
Holdings Information
No.
Location
Call Number
Accession No.
Availability
Due Date
Make a Reservation
Service

No.

1

Location

Science & Engineering Library/Sci-Info(Stacks2)/

Call Number

006.7 L6932f

Accession No.

521005046

Availability

Available

Due Date

Make a Reservation

Service
Contents information
Table of Contents
Preface.
I. MULTIMEDIA AUTHORING AND DATA REPRESENTATIONS.

1. Introduction to Multimedia.
2. Multimedia Authoring and Tools.
3. Graphics and Image Data Representations.
4. Color in Image and Video.
5. Fundamental Concepts in Video.
6. Basics of Digital Audio.
II. MULTIMEDIA DATA COMPRESSION.

7. Lossless Compression Algorithms.
8. Lossy Compression Algorithms.
9. Image Compression Standards.
10. Basic Video Compression Techniques.
11. MPEG Video Coding I-MPEG-1 and 2.
12. MPEG Video Coding II-MPEG-4, 7 and Beyond.
13. Basic Audio Compression Techniques.
14. MPEG Audio Compression.
III. MULTIMEDIA COMMUNICATION AND RETRIEVAL.

15. Computer and Multimedia Networks.
16. Multimedia Network Communications and Applications.
17. Wireless Networks.
18. Content-Based Retrieval in Digital Libraries.