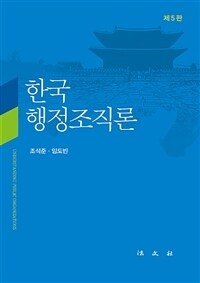 000
00000cam c2200205 c 4500
001
000046037062
005
20200710111626
007
ta
008
200709s2019 ggk 001c kor
020

▼a

9788918910369

▼g

93350
035

▼a

(KERIS)BIB000015403348
040

▼a

222003

▼c

222003

▼d

211009
082

0

4

▼a

351.519

▼2

23
085

▼a

351.53

▼2

DDCK
090

▼a

351.53

▼b

2019z8
100

1

▼a

조석준
245

1

0

▼a

한국행정조직론 /

▼d

조석준,

▼e

임도빈
246

1

1

▼a

Understanding public organizations
250

▼a

5판
260

▼a

파주 :

▼b

法文社,

▼c

2019
300

▼a

xxix, 648 p. ;

▼c

26 cm
500

▼a

색인수록
536

▼a

교육부 한국연구재단의 지원을 받았음

▼g

(NRF-2017S1A3A2065838)
700

1

▼a

임도빈
945

▼a

KLPA
---
Holdings Information
No.
Location
Call Number
Accession No.
Availability
Due Date
Make a Reservation
Service

No.

1

Location

Science & Engineering Library/Sci-Info(Stacks1)/

Call Number

351.53 2019z8

Accession No.

121253687

Availability

In loan

Due Date

2021-10-07

Make a Reservation

Available for Reserve

Service
Contents information
Book Introduction
개정판에서 그동안은 권력론적 조직간 현상이 가시적이었다면, 이제는 보이지 않는 권력이 더욱 강화되고 있음을 지적하였다. 논리적 연결이 부족한 문단을 수정하였으며, 신세대의 특성에 맞게 너무 긴 절을 분리하는 작업도 많이 하였다. 또한 새로운 조직연구 영역으로서 그림자 조직이 팽창하는 측면을 지적하였다.
머리말
또 한 번 개정판이 세상에 나간다. 이 책은 조석준 교수님이 1994년에 처음 내시고 한 번 개정하신 것을 바탕으로, 2010년부터 우둔한 저자가 이번에 세 번째 개정을 하게 된 것이다. 학문세대간 연속성이 없다는 비판을 받고 있는 한국의 행정학 풍토에서는 나름 의미있는 책이 아닌가 생각한다. 흔히 볼 수 있는 외국이론을 집대성한 교과서도 아닌데도, 독자들의 지지가 이 책의 존재이유를 이미 증명했다고 보고 싶다.
초판에 비하여 많은 내용이 바뀌었다. 정부조직의 관리방법도 그만큼 바뀌었기 때문이다. 연구대상과 성격이 바뀌면 개정판을 내는 것보다는 새 책을 내는 것이 오히려 낫다. 그럼에도 불구하고 개정을 하는 것이 낫다고 본 것은 책의 완성도가 높아져가는 것을 볼 수 있기 때문이기도 하다. 문장, 논리, 사례 등이 이전 판에 비하여 좋아지고 있다는 것을 확연히 알 수 있다.
이 책의 생명력은 연구대상(즉, 한국의 중앙행정조직)은 변하고 있는데, 일정한 이론적 시각으로 조명해보면 여전히 독특한 설명을 제공할 수 있기 때문이 아닌가 한다. 이론적 시각은 권력론으로서, 구체적으로 설정한 잣대는 '권한-책임 일치의 원칙'이다. 사회 곳곳에서 민주화가 되고 있는 오늘날 조직간 권력불균등 현상이 심화되고 있다는 것은 아이러니 같은 것이다. 한편 더 부담이 되는 것은 '개정판이 뭐가 달라진 게 있냐'라는 불평이 일어날 수 있다는 마음속의 짐이다. 달라진 것은 다음과 같다.
첫째, 그동안은 권력론적 조직간 현상이 가시적이었다면, 이제는 보이지 않는 권력이 더욱 강화되고 있다는 점이다. 겉으로 보기에는 이전 판에서 지적한 문제들이 해소된 것 같지만, 실질적으로는 권력불균등 현상이 더욱 심화되고 있다. 예컨대, '강제력'에 의한 권력관계가 '돈'이나 '사람'에 의한 조직권력현상으로 바뀌고 있음을 책의 여러 곳에서 주장한다.
둘째, 이론성을 강화하였다. 논리적 연결이 부족한 문단을 수정하였으며, 신세대의 특성에 맞게 너무 긴 절을 분리하는 작업도 많이 하였다. 조직론 계보에서 이론을 보완한 것은 물론이고, 어색한 설명을 분명히 하였고, 책의 여러 곳에서 참고할 이론을 각주에 부가했으며, 설명에서 이론화를 강화하려고 노력을 했다.
셋째, 새로운 조직연구 영역으로서 그림자 조직이 팽창하는 측면을 지적하였다. 법정협회나 로펌 부분을 추가하는 등 분량도 대폭 늘렸다. 이것은 최근에 더욱 일어나는 현상으로서 조직연구의 새로운 대상이 확장되고 있다는 뜻이기도 한 것 같아 강조를 하였다.
이번 개정작업에 많은 도움도 받았다. 어려운 출판업계 사정에도 불구하고 개정판을 허락해 주신 법문사 사장님께 감사드린다. 더운 여름 날씨에 꼼꼼한 교정작업을 해 주신 편집부 김용석 과장님께도 감사드린다. 아울러 교정과정에 여러 아이디어를 내준 일일이 이름을 거명하기 어려운 조교들에게도 감사의 뜻을 표한다. 무엇보다도 이제 90세가 되셨는데도 늘 필자를 격려해주시고, 신선한 아이디어를 주시고, 늘 학자로서 정도를 가기를 권하시는 조석준 교수님께 가장 큰 감사의 마음을 바치고 싶다.
Information Provided By: :

Author Introduction
임도빈
(지은이)
현재 서울대학교 행정대학원 교수이며, 한국행정학회 회장, 서울대 행정대학원 원장을 역임하였다. 최근에는 정부 및 관료의 역할에 초점을 맞춰서, 각국의 정부경쟁력을 높일 방법을 연구하고 있다. 한국행정연구 편집위원장이고, PAR, J-PART 등 국제학술지 편집위원이다. 주요 국내외 학술지에 200여 편 가량의 논문을 발표하였다. 주요 저서로는 『행정학』, 『인사행정론』, 『한국행정조직론』, 『비교행정학』, 『The Two Sides of Korean Administrative Culture(2019)』, 『The Experience of Democracy and Bureaucracy in South Korea(2017)』 등이 있다.
조석준
(지은이)
서울대학교 행정대학원 명예교수 (전) 서울대학교 행정대학원장 (전) 한국행정학회장 (전) 한국조직학회장 University of Minnesota 철학 박사
Information Provided By: :

Table of Contents
제 1 편 분석을 위한 기초
제 1 장 서 론
제 2 장 행정조직의 일반적 특징과 법률체계
제 3 장 행정조직이 처한 환경
제 2 편 조직구조론
제 4 장 행정기관 내부의 조직구조
제 5 장 지원기능 부처의 조직구조
제 6 장 위원회형 독립행정기관
제 7 장 청(廳)
제 3 편 조직과정론
제 8 장 대통령과 조직과정
제 9 장 국무총리
제 10 장 최상층의 조직과정
제 11 장 부와 부 사이의 조직과정
제 12 장 지방의 행정조직: 중앙정부와의 관계
제 4 편 조직현상론
제 13 장 한국행정조직의 문화
제 14 장 행정조직의 행태
제 15 장 그림자 행정조직: 공공기관
제 16 장 조직개편과 조직개혁