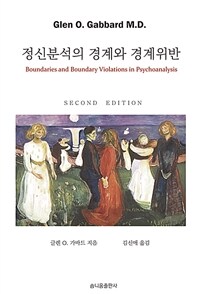 000
00000cam c2200205 c 4500
001
000046021542
005
20200324095510
007
ta
008
200323s2020 ulk 000c kor
020

▼a

9791196922993

▼g

93180
040

▼a

211009

▼c

211009

▼d

211009
041

1

▼a

kor

▼h

eng
082

0

4

▼a

616.89/17

▼2

23
085

▼a

616.89

▼2

DDCK
090

▼a

616.89

▼b

2020
100

1

▼a

Gabbard, Glen O.
245

1

0

▼a

정신분석의 경계와 경계위반 /

▼d

글렌 O. 가바드 지음 ;

▼e

김신애 옮김
246

1

9

▼a

Boundaries and boundary violations in psychoanalysis

▼g

(2nd ed.)
260

▼a

서울 :

▼b

솜니움출판사,

▼c

2020
300

▼a

xi, 294 p. ;

▼c

23 cm
500

▼a

원저자명: Glen O. Gabbard
504

▼a

참고문헌과 색인수록
546

▼a

영어로 된 원저작을 한국어로 번역
700

1

▼a

김신애,

▼e

역
900

1

0

▼a

가바드, 글렌 O.,

▼e

저
---
Contents information
Book Introduction
심리치료사들의 내담자와의 성관계로 화제가 된 경계위반 상황을 정신분석적인 관점으로 담아낸 책이다. 30년 경력의 미국 정신의학 거장의 가바드 박사가 300개 이상의 전문적 경계위반 사례에 대해 평가, 치료, 자문한 경험에 바탕을 두고 집필되었다. 저자는 이 상황들이 어떻게 전개되고, 어떻게 분석적 관계를 파괴하는지, 어떻게 다른 유형의 분석가들이 무의식적이거나 의식적으로 다른 동기에 의해 경계를 넘나드는지를 검토한다. 사이버공간의 경계위반, 비성적인 경계위반과 임상감독에서의 경계위반도 다루고 있다.
정신분석가, 정신과의사, 심리상담사 등 심리치료사들의 내담자와의 성관계로 화제가 된 경계위반 상황을 정신분석적인 관점으로 담아낸 명료한 통찰력이 빛나는 책.

30년 경력의 미국 정신의학 거장의 가바드 박사가 300개 이상의 전문적 경계위반 사례에 대해 평가, 치료, 자문한 경험에 바탕을 둔 이 책은 정신건강전문가들에게 필수 추천도서이다.

심리치료에서 윤리적인 문제를 진지하게 고려하는 치료사들을 위해 이 책은 정신분석적 임상을 위한 새로운 과정을 계획하는 데 도움이 될 것이다.

아마도 가장 명백한 경계위반의 형태는 성적 경계 위반이다.

가바드 박사는 이 상황들이 어떻게 전개되고, 어떻게 분석적 관계를 파괴하는지, 어떻게 다른 유형의 분석가들이 무의식적이거나 의식적으로 다른 동기에 의해 경계를 넘나드는지를 검토한다.

사이버공간의 경계위반, 비성적인 경계위반과 임상감독에서의 경계위반도 다루고 있으며, 꼼꼼한 참고문헌이 눈에 띄며 대단히 중요한 주제에 대해 철저히 조사한 최신 연구를 배울 수 있다.

출판사 제공 책 소개

윤리를 져버린 의사와 환자간의 성관계, 상담사와 내담자 간의 부적절한 성관계 뉴스가 터져나오기 시작했다. 경계를 파괴한 심리치료사들은 오히려 피해자를 비난하거나 자신이 강간을 당했다는 식의 지능적인 합리화를 통해서 스스로를 방어하고 기만한다. 추락하는 치료사들의 민낯에는 무엇이 일어나고 있는지 이 책에서 정신분석적으로 조명해본다.
상담 장면 안의 상호작용을 바라보는 패러다임은 이제 변화하여 상호주관적이며 관계적인 정신분석의 관점으로 입체적이며 다각도로 치료사의 믿기 힘든 무의식의 진실을 드러낸다.
미국에서는 2,30년 전부터 발생한 경계위반 사례들이 크나큰 대가를 치루며 법적인 제정이나 윤리적인 조치들을 강화하며 내담자들이 정신분석의 틀을 탄탄하고 안전하게 경험할 수 있도록 만들어왔다. 이제는 그 흐름이 현재 한국사회에서 수면 위로 떠오르기 시작했다.
성적인 경계를 위반하는 사례와 뉴스들은 자극적이고 돋보이기가 쉽지만 비성적인 경계를 위반하는 사례들 역시도 같은 기저의 역동이 있음을 배울 수 있는 매우 성찰적이며 진지한 접근을 하는 책이다.
Information Provided By: :

Author Introduction
글렌 O. 개버드
(지은이)
텍사스 주 휴스턴 소재 베일러 의과대학 베일러 정신과 클리닉의 책임자이자 교수이며 갈베스턴 정신분석 연구소(Galveston Psychoanalytic Institute)의 교육분석가 및 임상감독자이다. 이전에는 캔자스주 토페카의 메닝거 병원 원장이었다. 그는 15권 이상 의 저술 및 편집자이며 현재 국제정신분석학회지의 북미공동편집자이자 편집장이다. 그는 정신분석에 탁월한 공헌을 하여 2000년 Mary Sigourney Award 등 다수 수상하였다. 저서는 〈Management of Countertransference with Borderline Patients〉, 〈Psychiatry and the Cinema〉, 〈The Psychology of the Sopranos: Love, Death, Desire and Betrayal in America's Favorite Gangster Family〉, 〈Long-Term Psychodynamic Psychotherapy: a Basic Text〉 등 이 있다.
김신애
(옮긴이)
연세대학교 문헌정보학 전공, 심리학 부전공 연세대학교 연합신학대학원 상담학과 졸업 김신애정신분석상담소 대표 솜니움출판사 대표
Information Provided By: :