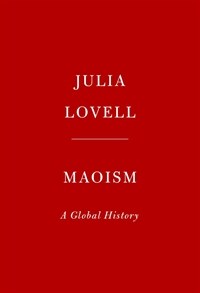 000
00000cam u2200205 a 4500
001
000046018960
005
20200303110331
008
200228s2019 nyuaf b 001 0 eng
010

▼a

2019010428
020

▼a

9780525656043 (hardback)
035

▼a

(KERIS)REF000018942272
040

▼a

DLC

▼b

eng

▼c

DLC

▼e

rda

▼d

DLC

▼d

211009
043

▼a

a-cc---
050

0

0

▼a

HX418

▼b

.L68 2019
082

0

0

▼a

335.43/45

▼2

23
084

▼a

335.4345

▼2

DDCK
090

▼a

335.4345

▼b

M296L
100

1

▼a

Lovell, Julia,

▼d

1975-.
245

1

0

▼a

Maoism :

▼b

a global history /

▼c

Julia Lovell.
260

▼a

New York :

▼b

Alfred A. Knopf,

▼c

2019.
300

▼a

610 p., [24] p. of plates :

▼b

ill. (some col.) ;

▼c

25 cm.
504

▼a

Includes bibliographical references (p. 495-588) and index.
520

▼a

"Since the heyday of Mao Zedong, there has never been a more crucial time to understand Maosim. Although to Western eyes it seems that China has long abandoned the utopian turmoil of Maoism in favour of authoritarian capitalism, Mao and his ideas remain central to the People' Republic and the legitimacy of its communist government. As disagreements and conflicts between China and the West are likely to mount, the need to understand the political legacy of Mao will only become more urgent. Yet during Mao's lifetime and beyond, the power and appeal of Maoism has always extended beyond China. Across the globe, Maoism was a crucial motor of the Cold War: it shaped the course of the Vietnam War (and the international youth rebellion it triggered) and brought to power the murderous Khmer Rouge in Cambodia; it aided, and sometimes handed victory to, anti-colonial resistance movements in Africa; it inspired terrorism in Germany and Italy, and wars and insurgencies in Peru, India and Nepal, some of which are still with us today - more than forty years after the death of Mao. In this new history, acclaimed historian Julia Lovell revaluates Maoism, analysing both China's engagement with the movement and its legacy on a global canvas. It's a story that takes us from the tea plantations of north India to the sierras of the Andes, from Paris's 5th Arrondissement to the fields of Tanzania, from the rice paddies of Cambodia to the terraces of Brixton. Starting from the movement's birth in northwest China in the 1930s and unfolding right up to its present-day violent rebirth, this is the definitive history of global Maoism"--

▼c

Provided by publisher.
520

▼a

"The untold story of how Maoist ideology spread throughout the world during the Cold War, playing a major role in shaping politics from Asia to Africa to the American left. This revelatory new work of world history challenges our understanding of the geopolitics of the twentieth century. While the Cold War is traditionally seen as a competition between Soviet communism and American capitalism, Maoism: A Global History shows for the first time how China played a central role in the struggle. Julia Lovell takes us to the movement's birth in northwest China in the 1930s and makes clear how, across the globe, Maoism was a crucial motor of the Cold War, shaping the course of the Vietnam War (and the international youth rebellion it triggered) and bringing to power the Khmer Rouge in Cambodia. Maoism also inspired anti-colonial resistance movements in Africa; terrorism in Germany and Italy, and wars and insurgencies in Peru, India, and Nepal, some of which are still with us today--more than forty years after Mao's death. Moving from the tea plantations of India to the Andes, from Paris's 5th Arrondissement to Tanzania, from the rice paddies of Cambodia and the Chicago protests of 1968 to the present-day violent rebirth of the ideology, this is the definitive history of global Maoism"--

▼c

Provided by publisher.
600

1

0

▼a

Mao, Zedong,

▼d

1893-1976.
600

1

4

▼a

毛澤東,

▼d

1893-1976.
650

0

▼a

Communism

▼z

China

▼x

History.
945

▼a

KLPA
---
Holdings Information
No.
Location
Call Number
Accession No.
Availability
Due Date
Make a Reservation
Service

No.

1

Location

Main Library/Western Books/

Call Number

335.4345 M296L

Accession No.

111825036

Availability

Available

Due Date

Make a Reservation

Service
Contents information
Author Introduction
Table of Contents
Introduction
What is Maoism?
The Red Star: revolution by the book
The brainwash: China and the world in the 1950s
World revolution
Years of living dangerously: The Indonesian connection
Into Africa
Mao''s dominoes?: Vietnam and Cambodia
"You are old, we are young, Mao Zedong!": Maoism in the United States and Western Europe
Red Sun over Peru: The shining path
China''s chairman is our chairman: Maoism in India
Nepal: Maosim in power?
Mao-ish China
Conclusion
Chronology.