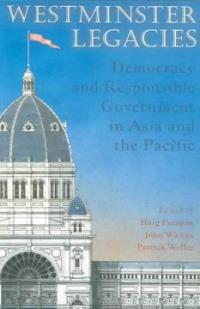 000
00000cam u2200205 a 4500
001
000046007829
005
20191203155725
008
191128s2005 at b 001 0 eng d
010

▼a

2006365319
020

▼a

0868408484
035

▼a

(KERIS)REF000012636847
040

▼a

ANL

▼b

eng

▼c

DLC

▼d

ANL

▼d

DLC

▼d

211009
043

▼a

a------

▼a

p------
050

0

0

▼a

JQ24

▼b

.W47 2005
082

0

4

▼a

321.8

▼2

23
084

▼a

321.8

▼2

DDCK
090

▼a

321.8

▼b

W532
245

0

0

▼a

Westminster legacies :

▼b

democracy and responsible government in Asia and the Pacific /

▼c

edited by Haig Patapan, John Wanna and Patrick Weller.
260

▼a

Sydney, NSW :

▼b

UNSW Press,

▼c

c2005.
300

▼a

xi, 276 p. ;

▼c

24 cm.
504

▼a

Includes bibliographical references and index.
650

0

▼a

Representative government and representation

▼z

Asia.
650

0

▼a

Representative government and representation

▼z

Pacific Area.
650

0

▼a

Legislative bodies

▼z

Asia.
650

0

▼a

Legislative bodies

▼z

Pacific Area.
651

0

▼a

Asia

▼x

Politics and government.
651

0

▼a

Pacific Area

▼x

Politics and government.
700

1

▼a

Patapan, Haig,

▼d

1959-.
700

1

▼a

Wanna, John.
700

1

▼a

Weller, Patrick Moray.
945

▼a

KLPA
---
Holdings Information
No.
Location
Call Number
Accession No.
Availability
Due Date
Make a Reservation
Service

No.

1

Location

Main Library/Western Books/

Call Number

321.8 W532

Accession No.

111819546

Availability

Available

Due Date

Make a Reservation

Service
Contents information
Table of Contents
Preface and Acknowledgments
Contributors

1 Westminster transplanted and Westminster implanted; Exploring political change Rod Rhodes and Patrick Weller
2 India''s Westminster system Robert W. Stern
3 The Westminster model and Pakistan: A continuing mirage Samina Ahmed
4 Transplanting Westminster to Nepal: The stuff of dreams dashed Patrick Weller and Bishnu Sharma
5 Westminster implanted: The Malaysian experience Deborah A. Johnson and Anthony Milner 6 Westminster in Singapore: Now you see it, now you don''t Garry Rodan
7 Australia: The Westminster model as tradition R.A.W. Rhodes
8 New Zealand''s Westminster trajectory: Archetypal transplant to maverick outlier John Wanna
9 Papua New Guinea''s brand of Westminster: Democratic traditions overlaying Melanesian cultures Henry Okole
10 Democracy in Fiji: Westminster or something else? Margaret Palmer
11 Westminster in the Pacific Islands Peter Larmour
12 The Westminster legacy: Conclusion Haig Patapan and John Wanna.