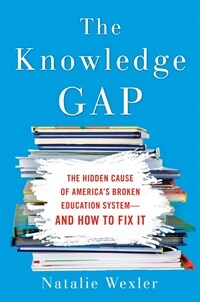 000
00000cam u2200205 a 4500
001
000046007823
005
20200303120842
008
191128s2019 nyu b 001 0 eng d
010

▼a

2018058484
020

▼a

9780735213555 (hardback)
020

▼a

9780735213579 (ebook)
035

▼a

(KERIS)REF000018870736
040

▼a

DLC

▼b

eng

▼c

DLC

▼e

rda

▼d

DLC

▼d

211009
043

▼a

n-us---
050

0

0

▼a

LB1576

▼b

.W4848 2019
082

0

0

▼a

372.6

▼2

23
084

▼a

372.6

▼2

DDCK
090

▼a

372.6

▼b

W545k
100

1

▼a

Wexler, Natalie.
245

1

4

▼a

The knowledge gap :

▼b

the hidden cause of America's broken education system--and how to fix it /

▼c

Natalie Wexler.
260

▼a

New York :

▼b

Avery, an imprint of Penguin Randon House, LLC,

▼c

c2019.
300

▼a

324 p. ;

▼c

24 cm.
504

▼a

Includes bibliographical references (p. [271]-307) and index.
520

▼a

"The untold story of the root cause of America's education crisis--and the seemingly endless cycle of multigenerational poverty. It was only after years within the education reform movement that Natalie Wexler stumbled across a hidden explanation for our country's frustrating lack of progress when it comes to providing every child with a quality education. The problem wasn't one of the usual scapegoats: lazy teachers, shoddy facilities, lack of accountability. It was something no one was talking about: the elementary school curriculum's intense focus on decontextualized reading comprehension "skills" at the expense of actual knowledge. In the tradition of Dale Russakoff's The Prize and Dana Goldstein's The Teacher Wars, Wexler brings together history, research, and compelling characters to pull back the curtain on this fundamental flaw in our education system--one that fellow reformers, journalists, and policymakers have long overlooked, and of which the general public, including many parents, remains unaware. But The Knowledge Gap isn't just a story of what schools have gotten so wrong--it also follows innovative educators who are in the process of shedding their deeply ingrained habits, and describes the rewards that have come along: students who are not only excited to learn but are also acquiring the knowledge and vocabulary that will enable them to succeed. If we truly want to fix our education system and unlock the potential of our neediest children, we have no choice but to pay attention"--

▼c

Provided by publisher.
650

0

▼a

Language arts (Elementary)

▼z

United States.
650

0

▼a

Education, Elementary

▼x

Curricula

▼z

United States.
650

0

▼a

Educational change

▼z

United States.
650

0

▼a

Children with social disabilities

▼x

Education (Elementary)

▼z

United States.
650

0

▼a

Poor children

▼x

Education (Elementary)

▼z

United States.
945

▼a

KLPA
---
Holdings Information
No.
Location
Call Number
Accession No.
Availability
Due Date
Make a Reservation
Service

No.

1

Location

Main Library/Western Books/

Call Number

372.6 W545k

Accession No.

111819540

Availability

Available

Due Date

Make a Reservation

Service

No.

2

Location

Main Library/Western Books/

Call Number

372.6 W545k

Accession No.

111825204

Availability

Available

Due Date

Make a Reservation

Service
Contents information
Table of Contents
Pt. I, The way we teach now: all you need is skills :
The water they''ve been swimming in
A problem hiding in plain sight
Everything was surprising and novel
The reading wars
Unbalanced literacy
Billions for education reform, but barely a cent for knowledge
Pt. II, How we got here : the history behind the content-free curriculum :
Émile meets the Common Core
Politics and the quest for content
Pt. III, How we can change : creating and delivering content-focused curriculum :
The Common Cor: new life for knowledge, or another nail in its coffin?
No more jackpot standards
Don''t forget to write
Scaling up : can it be done?.