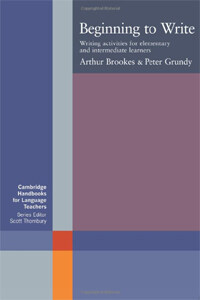 000
00000nam u2200205 a 4500
001
000046003758
005
20191029105916
008
191028s1998 enka b 001 0 eng d
020

▼a

0521589797 (pbk.)
040

▼a

211009

▼c

211009

▼d

211009
082

0

4

▼a

372.623

▼2

23
084

▼a

372.623

▼2

DDCK
090

▼a

372.623

▼b

B872b
100

1

▼a

Brookes, Arthur.
245

1

0

▼a

Beginning to write :

▼b

writing activities for elementary and intermediate learners /

▼c

Arthur Brookes and Peter Grundy.
260

▼a

Cambridge :

▼b

Cambridge University Press,

▼c

c1998.
300

▼a

xi, 192 p. :

▼b

ill. ;

▼c

23 cm.
490

1

▼a

Cambridge handbooks for language teachers
504

▼a

Includes bibliographical references and index.
650

0

▼a

English language

▼x

Composition and exercises

▼x

Study and teaching (Elementary).
700

1

▼a

Grundy, Peter.
830

0

▼a

Cambridge handbooks for language teachers.
945

▼a

KLPA
---
Holdings Information
No.
Location
Call Number
Accession No.
Availability
Due Date
Make a Reservation
Service

No.

1

Location

Main Library/Western Books/

Call Number

372.623 B872b

Accession No.

111816841

Availability

Available

Due Date

Make a Reservation

Service
Contents information
Book Introduction
Beginning to Write contains over 100 writing activities suitable for elementary and intermediate learners. It shows that it is possible to take the teaching of writing seriously at an early stage in language learning. It also recognises the role writing plays in general language learning. The introduction discusses the differences between speaking and writing, the purpose of writing and the real world uses to which it is put. Process writing is discussed in a particularly clear manner and approaches to teaching writing are considered. There are activities: - to start learners writing with confidence - that practise such mechanics as capitalisation, spelling and punctuation - that focus on the writing process - that show how vaulable computers can be in teaching writing - that focus on outcomes and on the assessment of writing.

Information Provided By: :

Author Introduction
피터 그런디
(지은이)
영국 더럼대학교 영어센터 명예선임연구원 겸 MA TESOL(Master of Arts program in Teaching English to Speakers of Other Languages) 교사다. 더럼대학교 언어학과 교수(1979∼2002)로 재직했고, 언어교수방법론과 화용론이 주 전공이다. 1994년부터 1996년까지 홍콩대학교에서 교환교수로 활동했고, 2002년 더럼대학교의 언어학과가 문을 닫아 조기 은퇴한 뒤, 더럼대학교 영어센터 명예연구원으로 적을 두고 영국과 유럽 등지의 여러 대학에서 객원 교수로 활동하고 있다. 외국어로서의 영어교육국제연합(IATEFL, International Association of Teachers of English as a Foreign Language) 회장을 역임했고 현재는 고문으로 활동하고 있다. 1995년에 Doing Pragmatics의 초판을 출간했고, 2000년에 재판, 2008년에 3판을 출간했고 판을 거듭함에 따라 내용이 대폭 수정·증보되었다. 『예술을 통한 영어(English through Art)』(공저, 2011), 『라우트리지 화용론 논문선(The Routledge Pragmatics Reader)』(공편, 2011), 『라우트리지 화용론 핸드북(The Routledge Pragmatics Handbook)』(공편, 2012) 등의 저서와 편저가 있다.
Information Provided By: :

Table of Contents
Read this first	
Introduction	
From copying to writing	
The mechanics of writing	
Confidence building	
Practising process stages	
A process writing-project	
Computers and writing	
Outcomes	
Assessment	
Bibliography	
Indexes	
Table of Contents provided by Publisher. All Rights Reserved.