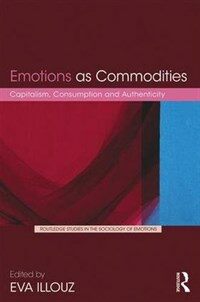 000
00000cam u2200205 a 4500
001
000045996705
005
20190906170207
008
190903s2018 enk b 001 0 eng d
010

▼a

2017448038
015

▼a

GBB7F2303

▼2

bnb
020

▼a

9781138628236 (hbk)
020

▼a

1138628239 (hbk)
020

▼a

9780367354985 (pbk.)
020

▼z

9781351810593 (ePub)
020

▼z

9781351810609 (PDF)
020

▼z

9781351810586(Mobipocket)
020

▼z

9781315210742(ebk)
035

▼a

(KERIS)REF000018588428
040

▼a

EUM

▼b

eng

▼c

EUM

▼e

rda

▼d

BTS

▼d

CDX

▼d

OCLCF

▼d

DLC

▼d

211009
050

0

0

▼a

HF5415.32

▼b

.E5275 2018
082

0

4

▼a

658.8/342

▼2

23
084

▼a

658.8342

▼2

DDCK
090

▼a

658.8342

▼b

E54
245

0

0

▼a

Emotions as commodities :

▼b

capitalism, consumption and authenticity /

▼c

edited by Eva Illouz.
260

▼a

London :

▼b

Routledge, Taylor & Francis Group,

▼c

c2018

▼g

(2019 printing).
300

▼a

xi, 222 p. ;

▼c

24 cm.
490

1

▼a

Routledge studies in the sociology of emotions ;

▼v

2
504

▼a

Includes bibliographical references and index.
650

0

▼a

Consumer behavior.
650

0

▼a

Emotions

▼x

Social aspects.
650

0

▼a

Commercial products

▼x

Social aspects.
650

0

▼a

Commercial products

▼x

Psychological aspects.
650

0

▼a

Commodification.
700

1

▼a

Illouz, Eva,

▼d

1961-.
830

0

▼a

Routledge studies in the sociology of emotions ;

▼v

2.
945

▼a

KLPA
---
Holdings Information
No.
Location
Call Number
Accession No.
Availability
Due Date
Make a Reservation
Service

No.

1

Location

Main Library/Western Books/

Call Number

658.8342 E54

Accession No.

111814632

Availability

Available

Due Date

Make a Reservation

Service
Contents information
Author Introduction
에바 일루즈
(엮은이)
파리10대학교에서 사회학, 커뮤니케이션, 문학을 공부하고 히브리대학교 석사과정에서 커뮤니케이션을 공부했으며 펜실베이니아대학교 아넨버그 스쿨 박사과정에서 커뮤니케이션과 문화이론을 공부했다. 파리 사회과학고등연구원, 프린스턴대학교 등에서 강의하고, 베를린 지식연구소 교수를 지냈다. 히브리대학교 사회학과 교수이자, 파리 소르본의 유럽사회정치학센터(CESSP-CSE) 소장이다. 2009년 독일 신문 『디 차이트』가 선정한 '내일의 사유를 바꿀 12인의 사상가' 중 한 명이다. 『낭만적 유토피아 소비하기』는 전미사회학회 2000년 감정사회학 분야 최우수도서로 선정되었고, 『오프라 윈프리, 위대한 인생』(Oprah Winfrey and the Glamour of Misery)은 전미사회학회 2005년 문화사회학 분야 최우수도서로 선정되었다. 2005년 프랑크푸르트 사회과학연구원에서 '아도르노 강의'를 진행했고, 그 내용을 『감정 자본주의』Cold Intimacies(2010년 한국어판 출간)로 펴내 학계와 출판계에서 좋은 평가를 받았다. 2013년과 2014년에 한국에 번역 출간된 『사랑은 왜 아픈가』와 『사랑은 왜 불안한가』는 폭넓은 독자들의 호응을 얻으며 감정사회학 분야의 필독서로 자리매김했다.
Information Provided By: :

Table of Contents
Introduction: emodities or the making of emotional commodities / Eva Illouz -- Part I Liberating the self: emotional experiences and moods -- 1 "It is all included -- without the stress": exploring the production of relaxation in Club Med seaside resorts / Yaara Benger Alaluf -- 2 Emotional ear drops: the music industry and technologies of emotional management / Ori Schwarz -- 3 Cinema as an emotional commodity: the horror genre and the commodification of fear / Daniel Gilon -- 4 Sex cards in Tel Aviv: mood work, recreational sexuality and urban atmospheres / Dana Kaplan -- Part II Ideal of intimacy: relational emotions -- 5 Understanding authenticity in commercial sentiment: the greeting card as emotional commodity / Emily West -- Part III The ideal of mental health and self-improvement: emotional self-monitoring as commodity -- 6 (Ex)changing feelings: in the commodification of emotions in psychotherapy / Mattan Shachak -- 7 "Psytizens", or the construction of happy individuals in neoliberal societies / Edgar Cabanas -- Toward a post-normative critique of emotional authenticity: conclusion / Eva Illouz.