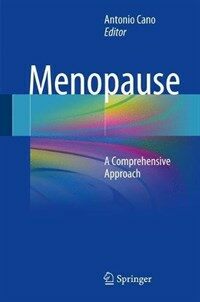 000
00000cam u2200205 a 4500
001
000045989852
005
20190723151810
006
m d
007
cr
008
190708s2017 sz a ob 000 0 eng d
020

▼a

9783319593173
020

▼a

9783319593180 (e-book)
040

▼a

211009

▼c

211009

▼d

211009
050

4

▼a

RG1-991
082

0

4

▼a

618.1/75

▼2

23
084

▼a

618.175

▼2

DDCK
090

▼a

618.175
245

0

0

▼a

Menopause

▼h

[electronic resource] :

▼b

a comprehensive approach /

▼c

Antonio Cano, editor.
260

▼a

Cham :

▼b

Springer,

▼c

c2017.
300

▼a

1 online resource (viii, 342 p.) :

▼b

ill.
500

▼a

Title from e-Book title page.
504

▼a

Includes bibliographical references.
505

0

▼a

Part I Biological background:  An evolutionary view of menopause -- Menopause: the concepts and the biological background -- Primary ovarian insufficiency -- Part II Impact of estrogen depletion on symptoms and quality of life: Clinical symptoms and quality of life (1) -- Clinical symptoms and quality of life (2) -- The genitourinary syndrome. Vaginal health and microbiota -- Part III: The impact of estrogen depletion on disease susceptibility: Osteoporosis -- Metabolic syndrome -- Other chronic noncommunicable diseases (Cognitive decline, cardiovascular disease, osteoarthritis) -- Part IV Management of menopause: Hormone therapy (I): estrogens and progestogens -- Hormone therapy (II): tibolone, the TSEC concept -- The impact of hormone therapy on the clinical features of menopause -- The impact of hormone therapy on health (Osteoporosis, cancer, cardiovascular disease, cognition) -- Pharmacological compounds other than hormones: which and when -- Alternative medicine -- Lifestyle: physical activity -- Lifestyle: nutrition -- Part V Menopause in the context of healthy ageing: Frailty and co-morbidities. Frailty in women -- Sarcopenia and dynapenia -- The health challenges at menopause and midlife: sustainability, ICT technology, patient empowerment.
520

▼a

This book provides an evidence-based approach to the universal experience of menopause. Its structured format clearly separates the biological basis from the clinical impact and quality of life, while also examining menopause within the context of healthy ageing in females. Accordingly, the book addresses factors including lifestyle, frailty, sarcopenia, and new ICT technologies. Written by respected experts in the field, the book offers a valuable guide for gynecologists and professionals devoted to women's healthcare and ageing quality of life, while also sharing revealing insights for non-professionals.
530

▼a

Issued also as a book.
538

▼a

Mode of access: World Wide Web.
650

0

▼a

Menopause.
700

1

▼a

Cano, Antonio.
856

4

0

▼u

https://oca.korea.ac.kr/link.n2s?url=https://doi.org/10.1007/978-3-319-59318-0
945

▼a

KLPA
991

▼a

E-Book(소장)
---
Holdings Information
No.
Location
Call Number
Accession No.
Availability
Due Date
Make a Reservation
Service

No.

1

Location

Main Library/e-Book Collection/

Call Number

CR 618.175

Accession No.

E14015394

Availability

Loan can not(reference room)

Due Date

Make a Reservation

Service
Contents information
Table of Contents
Part I Biological background:  An evolutionary view of menopause
Menopause: the concepts and the biological background
Primary ovarian insufficiency
Part II Impact of estrogen depletion on symptoms and quality of life: Clinical symptoms and quality of life (1)
Clinical symptoms and quality of life (2)
The genitourinary syndrome. Vaginal health and microbiota
Part III: The impact of estrogen depletion on disease susceptibility: Osteoporosis
Metabolic syndrome
Other chronic noncommunicable diseases (Cognitive decline, cardiovascular disease, osteoarthritis)
Part IV Management of menopause: Hormone therapy (I): estrogens and progestogens
Hormone therapy (II): tibolone, the TSEC concept
The impact of hormone therapy on the clinical features of menopause
The impact of hormone therapy on health (Osteoporosis, cancer, cardiovascular disease, cognition)
Pharmacological compounds other than hormones: which and when
Alternative medicine
Lifestyle: physical activity
Lifestyle: nutrition
Part V Menopause in the context of healthy ageing: Frailty and co-morbidities. Frailty in women
Sarcopenia and dynapenia
The health challenges at menopause and midlife: sustainability, ICT technology, patient empowerment.