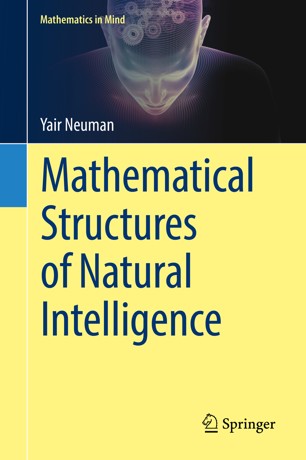 000
00000cam u2200205 a 4500
001
000045989233
005
20190709111757
006
m d
007
cr
008
190708s2017 sz a ob 001 0 eng d
020

▼a

9783319682457
020

▼a

9783319682464 (eBook)
040

▼a

211009

▼c

211009

▼d

211009
050

4

▼a

QA169
082

0

4

▼a

512.62

▼2

23
084

▼a

512.62

▼2

DDCK
090

▼a

512.62
100

1

▼a

Neuman, Yair,

▼d

1968-.
245

1

0

▼a

Mathematical structures of natural intelligence

▼h

[electronic resource] /

▼c

Yair Neuman.
260

▼a

Cham :

▼b

Springer,

▼c

c2017.
300

▼a

1 online resource (xvii, 173 p.) :

▼b

ill. (some col.).
490

1

▼a

Mathematics in mind,

▼x

2522-5405
500

▼a

Title from e-Book title page.
504

▼a

Includes bibliographical references and index.
505

0

▼a

Part I. 1. Introduction -- 2. What is Structure? -- 3. Category Theory -- 4. How to Trick the Demon of Entropy -- 5. Neural Networks and Groupoids -- Part II. 6. Natural Intelligence in the Wild -- 7. Natural Intelligence is about meaning -- 8. From Identity to Equivalence -- 9. On Negation -- 10. Modeling -- 11. On Structures and Wholes -- Part III. 12. Let's Talk About Nothing -- 13. King Richard is a Lion -- 14. The Madman and the Dentist -- 15. Discussion -- References -- Author index -- Subject index.
520

▼a

This book uncovers mathematical structures underlying natural intelligence and applies category theory as a modeling language for understanding human cognition, giving readers new insights into the nature of human thought. In this context, the book explores various topics and questions, such as the human representation of the number system, why our counting ability is different from that which is evident among non-human organisms, and why the idea of zero is so difficult to grasp. The book is organized into three parts: the first introduces the general reason for studying general structures underlying the human mind; the second part introduces category theory as a modeling language and use it for exposing the deep and fascinating structures underlying human cognition; and the third applies the general principles and ideas of the first two parts to reaching a better understanding of challenging aspects of the human mind such as our understanding of the number system, the metaphorical nature of our thinking and the logic of our unconscious dynamics. About the Author: Yair Neuman is a Full Professor at Ben-Gurion University. He holds a BA in Psychology (Major) and Philosophy (Minor) and a PhD in Cognition (Hebrew University, 1999), and his expertise is in studying complex cognitive, social, and symbolic systems from a unique interdisciplinary approach. Professor Neuman has published numerous papers and five academic books and has been a visiting scholar or professor at MIT, the University of Toronto, the University of Oxford, and the Weizmann Institute of Science. Beyond his purely academic work, he has developed state-of-the-art algorithms for social and cognitive computing, such as those he developed for the IARPA metaphor project (ADAMA group).
530

▼a

Issued also as a book.
538

▼a

Mode of access: World Wide Web.
650

0

▼a

Categories (Mathematics).
650

0

▼a

Natural computation.
650

0

▼a

Mathematics.
650

0

▼a

Category Theory, Homological Algebra.
830

0

▼a

Mathematics in mind.
856

4

0

▼u

https://oca.korea.ac.kr/link.n2s?url=https://doi.org/10.1007/978-3-319-68246-4
945

▼a

KLPA
991

▼a

E-Book(소장)
---
Holdings Information
No.
Location
Call Number
Accession No.
Availability
Due Date
Make a Reservation
Service

No.

1

Location

Main Library/e-Book Collection/

Call Number

CR 512.62

Accession No.

E14014775

Availability

Loan can not(reference room)

Due Date

Make a Reservation

Service
Contents information
Table of Contents
Part I. 1. Introduction
2. What is Structure?
3. Category Theory
4. How to Trick the Demon of Entropy
5. Neural Networks and Groupoids
Part II. 6. Natural Intelligence in the Wild
7. Natural Intelligence is about meaning
8. From Identity to Equivalence
9. On Negation
10. Modeling
11. On Structures and Wholes
Part III. 12. Let''s Talk About Nothing
13. King Richard is a Lion
14. The Madman and the Dentist
15. Discussion
References
Author index
Subject index.