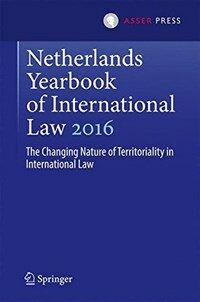 000
00000nam u2200205 a 4500
001
000045989014
005
20190705174207
008
190705s2017 gw b 001 0 eng d
020

▼a

9789462652064 (hbk.)
040

▼a

211009

▼c

211009

▼d

211009
082

0

4

▼a

341.42

▼2

23
084

▼a

341.42

▼2

DDCK
090

▼a

341.42

▼b

C456
245

0

4

▼a

The changing nature of territoriality in international law /

▼c

Martin Kuijer, Wouter Werner, editors.
260

▼a

Berlin :

▼b

Asser Press :

▼b

Springer,

▼c

c2017.
300

▼a

xv, 424 p. ;

▼c

25 cm.
490

1

▼a

Netherlands yearbook of international law,

▼x

0167-6768 ;

▼v

vol. 47 (2016)
504

▼a

Includes bibliographical references and index.
650

0

▼a

Territory, National.
650

0

▼a

International law.
700

1

▼a

Kuijer, M.

▼q

(Martin).
700

1

▼a

Werner, W. G.

▼q

(Wouter G.),

▼d

1966-.
830

0

▼a

Netherlands yearbook of international law ;

▼v

vol. 47 (2016).
945

▼a

KLPA
---
Holdings Information
No.
Location
Call Number
Accession No.
Availability
Due Date
Make a Reservation
Service

No.

1

Location

Main Library/Law Library(Books/B1)/

Call Number

341.42 C456

Accession No.

111811781

Availability

Available

Due Date

Make a Reservation

Service
Contents information
Table of Contents
The Changing Nature of Territoriality in International Law
The Paradoxical Place of Territory in International Law
A State Without Territory – Science Fiction or Reality?
Territory in The Law of Jurisdiction: Imagining Alternatives
Cartographies of the Present: 'Contingent Sovereignty' and Territorial Integrity
Data Territories: Changing Architectures of Association in International Law
'Spoofed Presence Does Not Suffice': On Territoriality in the Tallinn Manual
Cybercrime, Evidence and Territoriality: Issues and Options
Reconfiguring Territoriality in International Economic Law
Extraterritorial Obligations and the Obligation to Protect
Citizenship at Home and Across Borders
Territoriality and Asylum Law: The Use of Territorial Jurisdiction to Circumvent Legal Obligations and Human Rights Law Responses
Schrödinger's Cake? Territorial Truths for Post-Brexit Britain
Dutch Practice in International Law
The Dutch Contribution to the Armed Coalition against ISIS
The Dutch Referendum on the EU-Ukraine Association Agreement: Legal Implications and Solutions
The Netherlands: A Tax Haven?
Recent Developments Regarding the Direct and Indirect Application of Treaties by Dutch Courts: Fresh Approaches to Self-Executing, Non-Self-Executing and Non-Binding International Law
Table of Cases
Index.