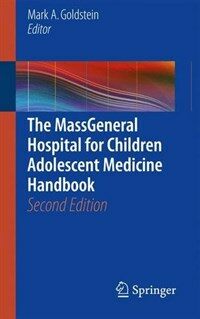 000
00000cam u2200205 a 4500
001
000045988673
005
20190703175120
006
m d
007
cr
008
190703s2017 sz a o 000 0 eng d
020

▼a

9783319457772
020

▼a

9783319457789 (eBook)
040

▼a

211009

▼c

211009

▼d

211009
050

4

▼a

RJ1-570
082

0

4

▼a

618.92

▼2

23
084

▼a

618.92

▼2

DDCK
090

▼a

618.92
245

0

4

▼a

The MassGeneral hospital for children adolescent medicine handbook

▼h

[electronic resource] /

▼c

Mark A. Goldstein, editor.
250

▼a

2nd ed.
260

▼a

Cham :

▼b

Springer,

▼c

c2017.
300

▼a

1 online resource (xviii, 381 p.) :

▼b

ill. (chiefly col.).
500

▼a

Title from e-Book title page.
505

0

▼a

Preface -- Acknowledgements -- PART 1.  GENERAL ADOLESCENT MEDICINE -- 1. Adolescent Preventive Services.-  2. The Adolescent Patient Interview: Adolescent Confidentiality and Consent -- 3. Pubertal Development -- 4. Normal Adolescent Development -- 5. Male Genitourinary Exam -- 6. The Pelvic Examination and Pap Smear in Adolescents and Young Adults -- 7. Adolescent Dermatology -- 8. Obesity -- 9. Nutrition: Healthy Eating in Adolescence; Nutritional Supplements: Performance-Enhancing Drugs, and Dietary Supplements; Irritable Bowel Syndrome; and Inflammatory Bowel Syndrome -- 10. Sports Injuries in the Adolescent -- 11. Cardiac Issues in Adolescence -- 12. Hypertension in Adolescents -- 13. Immunizations -- PART 2. SEXUALITY, GYNECOLOGY, AND ABNORMAL GROWTH AND DEVELOPMENT -- 14. Amenorrhea -- 15. Abnormal Vaginal Bleeding -- 16. Basics of Hormonal Contraception -- 17. Adolescent Pregnancy -- 18. Polycystic Ovary Syndrome -- 19. Breast Disorders in Adolescence -- 20. Sexually Transmitted Infections (STI) in Adolescents -- 21. HIV in Adolescents -- 22. Delayed Puberty, Short Stature, and Tall Stature -- PART 3. MENTAL HEALTH AND TRANSITION OF CARE -- 23. Adolescent Substance Use and Prevention -- 24. Adolescent Mental Health Disorders -- 25. Eating Disorders -- 26. Adolescent Relationship Abuse in Clinical Settings:  Opportunities for Prevention and Intervention -- 27. Bullying and Cyber Bullying -- 28. Nature, Nurture, Adolescents and Resilience -- 29. Transition of Care -- APPENDIX.
520

▼a

The second edition of this definitive guide for clinical care of adolescents builds upon the practical knowledge and guidance of the first edition, and expands into new subjects of adolescent care. The handbook is divided into three sections: general adolescent medicine, sexuality, and mental health, and contains relevant, practical knowledge, covering those areas most often seen in the practice of adolescent medicine. The MassGeneral Hospital for Children Adolescent Medicine Handbook, 2nd edition details best practices in regards to diagnostic evaluations and clinical care, but also instructs practitioners on the best methods to connect, communicate, and continue that care with adolescents, in order to provide optimal treatment, and instill healthy lifetime behaviors. Each chapter is written by clinicians who have been trained at, or are members of the staff of Massachusetts General Hospital, and this edition has nearly doubled the amount of skilled physician authors. While this title has been revised and updated, entirely new chapters devoted to hypertension, immunizations, breast disorders, HIV, and resilience have also been added, reflecting new and changing contributions to the field of adolescent medicine. This second edition brings together the practical, hands-on knowledge of the first edition, along with new information and additional subject areas to create a balanced, multi-specialty method to treating  and engaging adolescent patients.
530

▼a

Issued also as a book.
538

▼a

Mode of access: World Wide Web.
650

0

▼a

Pediatrics.
650

0

▼a

Internal medicine.
650

0

▼a

Family medicine.
650

0

▼a

Emergency medicine.
650

0

▼a

Child psychiatry.
700

1

▼a

Goldstein, Mark A.
856

4

0

▼u

https://oca.korea.ac.kr/link.n2s?url=https://doi.org/10.1007/978-3-319-45778-9
945

▼a

KLPA
991

▼a

E-Book(소장)
---
Holdings Information
No.
Location
Call Number
Accession No.
Availability
Due Date
Make a Reservation
Service

No.

1

Location

Main Library/e-Book Collection/

Call Number

CR 618.92

Accession No.

E14014425

Availability

Loan can not(reference room)

Due Date

Make a Reservation

Service
Contents information
Table of Contents
Preface
Acknowledgements
PART 1. GENERAL ADOLESCENT MEDICINE
1. Adolescent Preventive Services
2. The Adolescent Patient Interview: Adolescent Confidentiality and Consent
3. Pubertal Development
4. Normal Adolescent Development
5. Male Genitourinary Exam
6. The Pelvic Examination and Pap Smear in Adolescents and Young Adults
7. Adolescent Dermatology
8. Obesity
9. Nutrition: Healthy Eating in Adolescence; Nutritional Supplements: Performance-Enhancing Drugs, and Dietary Supplements; Irritable Bowel Syndrome; and Inflammatory Bowel Syndrome
10. Sports Injuries in the Adolescent
11. Cardiac Issues in Adolescence
12. Hypertension in Adolescents
13. Immunizations
PART 2. SEXUALITY, GYNECOLOGY, AND ABNORMAL GROWTH AND DEVELOPMENT
14. Amenorrhea
15. Abnormal Vaginal Bleeding
16. Basics of Hormonal Contraception
17. Adolescent Pregnancy
18. Polycystic Ovary Syndrome
19. Breast Disorders in Adolescence
20. Sexually Transmitted Infections (STI) in Adolescents
21. HIV in Adolescents
22. Delayed Puberty, Short Stature, and Tall Stature
PART 3. MENTAL HEALTH AND TRANSITION OF CARE
23. Adolescent Substance Use and Prevention
24. Adolescent Mental Health Disorders
25. Eating Disorders
26. Adolescent Relationship Abuse in Clinical Settings: Opportunities for Prevention and Intervention
27. Bullying and Cyber Bullying
28. Nature, Nurture, Adolescents and Resilience
29. Transition of Care
APPENDIX.