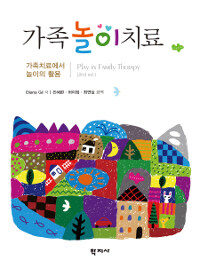 000
00000cam c2200205 c 4500
001
000045986164
005
20190605102747
007
ta
008
190604s2016 ulka b 001c kor
020

▼a

9788999711022

▼g

93180
035

▼a

(KERIS)BIB000014264688
040

▼a

211015

▼c

211009

▼d

211009
041

1

▼a

kor

▼h

eng
082

0

0

▼a

616.89/156

▼2

23
085

▼a

616.89156

▼2

DDCK
090

▼a

616.89156

▼b

2016z2
100

1

▼a

Gil, Eliana

▼0

AUTH(211009)113044
245

1

0

▼a

가족놀이치료 :

▼b

가족치료에서 놀이의 활용 /

▼d

Eliana Gil 저;

▼e

진혜련,

▼e

허미정,

▼e

최연실 공역
246

1

9

▼a

Play in family therapy

▼g

(2nd ed.)
260

▼a

서울 :

▼b

학지사,

▼c

2016
300

▼a

267 p. :

▼b

삽화 ;

▼c

24 cm
504

▼a

참고문헌(p. 245-263)과 색인수록
650

0

▼a

Family psychotherapy.
650

0

▼a

Play therapy
700

1

▼a

진혜련,

▼e

역
700

1

▼a

허미정,

▼e

역
700

1

▼a

최연실,

▼e

역

▼0

AUTH(211009)115687
945

▼a

KLPA
---
Holdings Information
No.
Location
Call Number
Accession No.
Availability
Due Date
Make a Reservation
Service

No.

1

Location

Main Library/Monographs(4F)/

Call Number

616.89156 2016z2

Accession No.

111810558

Availability

Available

Due Date

Make a Reservation

Service
Contents information
Book Introduction
가족놀이치료는 창조적인 요소 외에 경험적인 요소를 포함하고 있다. 성인과 아동 모두가 두뇌와 신체 활동에 참여하게 되면서 여러 가지 이유로 억압되었거나 접근하기 쉽지 않은 내면의 자원들을 깨우고 변화하게 된다. 가족놀이치료에 내재된 또 다른 중요한 특징은 은유와 은유적인 언어들의 등장이다. 가족들은 은유를 통해 스스로를 더 깊이 이해할 수 있고 의식에서 감춰져 있는 내면의 문제들을 보다 쉽게 표출할 가능성이 있다.

가족원을 모두 포괄하고 통합 수용해야 하는 가족치료 영역에서, 창의적인 시각과 접근으로서 놀이의 접목은 절실히 요구된다. 저자의 임상적 장면과 실제 사례를 통하여 보다 실용적이고 다양한 치료기법을 구체적으로 제시함으로써 가족치료, 놀이치료, 아동상담 실무자들이 그들의 영역에서 더욱 효과적인 방법으로 접근할 수 있도록 구성하였다.
가족놀이치료는 창조적인 요소 외에 경험적인 요소를 포함하고 있다. 성인과 아동 모두가 두뇌와 신체 활동에 참여하게 되면서 여러 가지 이유로 억압되었거나 접근하기 쉽지 않은 내면의 자원들을 깨우고 변화하게 된다. 특히 가족놀이치료에는 몇 가지 중요한 요소가 있다. 가족놀이치료는 경직되어 있는 신체와 감정을 활성화하고, 잠재되어 있는 기쁨이나 행복감 등 긍정적인 정서를 증진시키며, 특히 가족놀이치료를 경험하는 성인들에게 새로운 발견을 하게 한다. 새로운 발견이란 치료를 통해 경험한 것을 단순히 이해하는 것을 넘어 그동안 경직되어 있던 사고에 유연성을 증가시키는 것을 의미한다.
가족놀이치료에 내재된 또 다른 중요한 특징은 은유와 은유적인 언어들의 등장이다. 가족들은 은유를 통해 스스로를 더 깊이 이해할 수 있고 의식에서 감춰져 있는 내면의 문제들을 보다 쉽게 표출할 가능성이 있다.
가족원을 모두 포괄하고 통합 수용해야 하는 가족치료 영역에서, 창의적인 시각과 접근으로서 놀이의 접목은 절실히 요구된다. 이 책은 저자의 임상적 장면과 실제 사례를 통하여 보다 실용적이고 다양한 치료기법을 구체적으로 제시함으로써 가족치료, 놀이치료, 아동상담 실무자들이 그들의 영역에서 더욱 효과적인 방법으로 접근할 수 있도록 구성하였다.
구체적으로, 이 책의 제1장에서는 놀이치료와 가족치료를 통합하는 이론적 근거를 제시하고 있고, 제2장은 가족놀이치료를 활용하는 데 있어서의 과제와 새로운 기회를 동시에 보여 준다. 제3장은 가족놀이치료에서 임상적 창의성을 어떻게 개발할 것인지를 다루고 있다. 그 이후의 장들은 상당히 다양한 매체들과 구성을 통해 가족놀이치료의 창의적인 접근을 실제로 보여 주고 있다. 제4장과 제5장에서는 인형이나 퍼핏의 사용과 스토리텔링, 제6장에서는 미술치료의 활용, 제7장과 제9장에서는 가족, 커플의 난화 사용, 제8장에서는 가계도의 활용, 제10장에서는 가족 역동 평가에서의 가족 예술 작업의 활용 등을 다룬다. 제11장에서는 가족변화를 유도하기 위한 드라마치료 기법의 사용까지 보여 준다.
Information Provided By: :

Author Introduction
Eliana Gil
(지은이)
심리상담 및 치료와 교육을 제공하는 버지니아 페어펙스의 길 연구소의 설립자이며, 스타브라이트 아동·가족놀이치료 연구소의 이사다. 그녀는 가족놀이치료 교육과 아동기에 트라우마를 경험한 성인 및 그들의 가족을 대상으로 한 전문적인 심리치료를 제공하는 가족놀이치료 전문가다. Virginia Techs 대학의 부부·가족치료 학과의 겸임교수이며 미국 전역에서 상담과 교육을 진행하고 있다. 주요 저서로는 『놀이의 치유력(The Healing Power of Play)』 『피학대 청소년치료(Treating Abused Adolescents)』 『피학대 및 외상 아동 돕기(Helping Abused and Traumatized Children)』가 있다.
진혜련
(옮긴이)
미국놀이치료사학회(Association Play Therapist) 공인 슈퍼바이저(RPT-s)이자 뉴욕시 공인 인지행동(CBT for Depression and Trauma) 상담사다. 놀이와 미술을 활용한 임상 경험을 바탕으로 현재는 '마음돌봄상담센터'에서 아동과 청소년, 성인, 가족들을 만나며 나눔을 실천하고 있다. 도서 시리즈(엘리북)의 이혼가정 편, 반려동물과의 이별 편 등을 공동으로 집필하였으며, 다이어리북 <365 letters>의 제작에도 함께 참여하게 되었다.
Information Provided By: :

Table of Contents
역자 서문 
저자 서문 

제1장 놀이치료와 가족치료의 통합 
1. 아동과 놀이치료 
2. 가족치료와 아동의 역할 
3. 가족놀이치료의 옹호자들 
4. 놀이치료와 가족치료 통합의 근거 
5. 결 론 

제2장 가족놀이치료 활용의 기회와 장애 
1. 가족놀이치료에 대한 장애 
2. 놀이치료에 가족을 포함하는 것에 대한 저항 
3. 가족놀이치료에서의 기회 

제3장 가족놀이치료에서 사용되는 임상적 창의성의 발달 
1. 자기자각: 창의적이기 위한 준비 
2. 창의성 발달을 위한 형식: 상호작용하는 세 차원들 
3. 가족과의 임상작업에서 창의성의 확장 
4. 요 약 

제4장 골디락스의 평화로운 저항 
-인형과 스토리텔링의 사용- 
1. 문제 표출 
2. 은유의 재도입 

제5장 세상의 왕이 되기를 원했던 늑대 
-인형을 이용한 스토리텔링- 
1. 사 례 
2. 가족과의 만남 

제6장 황금 심장을 가진 상어 
-가족 수족관- 
1. 사 례 
2. 칼리토스와의 개별치료 회기 
3. 부모-자녀 놀이치료 
4. 가족미술치료 
5. 가족 수족관 그리기 활동 
6. 마지막 수족관 회기 

제7장 바다뱀이 바다에서 올라오다 
-청소년의 커밍아웃을 촉진하는 가족 난화- 
1. 사 례 
2. 가족 회기 
3. 부모님에 대한 게이브의 커밍아웃 

제8장 부엉이가 날개를 펼치다 
-가족놀이 가계도가 생생해지다- 
1. 가족놀이 가계도 
2. 사 례 
3. 가족 회기 

제9장 사랑이 길을 안내하다 
-커플 난화에서 선명함이 드러날 때- 
1. 사 례 
2. 가족 난화 

제10장 그 녀석이 내 입안에서 무슨 짓을 하고 있는 거야 
-가족 역동 평가에서 가족 예술 작업의 활용성을 보여 준 상어 이야기- 
1. 사 례 
2. 놀이기반 활동을 활용한 평가 모델 
3. 가족 회기 

제11장 나를 너희 지도자에게 데려가라 
-가족의 변화를 유발하는 드라마치료 기법의 사용- 
1. 사 례 
2. 앤 마리와의 만남 
3. 가족모래놀이치료 
4. 가족인형 인터뷰 

제12장 맺음말 

참고문헌 
찾아보기