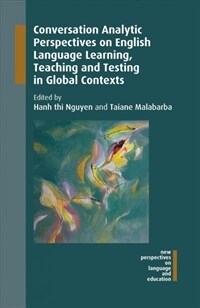 Conversation analytic perspectives on English language learning, teaching and testing in global contexts
000
00000cam u2200205 a 4500
001
000045984173
005
20190521165023
008
190521s2019 enka b 001 0 eng d
010

▼a

2018046597
020

▼a

9781788922883 (hbk : alk. paper)
020

▼a

9781788922906 (epub)
020

▼a

9781788922913 (kindle)
035

▼a

(KERIS)REF000018882853
040

▼a

DLC

▼b

eng

▼e

rda

▼c

DLC

▼d

211009
050

0

0

▼a

PE1128.A2

▼b

C6895 2019
082

0

0

▼a

428.0071

▼2

23
084

▼a

428.0071

▼2

DDCK
090

▼a

428.0071

▼b

C766
245

0

0

▼a

Conversation analytic perspectives on English language learning, teaching and testing in global contexts /

▼c

edited by Hanh thi Nguyen and Taiane Malabarba.
260

▼a

Bristol, UK ;

▼a

Blue Ridge Summir, PA :

▼b

Multilingual Matters,

▼c

c2019.
300

▼a

xi, 313 p. :

▼b

ill. ;

▼c

25 cm.
490

1

▼a

New perspectives on language and education : ;

▼v

63
504

▼a

Includes bibliographical references and index.
505

0

▼a

Introduction / Taiane Malabarba & Hanh thi Nguyen -- Learners' development of interactional competence. Embodied and occasioned learnables and teachables in an early EFL classroom / Maria Vanessa aus der wieschen & Soren Eskildsen -- Developing interactional competence in a lingua franca at the workplace: an ethnomethodologically endogenous account / Hanh thi Nguyen -- Teaching and testing practices as dynamic processes. Looking beyond IRF moves in EFL classroom interactions in China / Jingya Li -- EFL trainee teachers? orientations to students? non-understanding: a focus on task instructions / Dilara Somuncu & Olcay Sert -- Handling unprepared-for contingencies in an interactional language test: student initiation of correction as a collaborative accomplishment / Eric Hauser -- Closing up testing: interactional orientation to a timer during a paired ELC oral proficiency test / Tim Greer -- Socio-cultural and ideological forces in language teaching. The "power game": interactional asymmetries in EFL collaborative language teaching / Josephine Lee -- Collision of Centripetal and Centrifugal Forces in Iranian EFL Classroom Interaction / Mostafa Pourhaji -- "In English, sorry": participants' orientation to the English-only policy in beginning-level EFL classroom interaction / Taiane Malabarba -- Teaching Eglish in marginalized contexts: constructing relevance in an EFL classroom in rural southern Mexico / Peter Sayer, Taiane Malabarba, & Leslie Moore -- Commentary: fault lines in global EFL / Johannes Wagner.
650

0

▼a

English language

▼x

Study and teaching

▼x

Foreign speakers.
650

0

▼a

English language

▼x

Spoken English

▼x

Ability testing.
650

0

▼a

English language

▼x

Discourse analysis.
700

1

▼a

Nguyen, Hanh thi,

▼d

1972-.
700

1

▼a

Malabarba, Taiane,

▼d

1983-.
830

0

▼a

New perspectives on language and education :

▼v

63.
945

▼a

KLPA
---
Holdings Information
No.
Location
Call Number
Accession No.
Availability
Due Date
Make a Reservation
Service

No.

1

Location

Main Library/Western Books/

Call Number

428.0071 C766

Accession No.

111809842

Availability

Available

Due Date

Make a Reservation

Service
Contents information
Table of Contents
Introduction / Taiane Malabarba & Hanh thi Nguyen
Learners'' development of interactional competence. Embodied and occasioned learnables and teachables in an early EFL classroom / Maria Vanessa aus der wieschen & Soren Eskildsen
Developing interactional competence in a lingua franca at the workplace: an ethnomethodologically endogenous account / Hanh thi Nguyen
Teaching and testing practices as dynamic processes. Looking beyond IRF moves in EFL classroom interactions in China / Jingya Li
EFL trainee teachers'' orientations to students'' non-understanding: a focus on task instructions / Dilara Somuncu & Olcay Sert
Handling unprepared-for contingencies in an interactional language test: student initiation of correction as a collaborative accomplishment / Eric Hauser
Closing up testing: interactional orientation to a timer during a paired ELC oral proficiency test / Tim Greer
Socio-cultural and ideological forces in language teaching. The "power game": interactional asymmetries in EFL collaborative language teaching / Josephine Lee
Collision of Centripetal and Centrifugal Forces in Iranian EFL Classroom Interaction / Mostafa Pourhaji
"In English, sorry": participants'' orientation to the English-only policy in beginning-level EFL classroom interaction / Taiane Malabarba
Teaching Eglish in marginalized contexts: constructing relevance in an EFL classroom in rural southern Mexico / Peter Sayer, Taiane Malabarba, & Leslie Moore
Commentary: fault lines in global EFL / Johannes Wagner.