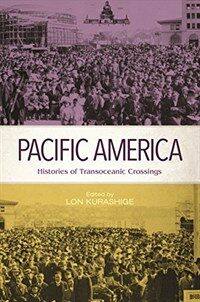 000
00000cam u2200205 a 4500
001
000045983654
005
20190516105424
008
190515s2017 hiua b 001 0 eng d
010

▼a

2017004009
020

▼a

9780824855765 (cloth ; alk. paper)
035

▼a

(KERIS)REF000018292374
040

▼a

HU/DLC

▼b

eng

▼c

HU

▼e

rda

▼d

DLC

▼d

211009
043

▼a

a------

▼a

p------

▼a

n-us---
050

0

0

▼a

JZ1320.7

▼b

.P335 2017
082

0

0

▼a

327.09172/3

▼2

23
084

▼a

327.091723

▼2

DDCK
090

▼a

327.091723

▼b

P117
245

0

0

▼a

Pacific America :

▼b

histories of transoceanic crossings /

▼c

edited by Lon Kurashige.
260

▼a

Honolulu :

▼b

University of Hawaiʻi Press,

▼c

c2017.
300

▼a

x, 275 p. :

▼b

ill. ;

▼c

24 cm.
504

▼a

Includes bibliographical references and index.
505

0

▼a

A very long early modern? : Asia and its oceans, 1000-1850 / John E. Wills, Jr. -- Transatlantic and transpacific connections in early American history / Kariann Akemi Yokota -- The Pacific Ocean as highway to gold mountain : the Hong Kong connection, 1850-1900 / Elizabeth Sinn -- Pop Gingle's Cold War / Peter E. Hamilton -- Chinese and American collaborations through educational exchange during the era of exclusion, 1872-1955 / Madeline Y. Hsu -- Japanese reinvention of self through Hawaiʻi's Japanese Americans / Yujin Yaguchi -- Fighting the postwar in Little Saigon / Phuong Nguyen -- Transpacific accommodation and the defense of Asian immigrants / Lon Kurashige -- Kilsoo Haan, American intelligence, and the anticipated Japanese invasion of California, 1931-1943 / Brian Hayashi -- Transpacific adoption : the Korean War, US missionaries, and Cold War liberalism / Susie Woo -- Inter-imperial relations, the Pacific, and Asian American history / Augusto Espiritu -- Japanese immigrant settler colonialism and the construction of a US national security regime against the transborder "yellow peril" / Eiichiro Azuma -- How the Portuguese became white : the racial politics of pre-annexation Hawaiʻi / Christen T. Sasaki -- Who closed the sea? : archipelagoes of amnesia between the United States and Japan / Greg Dvorak -- Japanese commemorations of World War II in the Mariana Islands / Keith L. Camacho.
650

0

▼a

Interregionalism

▼z

Asia.
650

0

▼a

Interregionalism

▼z

Pacific Area.
650

0

▼a

Interregionalism

▼z

United States.
651

0

▼a

Asia

▼x

Relations.
651

0

▼a

Pacific Area

▼x

Relations.
651

0

▼a

United States

▼x

Relations.
700

1

▼a

Kurashige, Lon,

▼d

1964-.
945

▼a

KLPA
---
Holdings Information
No.
Location
Call Number
Accession No.
Availability
Due Date
Make a Reservation
Service

No.

1

Location

Main Library/Western Books/

Call Number

327.091723 P117

Accession No.

111809463

Availability

Available

Due Date

Make a Reservation

Service
Contents information
Table of Contents
A very long early modern? : Asia and its oceans, 1000-1850 / John E. Wills, Jr.
Transatlantic and transpacific connections in early American history / Kariann Akemi Yokota
The Pacific Ocean as highway to gold mountain : the Hong Kong connection, 1850-1900 / Elizabeth Sinn
Pop Gingle''s Cold War / Peter E. Hamilton
Chinese and American collaborations through educational exchange during the era of exclusion, 1872-1955 / Madeline Y. Hsu
Japanese reinvention of self through Hawaiʻi''s Japanese Americans / Yujin Yaguchi
Fighting the postwar in Little Saigon / Phuong Nguyen
Transpacific accommodation and the defense of Asian immigrants / Lon Kurashige
Kilsoo Haan, American intelligence, and the anticipated Japanese invasion of California, 1931-1943 / Brian Hayashi
Transpacific adoption : the Korean War, US missionaries, and Cold War liberalism / Susie Woo
Inter-imperial relations, the Pacific, and Asian American history / Augusto Espiritu
Japanese immigrant settler colonialism and the construction of a US national security regime against the transborder "yellow peril" / Eiichiro Azuma
How the Portuguese became white : the racial politics of pre-annexation Hawaiʻi / Christen T. Sasaki
Who closed the sea? : archipelagoes of amnesia between the United States and Japan / Greg Dvorak
Japanese commemorations of World War II in the Mariana Islands / Keith L. Camacho.