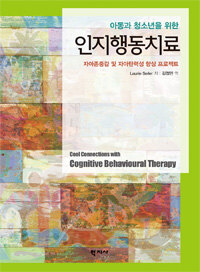 000
00000cam c2200205 c 4500
001
000045980499
005
20190415135549
007
ta
008
190412s2016 ulka b 000c kor
020

▼a

9788999709388

▼g

93180
035

▼a

(KERIS)BIB000014135458
040

▼a

211029

▼c

211029

▼d

211009
041

1

▼a

kor

▼h

eng
082

0

4

▼a

618.92/89142

▼2

23
085

▼a

618.9289142

▼2

DDCK
090

▼a

618.9289142

▼b

2016
100

1

▼a

Seiler, Laurie

▼0

AUTH(211009)4988
245

2

0

▼a

(아동과 청소년을 위한) 인지행동치료 :

▼b

자아존중감 및 자아탄력성 향상 프로젝트 /

▼d

Laurie Seiler 저 ;

▼e

김정민 역
246

1

9

▼a

Cool connections with cognitive behavioural therapy :

▼b

encouraging self-esteem, resilience and well-being in children and young people using CBT approaches
260

▼a

서울 :

▼b

학지사,

▼c

2016

▼g

(2018 2쇄)
300

▼a

205 p. :

▼b

삽화 ;

▼c

26 cm
504

▼a

참고문헌 수록
650

0

▼a

Cognitive therapy for children

▼v

Problems, exercises, etc.
650

0

▼a

Cognitive therapy for teenagers

▼v

Problems exercises, etc.
700

1

▼a

김정민,

▼e

역

▼0

AUTH(211009)109973
945

▼a

KLPA
---
Holdings Information
No.
Location
Call Number
Accession No.
Availability
Due Date
Make a Reservation
Service

No.

1

Location

Main Library/Monographs(4F)/

Call Number

618.9289142 2016

Accession No.

111807845

Availability

Available

Due Date

Make a Reservation

Service
Contents information
Book Introduction
이 책은 아동과 청소년을 대상으로 하는 대표적인 CBT 프로그램 중 하나로 자아존중감 및 자아탄력성의 향상을 위한 체계적인 CBT 프로토콜을 제시하고 있다. 쿨-커넥션 프로그램은 9~14세 아동을 대상으로 하는 10회기 조기 개입 프로그램이다. 이 책은 프로그램 진행 방식을 설명하는 집단 리더 가이드, 내담자 자기 의뢰 양식(referral forms), 과제 활동 등을 포함하고 있다. 10회의 회기는 이론, 게임 및 재미있는 다양한 활동으로 구성하였으며, 특히 아동이 이해하기 쉽도록 많은 그림을 제시하였다. 쿨-커넥션 프로그램은 아동 혹은 청소년 개인이나 집단을 대상으로 모두 시행할 수 있고, 쿨-커넥션은 불안이나 우울 등의 심리적 문제를 가진 아동이나 청소년의 치료를 위해 혹은 일반 아동이나 청소년의 성장을 위해 시행할 수 있다.
Information Provided By: :

Author Introduction
Laurie Seiler
(지은이)
1997년 브루넬 대학교(Brunel University)의 정신과 간호사 자격을 취득했으며, 이후 전문 치료 과정(specialist practice, BSc), 아동·청소년 정신건강학(child and adolescent mental health studies, BA) 및 인지행동치료(CBT) 석사 과정을 거쳤다. 현재 공인 인지행동치료사로 등록되어 있으며, 영국 인지행동치료학회(British Association for Behavioural and Cognitive Psychotherapies)의 회원으로 활동하고 있다.
김정민
(옮긴이)
명지대학교 아동학과 교수 미국 UC 버클리 석사 미국 UC 버클리 박사(아동발달·심리 전공)
Information Provided By: :

Table of Contents
역자 서문 
저자 서문 
감사의 말 
쿨-커넥션 프로그램 집단 리더 가이드 
인지행동치료(CBT) 
도움이 되는 링크 및 참고문헌 
사전 집단 프로그램 자료 

SESSION 1: 서로에 대해 알아가기 
SESSION 2: 다양한 감정 알아보기 
SESSION 3: 신체 반응과 생리 작용 
SESSION 4: 생각 분별하기 
SESSION 5: 생각, 감정, 신체 반응 및 행동 간의 관계 
SESSION 6: 생각의 유형 
SESSION 7: 생각 탐색 
SESSION 8: 목표 설정하기 
SESSION 9: 두려움 사이클과 안전 추구 행동 
SESSION 10: 두려움에 직면하기 

평가