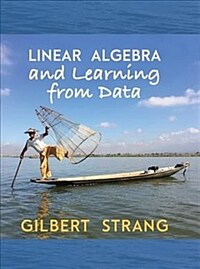 000
00000nam u2200205 a 4500
001
000045980440
005
20191031141015
008
190411s2019 maua 001 0 eng d
020

▼a

9780692196380
040

▼a

211009

▼c

211009

▼d

211009
082

▼a

512.5

▼2

23
084

▼a

512.5

▼2

DDCK
090

▼a

512.5

▼b

S897Ln
100

1

▼a

Strang, Gilbert.
245

1

0

▼a

Linear algebra and learning from data /

▼c

Gilbert Strang.
260

▼a

Wellesley, MA :

▼b

Wellesley-Cambridge Press,

▼c

c2019.
300

▼a

xiii, 432 p. :

▼b

ill. ;

▼c

25 cm.
500

▼a

Includes index.
650

0

▼a

Algebras, Linear

▼v

Textbooks.
650

0

▼a

Mathematical optimization

▼v

Textbooks.
650

0

▼a

Mathematical statistics

▼v

Textbooks.
650

0

▼a

Algebra lineal.
945

▼a

KLPA
---
Contents information
Author Introduction
Gilbert Strang
(지은이)
매사추세츠공과대학교(MIT) 수학과 교수이자 응용수학의 대가입니다. MIT에서 학사를 졸업한 후 영국 옥스퍼드 대학교에서 석사 학위를, UCLA에서 박사 학위를 받았습니다. 그의 주요 연구 분야는 유한요소이론, 변분법, 웨이블릿 분석, 선형대수학입니다. 주요 저서로는 『Linear Algebra and Learning form Data(2019)』, 『Calculus, 3rd edition(2017)』, 『Introduction to Linear Algebra, 5th edition(2016)』, 『Essay in Linear Algebra(2012)』 등이 있습니다.
Information Provided By: :

Table of Contents
Deep learning and neural nets
Preface and acknowledgements
Part I: Highlights of linear algebra
Part II: Computations with large matrices
Part III: Low rank and compressed sensing
Part IV: Special matrices
Part V: Probability and statistics
Part IV: Optimization
Part VII: Learning from data
Books on machine learning
Eigenvalues and singular values : rank one
Codes and algorithms for numerical linear algebra
Counting parameters in the basic factorizations
Index of authors
Index
Index of symbols.