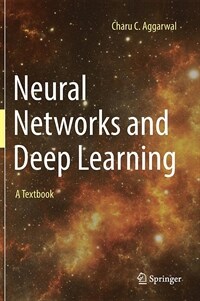 000
00000cam u2200205 a 4500
001
000045972698
005
20190228165251
008
190228s2018 sz a b 001 0 eng d
020

▼a

9783319944623 (hbk.)
035

▼a

(KERIS)BIB000014992880
040

▼a

221031

▼c

221031

▼d

211009
082

0

4

▼a

006.32

▼2

23
084

▼a

006.32

▼2

DDCK
090

▼a

006.32

▼b

A266n
100

1

▼a

Aggarwal, Charu C.
245

1

0

▼a

Neural networks and deep learning :

▼b

a textbook /

▼c

Charu C. Aggarwal.
260

▼a

Cham :

▼b

Springer,

▼c

c2018.
300

▼a

xviii,497 p. :

▼b

ill. (some col.) ;

▼c

26 cm.
504

▼a

Includes bibliographical references and index.
945

▼a

KLPA
---
Contents information
Author Introduction
차루 C. 아가르왈
(지은이)
미국 뉴욕 요크타운 하이츠 소재 IBM T. J. 왓슨 연구센터의 저명 연구원(Distinguished Research Staff Member, DRSM)이다. 그는 1993년에 인도 칸푸르의 인도 공과대학교에서 컴퓨터 과학을 학사로 졸업하고, 1996년 매사추세츠 공과대학(MIT)에서 박사 학위를 받았다. 데이터 마이닝 분야에서 주로 일했으며, 주요 콘퍼런스와 학술지에 350편이 넘는 논문을 발표했고, 80건이 넘는 특허를 가지고 있다. 또한, 데이터 마이닝과 추천 시스템, 이상치 분석에 관한 교과서들을 비롯해 18권의 책을 저술 또는 편집했다. 보유한 특허들의 상업적 가치 덕분에 IBM에서 세 번이나 Master Inventor로 선정되었다. 그는 데이터 스트림에서 생물 테러 위협을 검출하는 문제에 관한 연구로 2003년 IBM Corporate Award를 받았으며, 개인정보 기술에 대한 과학적 기여로 2008년 IBM Outstanding Innovation Award를 받았다. 또한, 자료 스트림/고차원 자료에 관한 연구로 2009년과 2015년에 IBM Outstanding Technical Achievement Award를 받았다. 2014년에는 응축(condensation) 기반 개인정보 보존 데이터 마이닝에 관한 연구로 EDBT 2014 Test of Time Award를 받았다. 그는 또한 2015년 IEEE ICDM Research Contributions Award 수상자인데, 이 상은 데이터 마이닝 분야에 기여한 연구자들에 주는 가장 권위 있는 두 상중 하나이다.
Information Provided By: :

Table of Contents
1 An Introduction to Neural Networks
2 Machine Learning with Shallow Neural Networks
3 Training Deep Neural Networks
4 Teaching Deep Learners to Generalize
5 Radical Basis Function Networks
6 Restricted Boltzmann Machines
7 Recurrent Neural Networks
8 Convolutional Neural Networks
9 Deep Reinforcement Learning
10 Advanced Topics in Deep Learning.