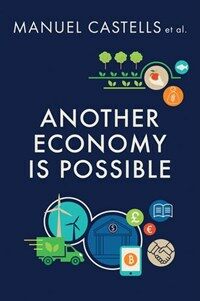 000
00000cam u2200205 a 4500
001
000045957642
005
20181019110749
008
181018s2017 mau b 001 0 eng d
010

▼a

2016038452
020

▼a

9781509517206 (hardback)
020

▼a

9781509517213 (pbk.)
035

▼a

(KERIS)REF000018208359
040

▼a

DLC

▼b

eng

▼c

DLC

▼e

rda

▼d

DLC

▼d

211009
050

0

0

▼a

HB3722

▼b

.A55 2017
082

0

0

▼a

338.5/42

▼2

23
084

▼a

338.542

▼2

DDCK
090

▼a

338.542

▼b

A615
245

0

0

▼a

Another economy is possible :

▼b

culture and economy in a time of crisis /

▼c

[edited by] Manuel Castells, ...[ et al.].
260

▼a

Malden, MA :

▼b

Polity,

▼c

2017.
300

▼a

xii, 226 p. ;

▼c

24 cm.
504

▼a

Includes bibliographical references and index.
650

0

▼a

Financial crises.
650

0

▼a

Economics.
700

1

▼a

Castells, Manuel,

▼d

1942-.
945

▼a

KLPA
---
Holdings Information
No.
Location
Call Number
Accession No.
Availability
Due Date
Make a Reservation
Service

No.

1

Location

Science & Engineering Library/Sci-Info(Stacks2)/

Call Number

338.542 A615

Accession No.

121246279

Availability

Available

Due Date

Make a Reservation

Service
Contents information
Author Introduction
마누엘 카스텔
(지은이)
미국 서던캘리포니아 대학교의 교수이며, 커뮤니케이션 기술과 사회를 연구하는 월리스 애넌버그 스쿨의 석좌교수이다. 캘리포니아 버클리 대학교 사회학과의 명예교수직을 맡고 있기도 하다. 마누엘 카스텔은 22개 국어로 번역된 『정보시대 경제, 사회 그리고 문화』 3부작(국내에서는 『네트워크 사회의 도래』, 『정체성 권력』, 『밀레니엄의 종언』으로 번역되어 출간), 『커뮤니케이션 권력』을 포함한 스물여섯 권의 책을 출간했다. 미국정치사회과학학술원, 영국학술원, 유럽학술원, 스페인왕립경제학술원의 회원이며, 유럽연구위원회의 창립이사이기도 하다. 2012년 노르웨이 의회로부터 홀베르(Holberg)상을 수상했으며, 2013년에는 사회학 연구 업적으로 발잔(Balzan)상을 수상했다.
Information Provided By: :

Table of Contents
Introduction / Manuel Castells -- Economy is culture / Sarah Banet-Weiser and Manuel Castells -- Economics without growth / Giorgos Kallis -- Analysis of worldwide community economies for sustainable local development / Sviatlana Hlebik -- Blockchain dreams : imagining techno-economic alternatives after bitcoin / Lana Swartz -- Consumer financial services in the US : why banks may not be the answer / Lisa J. Servon -- Commoning against the crisis / Angelos Varvarousis and Giorgos Kallis -- Alternative economic practices in Barcelona : surviving the crisis, reinventing life / Manuel Castells and Sviatlana Hlebik -- Imagining and making alternative futures : slow cities as sites for anticipation and trust / Sarah Pink and Kirsten Seale -- Conclusion / Manuel Castells.