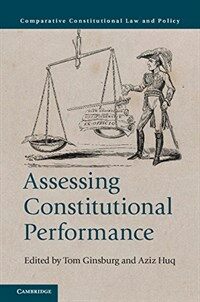 000
00000cam u2200205 a 4500
001
000045957602
005
20181022113932
008
181018s2016 nyu b 001 0 eng d
010

▼a

2016020960
020

▼a

9781107154797 (hardback)
020

▼a

9781316608357 (paperback)
035

▼a

(KERIS)REF000018185421
040

▼a

DLC

▼b

eng

▼c

DLC

▼e

rda

▼d

DLC

▼d

211009
050

0

0

▼a

K3165

▼b

.A87 2016
082

0

0

▼a

342

▼2

23
084

▼a

342

▼2

DDCK
090

▼a

342

▼b

A846
245

0

0

▼a

Assessing constitutional performance /

▼c

edited by Tom Ginsburg, University of Chicago; Aziz Huq, University of Chicago.
260

▼a

New York :

▼b

Cambridge University Press,

▼c

c2016.
300

▼a

xiii, 431 p. ;

▼c

24 cm.
490

1

▼a

Comparative constitutional law and policy
504

▼a

Includes bibliographical references (p. 417-420) and index.
505

0

▼a

Assessing constitutional performance / Tom Ginsburg and Aziz Z. Huq -- Hippocratic constitutional design / Aziz Z. Huq -- What is a good constitution? Assessing the constitutional proposal in the Icelandic experiment / Helene Landemore -- When is a constitution doing well? The Alberdian test in the Americas / Roberto Gargarella -- Parties and constitutional performance / Martin Shapiro - Constitutional performance in transitions from military to civilian rule / Ozan O. Varol -- Constitutional permissiveness, constitutional restrictiveness, and religious freedom / Hanna Lerner -- Performance of constitutions : transitional provisions / Sumit Bisarya -- Time and constitutional efficacy / Zachary Elkins, Tom Ginsburg and James Melton -- Competitive democracy and the constitutional minimum core / Rosalind Dixon and David Landau -- Ambedkar's constitution : promoting inclusion, opposing majority tyranny / Martha C. Nussbaum -- Assessing the constitutionn of Kenya 2010 fie years later / James Thuo Gathii -- The Arab Spring constitutions : for whose benefit? / Zaid Al-Ali -- Stability in flexibility : a British lens on constitutional success / Erin F. Delaney.
520

▼a

"From London to Libya, from Istanbul to Iceland, there is great interest among comparative constitutional scholars and practitioners about when a proposed constitution is likely to succeed. But what does it mean for a constitution to succeed? Are there universal criteria of success, which apply across the board? Or is the choice of criteria entirely idiosyncratic? This edited volume takes on the idea of constitutional success and shows the manifold ways in which it can be understood. It collects essays from philosophers, political scientists, political scientists, empiricists, and legal scholars, that approach the definition of constitutional success from many different angles. It also brings together case studies from Africa, Europe, Latin America, the Middle East, and Asia. By exploring a varied array of constitutional histories, this book shows how complex ideas of 'constitutional success' play out differently in different contexts and provides examples of how "success" can be differently defined under different circumstances"--

▼c

Provided by publisher.
650

0

▼a

Constitutions.
650

0

▼a

Constitutional history.
650

0

▼a

Comparative law.
650

0

▼a

Constitutional law.
700

1

▼a

Ginsburg, Tom.
700

1

▼a

Huq, Aziz Z.
830

0

▼a

Comparative constitutional law and policy.
945

▼a

KLPA
---
Holdings Information
No.
Location
Call Number
Accession No.
Availability
Due Date
Make a Reservation
Service

No.

1

Location

Main Library/Law Library(Books/B1)/

Call Number

342 A846

Accession No.

111798351

Availability

Available

Due Date

Make a Reservation

Service
Contents information
Table of Contents
Assessing constitutional performance / Tom Ginsburg and Aziz Z. Huq
Hippocratic constitutional design / Aziz Z. Huq
What is a good constitution? Assessing the constitutional proposal in the Icelandic experiment / Helene Landemore
When is a constitution doing well? The Alberdian test in the Americas / Roberto Gargarella
Parties and constitutional performance / Martin Shapiro
Constitutional performance in transitions from military to civilian rule / Ozan O. Varol
Constitutional permissiveness, constitutional restrictiveness, and religious freedom / Hanna Lerner
Performance of constitutions : transitional provisions / Sumit Bisarya
Time and constitutional efficacy / Zachary Elkins, Tom Ginsburg and James Melton
Competitive democracy and the constitutional minimum core / Rosalind Dixon and David Landau
Ambedkar''s constitution : promoting inclusion, opposing majority tyranny / Martha C. Nussbaum
Assessing the constitutionn of Kenya 2010 fie years later / James Thuo Gathii
The Arab Spring constitutions : for whose benefit? / Zaid Al-Ali
Stability in flexibility : a British lens on constitutional success / Erin F. Delaney.