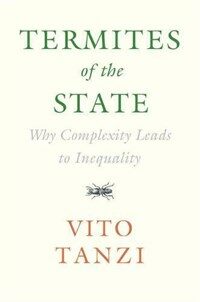 000
00000cam u2200205 a 4500
001
000045957598
005
20181022112444
008
181018s2018 nyu b 001 0 eng d
010

▼a

2017043719
020

▼a

9781108420938 (hardback : alk. paper)
035

▼a

(KERIS)REF000018507012
040

▼a

DLC

▼b

eng

▼c

DLC

▼e

rda

▼d

DLC

▼d

211009
050

0

0

▼a

HD87

▼b

.T3763 2018
082

0

0

▼a

339.2

▼2

23
084

▼a

339.2

▼2

DDCK
090

▼a

339.2

▼b

T171t
100

1

▼a

Tanzi, Vito.
245

1

0

▼a

Termites of the state :

▼b

why complexity leads to inequality /

▼c

Vito Tanzi.
260

▼a

New York :

▼b

Cambridge University Press,

▼c

c2018.
300

▼a

viii, 447 p. ;

▼c

24 cm.
504

▼a

Includes bibliographical references (p. 401-425) and index.
650

0

▼a

Economic development

▼x

Political aspects.
650

0

▼a

Economic policy.
650

0

▼a

Free enterprise.
650

0

▼a

Equality.
945

▼a

KLPA
---
Holdings Information
No.
Location
Call Number
Accession No.
Availability
Due Date
Make a Reservation
Service

No.

1

Location

Main Library/Western Books/

Call Number

339.2 T171t

Accession No.

111798347

Availability

Available

Due Date

Make a Reservation

Service
Contents information
Table of Contents
Part I. Changes in the economic role of the state in the twentieth century. The age of laissez-faire ; The economic role of the state between the World Wars ; The coming of the welfare state and reactions to it ; When economists thought they had found Nirvana: welfare policies ; When economists thought they had found Nirvana: stabilization policies ; Barbarians at the gates: challenges to Nirvana ; General rules to guide governments ; Giving markets more freedom ; A minimum economic role for the state?
Part II. Complexity and the rise of termites. Implications of excessive government withdrawal ; The growth of termites ; Termites in regulatory activities ; A brief inventory of government tools ; A closer look at regulations ; Modernity and growing termites in market activities ; The allocation role of modern governments ; Public goods, quasi-public goods, and intellectual property ; The state''s economic objectives and its institutions ; The state and the distribution of income ; Market operations and income distribution ; Poverty, inequality, and government policies ; Market manipulations and economic outcomes ; Termites in the stabilization role ; Modern government role and constitutional guidelines ; The quality of the public sector and the legal framework ; The quality of public institutions
Part III. Focusing on equity. Synergy between wealth creation and government role ; Recent concerns about inequality ; How should governments intervene? ; Intellectual property and income distribution ; Historical background on intellectual property rights ; Tax rates, tax structures, and tax avoidance ; Summing up past developments ; Why worry about income distribution?