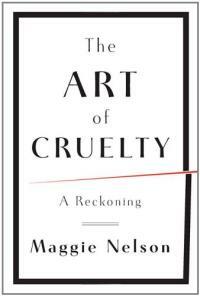 000
00000cam u2200205 a 4500
001
000045951150
005
20180822095122
008
180821s2011 nyu b 001 0 eng d
010

▼a

2011001828
020

▼a

0393072150 (hardcover)
020

▼a

9780393072150 (hardcover)
020

▼a

9780393343144 (ppk.)
035

▼a

(KERIS)REF000016201440
040

▼a

DLC

▼c

DLC

▼d

YDX

▼d

BTCTA

▼d

YDXCP

▼d

WIQ

▼d

WES

▼d

VP@

▼d

BWX

▼d

IXA

▼d

CDX

▼d

DLC

▼d

211009
050

0

0

▼a

N8217.C792

▼b

N45 2011
082

0

0

▼a

700/.453

▼2

23
084

▼a

700.453

▼2

DDCK
090

▼a

700.453

▼b

N428a
100

1

▼a

Nelson, Maggie,

▼d

1973-.
245

1

4

▼a

The art of cruelty :

▼b

a reckoning /

▼c

Maggie Nelson.
246

3

0

▼a

Reckoning
250

▼a

1st ed.
260

▼a

New York :

▼b

W.W. Norton & Co.,

▼c

c2011.
300

▼a

288 p. ;

▼c

21 cm.
504

▼a

Includes bibliographical references and index.
505

0

▼a

Styles of imprisonment -- Theaters of cruelty -- Great to watch -- Catharsis, captivity -- Everything is nice -- They're only dolls -- The golden rule -- Nobody said no -- The brutality of fact -- Who we are -- A situation of meat -- Precariousness -- Inflicted -- Face -- Rings of action -- Rarer and better things.
520

▼a

Discusses whether the brutal imagery present in reality and entertainment will shock society into a less alienated state and help create a just social order or whether focusing on representations of cruelty makes society more cruel.
650

0

▼a

Cruelty in art.
650

0

▼a

Art

▼x

Moral and ethical aspects.
945

▼a

KLPA
---
Holdings Information
No.
Location
Call Number
Accession No.
Availability
Due Date
Make a Reservation
Service

No.

1

Location

Main Library/Western Books/

Call Number

700.453 N428a

Accession No.

111795650

Availability

Available

Due Date

Make a Reservation

Service
Contents information
Author Introduction
매기 넬슨
(지은이)
현재 미국에서 가장 주목받는 작가로 시인, 비평가, 학자, 논픽션 작가로 활동하고 있다. 대표작으로는 북포럼이 꼽은 '지난 20년간 출간된 최고의 책 10선'에 선정된 『블루엣Bluets』(2009년)을 비롯해, 전미비평가협회상을 수상한 『아르고노트The Argonauts』(2015년), 문화, 예술, 비평의 신기원을 이룩한 『잔혹성의 예술The Art of Cruelty』(2011년), 회화와 시에 대한 비평서 『여성, 뉴욕 학파, 그리고 여타의 진정한 추상들Women, The New York School, and Other True Abstractions』(2007년) 등 여러 작품을 꼽을 수 있다. 이러한 탁월한 성취를 인정받아 맥아더 펠로십(2016년), 크리에이티브 캐피털 문학 부문(2012년), 구겐하임 펠로십 논픽션 부문(2010년) 등에 선정되었다.
Information Provided By: :

Table of Contents
Styles of imprisonment
Theaters of cruelty
Great to watch
Catharsis, captivity
Everything is nice
They''re only dolls
The golden rule
Nobody said no
The brutality of fact
Who we are
A situation of meat
Precariousness
Inflicted
Face
Rings of action
Rarer and better things.