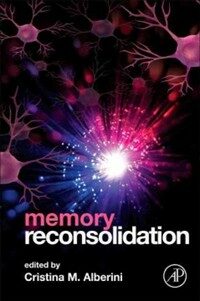 000
00000cam u2200205 a 4500
001
000045951079
005
20180913142423
006
m d
007
cr
008
130404s2013 enka ob 001 0 eng d
020

▼a

9780123868923
020

▼a

0123868920
035

▼a

(OCoLC)835619059
040

▼a

OPELS

▼b

eng

▼e

pn

▼c

OPELS

▼d

IDEBK

▼d

CDX

▼d

UPM

▼d

OCLCF

▼d

GGVRL

▼d

CUS

▼d

OCLCO

▼d

OCLCQ

▼d

CASUM

▼d

MERER

▼d

OCLCQ

▼d

211009
049

▼a

TEFA
050

4

▼a

BF371

▼b

.M46 2013
082

0

4

▼a

153.1/2

▼2

23
084

▼a

153.12

▼2

DDCK
090

▼a

153.12
245

0

0

▼a

Memory reconsolidation

▼h

[electronic resource] /

▼c

edited by Cristina M. Alberini.
260

▼a

London ;

▼a

Waltham, MA :

▼b

Academic Press,

▼c

2013.
300

▼a

1 online resource (xiv, 320 p.) :

▼b

ill.
500

▼a

Title from e-Book title page.
504

▼a

Includes bibliographical references and index.
505

0

▼a

1. The discovery of memory reconsolidation / Karim Nader -- 2. The dynamic nature of memory / Karim Nader [and three others] -- 3. Mechanisms and functions of hippocampal memory reconsolidation / Jonathan L.C. Lee -- 4. Reconsolidation of Pavlovian conditioned defense responses in the Amygdala / Jacek Debiec, Joseph E. LeDoux -- 5. Memory reconsolidation : lingering consolidation and the dynamic memory trace / Cristina M. Alberini, Sarah A. Johnson, Xiaojing Ye -- 6. Memory reconsolidation versus extinction / Satoshi Kida -- 7. Memory reconsolidation and extinction in invertebrates : evolutionarily conserved characteristics of memory reprocessing and restabilization / Maria Eugenia Pedreira, Arturo Romano -- 8. Using reconsolidation and extinction to weaken fear memories in animal models / Carolyn E. Jones, Marie-H. Monfils -- 9. Reconsolidation in humans / Elizabeth A. Phelps, Daniela Schiller -- 10. Reconsolidation of declarative memory / Maria Eugenia Pedreira -- 11. Episodic memory reconsolidation : an update / Almut Hupbach, Rebecca Gomez, Lynn Nadel -- 12. Disrupting consolidation and reconsolidation of human emotional memory with propranolol / Michelle H. Lonergan [and three others] -- 13. The translational potential of memory reconsolidation / Philip R. Corlett, Jane R. Taylor -- 14. Memory reconsolidation, trace reassociation and the Freudian unconscious / Cristina M. Alberini, Francois Ansermet, Pierre Magistretti.
520

▼a

As little as ten years ago, it was believed that memory went from short to long term via one consolidation practice that made that memory intractable. Since then, research has shown that long term memories can be activated, modified, and reconsolidated in their new form. This research indicates that memories are more dynamic than once believed. And understanding how this process works, and helping people to redefine established memories can be clinically useful, if those memories lead to problems as is the case in post traumatic stress disorder. This book provides a comprehensive overview of research on memory reconsolidation, what this has to say about the formation, storage, and changeabitility of memory, and the potential applications of this research to treating clinical disorders. Presents both neuroscience and psychological research on memory reconsolidation. Discusses what findings mean for understanding memory formation, storage, and retrieval. Includes treatment applications of these findings.
530

▼a

Issued also as a book.
538

▼a

Mode of access: World Wide Web.
650

0

▼a

Memory.
650

0

▼a

Memory

▼x

Physiological aspects.
650

0

▼a

Memory disorders

▼x

Treatment.
650

1

2

▼a

Memory

▼x

physiology.
650

2

2

▼a

Cognition.
650

2

2

▼a

Mental Recall.
650

2

2

▼a

Psychological Theory.
700

1

▼a

Alberini, Cristina M.
856

4

0

▼3

ScienceDirect

▼u

https://oca.korea.ac.kr/link.n2s?url=http://www.sciencedirect.com/science/book/9780123868923
945

▼a

KLPA
991

▼a

E-Book(소장)
---
Holdings Information
No.
Location
Call Number
Accession No.
Availability
Due Date
Make a Reservation
Service

No.

1

Location

Main Library/e-Book Collection/

Call Number

CR 153.12

Accession No.

E14004818

Availability

Loan can not(reference room)

Due Date

Make a Reservation

Service
Contents information
Table of Contents
1. The discovery of memory reconsolidation / Karim Nader
2. The dynamic nature of memory / Karim Nader [and three others]
3. Mechanisms and functions of hippocampal memory reconsolidation / Jonathan L.C. Lee
4. Reconsolidation of Pavlovian conditioned defense responses in the Amygdala / Jacek Debiec, Joseph E. LeDoux
5. Memory reconsolidation : lingering consolidation and the dynamic memory trace / Cristina M. Alberini, Sarah A. Johnson, Xiaojing Ye
6. Memory reconsolidation versus extinction / Satoshi Kida
7. Memory reconsolidation and extinction in invertebrates : evolutionarily conserved characteristics of memory reprocessing and restabilization / Maria Eugenia Pedreira, Arturo Romano
8. Using reconsolidation and extinction to weaken fear memories in animal models / Carolyn E. Jones, Marie-H. Monfils
9. Reconsolidation in humans / Elizabeth A. Phelps, Daniela Schiller
10. Reconsolidation of declarative memory / Maria Eugenia Pedreira
11. Episodic memory reconsolidation : an update / Almut Hupbach, Rebecca Gomez, Lynn Nadel
12. Disrupting consolidation and reconsolidation of human emotional memory with propranolol / Michelle H. Lonergan [and three others]
13. The translational potential of memory reconsolidation / Philip R. Corlett, Jane R. Taylor
14. Memory reconsolidation, trace reassociation and the Freudian unconscious / Cristina M. Alberini, Francois Ansermet, Pierre Magistretti.