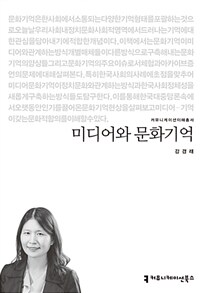 000
00000cam c2200205 c 4500
001
000045948755
005
20181218104056
007
ta
008
180731s2018 ulka b 000c kor
020

▼a

9791128800580

▼g

04300
020

1

▼a

9791128800009 (세트)
035

▼a

(KERIS)BIB000014829628
040

▼a

241050

▼d

211009

▼c

211009
082

0

4

▼a

302.23

▼2

23
085

▼a

302.23

▼2

DDCK
090

▼a

302.23

▼b

2018z10
100

1

▼a

강경래
245

1

0

▼a

미디어와 문화기억 /

▼d

강경래 지음
260

▼a

서울 :

▼b

커뮤니케이션북스,

▼c

2018
300

▼a

xxiv, 102 p. :

▼b

삽화 ;

▼c

19 cm
440

0

0

▼a

커뮤니케이션이해총서
504

▼a

각 장마다 참고문헌 수록
---
Holdings Information
No.
Location
Call Number
Accession No.
Availability
Due Date
Make a Reservation
Service

No.

1

Location

Sejong Academic Information Center/Social Science/

Call Number

302.23 2018z10

Accession No.

151341809

Availability

Available

Due Date

Make a Reservation

Service
Contents information
Book Introduction
커뮤니케이션이해총서. 문화기억이 미디어와 관계하는 방식, 개별 매체들이 다른 방식으로 구축해 내는 문화기억의 양상들, 그리고 문화기억의 주요 이슈로서 체험과 아카이브, 증언의 문제에 대해 살펴본다. 특히 한국 사회의 사례에 초점을 맞추어 미디어 문화기억이 정치 문화와 관계하는 방식과 한국 사회 정체성을 새롭게 구축하는 방식들도 탐구한다. 이를 통해 한국 대중 담론 속에서 오랫동안 인기를 끌어 온 문화기억 현상을 살펴보고 미디어-기억이 갖는 문화적 함의를 이해할 수 있다.
문화기억은 한 사회에서 소통되는 다양한 기억 형태를 포괄하는 것으로 오늘날 우리 사회 내 정치 문화 사회적 영역에서 드러나는 기억에 대한 관심을 담아내기에 적합한 개념이다. 이 책에서는 문화기억이 미디어와 관계하는 방식, 개별 매체들이 다른 방식으로 구축해 내는 문화기억의 양상들, 그리고 문화기억의 주요 이슈로서 체험과 아카이브, 증언의 문제에 대해 살펴본다. 특히 한국 사회의 사례에 초점을 맞추어 미디어 문화기억이 정치 문화와 관계하는 방식과 한국 사회 정체성을 새롭게 구축하는 방식들도 탐구한다. 이를 통해 한국 대중 담론 속에서 오랫동안 인기를 끌어 온 문화기억 현상을 살펴보고 미디어-기억이 갖는 문화적 함의를 이해할 수 있다.
Information Provided By: :

Author Introduction
강경래
(지은이)
서울과학기술대학교 기초교육학부 조교수다. 고려대학교와 미국 로체스터대학교 영상문화학과에서 수학했다. 한국 근현대사와 관련한 문화기억과 매체이론, 문화 번역을 중심으로 연구를 진행해 왔으며, 국내외 저명 학술지에 다수의 논문들을 발표했다. 주요 저술로 "Talking Hospitality and Televising Ethno?national Boundaries in Contemporary Korea"(Television & New Media, 2018), "Embracing Postcolonial Potentiality; New Faces of Japanese Collaborators in Contemporary Korea"(Spaces of Possibility: In, Between, and Beyond Korea and Japan, 2016), "Kyung?Sung: the Cinematic Memories of the Colonial Past"(Camera Obscura: Feminism, Culture, and Media Studies, 2015), "Narrating in the Sonorous Envelope"(Journal of Popular Film & Television, 2013) 등이 있다.
Information Provided By: :