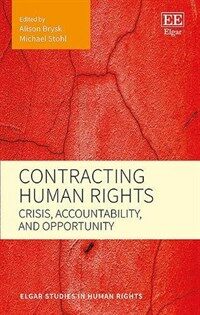 000
00000nam u2200205 a 4500
001
000045945119
005
20180622093729
008
180621s2018 enk b 001 0 eng d
020

▼a

9781788112321
040

▼a

211009

▼c

211009

▼d

211009
082

0

4

▼a

323

▼2

23
084

▼a

323

▼2

DDCK
090

▼a

323

▼b

C764
245

0

0

▼a

Contracting human rights :

▼b

crisis, accountability, and opportunity /

▼c

edited by Alison Brysk, Michael Stohl.
260

▼a

Cheltenham, UK :

▼b

Edward Elgar Publishing,

▼c

c2018.
300

▼a

xii, 298 p. ;

▼c

24 cm.
490

1

▼a

Elgar studies in human rights
504

▼a

Includes bibliographical references and index.
650

0

▼a

Human rights.
650

0

▼a

Human rights

▼x

Economic aspects.
700

1

▼a

Brysk, Alison.
700

1

▼a

Stohl, Michael.
830

0

▼a

Elgar studies in human rights.
945

▼a

KLPA
---
Holdings Information
No.
Location
Call Number
Accession No.
Availability
Due Date
Make a Reservation
Service

No.

1

Location

Main Library/Law Library(Books/B1)/

Call Number

323 C764

Accession No.

111792962

Availability

Available

Due Date

Make a Reservation

Service
Contents information
Table of Contents
Contents: Acknowledgments
1. Introduction: contracting human rights / Alison Brysk
Part I Gaps
2. Contracting the refugee regime: the global citizenship gap / Alison Brysk
3. Has the occupation occupied Israel? / Gershon Shafir
4. Expanding extractive industries, contracting indigenous rights? Gains, setbacks and missed opportunities in Latin America / Claire Wright
5. The bottom two billion: the global expansion of urban slums and second-class citizenship / Natasha Bennett
Part II Backlash
6. The human rights costs of NGOs'' naming and shaming campaigns / Clair Apodaca
7. Perils of success: backlash and resistance to LGBT rights in domestic and international politics / Phillip M. Ayoub
8. Human rights and democracy promotion in times of contraction: EU human rights and democratization policies in Egypt / Felipe Gómez Isa
9. From lawless to secret law: the United States, the CIA, and extra-judicial killings / Arturo Jimenez-Bacardi
Part III Accountability
10. Whither accountability? Counterterrorism and human rights at the United Nations Security Council / George Andreopoulos
11. Backlash and international human rights courts / Wayne Sandholtz, Yining Bei, and Kayla Caldwell
12. Retreat or retrenchment? An analysis of the International Criminal Court''s failure to prosecute presidents / Kirsten Ainley
13. Searching for accountability of the private sector: civil liability of corporations for trafficking in human beings for the purpose of labour exploitation in the European context / Julia Planitzer, Nora Katona, Barbara Linder, Karin Lukas
Part IV Opportunities
14. Business and human rights: exploring the limits of an expanding agenda on corporate responsibility / Anne Vestergaard and Michael Etter
15. Digital media and human rights: Loomio, Statistics New Zealand, and gender identity / Cynthia Stohl, Michael Stohl and Shiv Ganesh
16. Beyond global vs. local: Islam, feminism, and women''s rights in Morocco / Jesilyn Faust
17. Contesting the citizenship gap: Advocacy, core rights, and women''s rights reform / Feryal M. Cherif
18. Conclusion
From hope to fear in the millennium: Human rights in an age of backlash / Michael Stohl
Index.