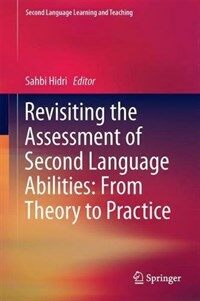 000
00000nam u2200205 a 4500
001
000045942153
005
20180518101436
008
180518s2018 sz b 000 0 eng d
020

▼a

9783319628837
040

▼a

211009

▼c

211009

▼d

211009
082

0

4

▼a

401.93

▼2

23
084

▼a

401.93

▼2

DDCK
090

▼a

401.93

▼b

R454
245

0

0

▼a

Revisiting the assessment of second language abilities: :

▼b

from theory to practice /

▼c

edited by Sahbi Hidri.
260

▼a

Cham :

▼b

Springer,

▼c

2018.
300

▼a

ix, 503 p. ;

▼c

25 cm.
490

1

▼a

Second Language Learning and Teaching
504

▼a

Includes bibliographical references.
505

0

▼a

Part I: Assessing Speaking -- Ch. 1: Assessing Spoken Language Ability: A Many-Facet Rasch Analysis (Sahbi Hidri) -- Ch.2: Investigating the Use of an EBB Scale for the Assessment of English Language Spoken Proficiency (Stefan O'grady) -- Ch.3: The Measurement of Language Ability and Impairment in Arabic-speaking Children (Areej Balilah and Lisa Archibald) -- Ch. 4: Developing a Formative Assessment Instrument for an In-Service Speaking Course (Rezvan Rashidi Pourfard) -- Part II: Assessing Writing -- Ch. 5: Does the Feedback Feed Forward? Student Response to and Views of Teacher Feedback in an EFL Academic Writing class (Eddy White) -- Ch.6: Designing and Rating Academic Writing Tests: Implications for Test Specifications (Amani Mejri) -- Part III: Assessing English for Specific Purposes -- Ch. 7: Academic Writing Needs Assessment: A Case Study of MPH Students, University of Khartoum (Abuelgasim Sabah Elsaid Mohammed) -- Ch. 8: Teachers' Conceptions of Assessment in an ESP Context (Yosra Naimi) -- Part IV: Assessing Translation and Literature -- Ch. 9: Assessing Textual Competence in Translation into a Second Language (Tamara Kavytska and Olga Kvasova) -- Ch. 10: Assessing Literature for the Classroom among Female Learners of English in an EFL Context in Saudi Arabia (Manal Qutub) -- Part V: Assessing Reading, Vocabulary and Grammar -- Ch. 11: Assessing Two Strategies of Vocabulary Learning (Manal Sabbah) -- Ch. 12: Testing Usefulness of Reading Comprehension Exams among First Year Students of English at the Tertiary Level in Tunisia (Yassmine Mattoussi) -- Ch. 13: Techniques in Teaching and Testing Vocabulary for Learners of English in an EFL Context (Imen Riahi) -- Ch 14: Testing Grammar in an EFL Context (Yasmine Chniti) -- Part VI: Assessment Literacy and Test Fairness -- Ch.15: Continuous Cumulative Assessment in Higher Education: Coming to grips with Test Enhanced Learning (Katerina Popkova) -- Ch 16: Developing Student Teachers' Classroom Assessment Literacy: The Ukrainian Context (Olga Ukrayinska) -- Ch 17: Valid for the Elites? The Trade-off between Test Fairness and Test Validity (Kioumars Razavipour) -- Ch 18: Student-Related Challenges of Performing Alternative Assessments from the Perspective of Kurdish Tertiary TESOL Teachers (Dler Abdullah Ismael) -- Part VII: Standard Exams and Test-Taking Strategies -- Ch 19: Washback on Language Skills: A Study of EFL Multi-Exam Preparation Classes (Irini Papakamenou) -- Ch. 20: Extending the Scope of the English Exit Exam: A Study from a Ukrainian Classical University (Olesia Liubashenko and Olga Yashenkova) -- Part VIII: Alternative Forms of Assessment -- Ch. 21: Performance-Based Assessment: A Shift towards an Assessment for Learning Culture (Zineb Djoub) -- Ch. 22: Utilizing Dynamic Assessment to Activate EFL Inert Grammar (Mahmoud Ibrahim) -- Ch. 23: Analyzing the Impact of Formal Assessments on EFL Learner's Use of Language Learning Strategies (Misbah Rosheen Khan and Misbah Afsheen Khan).
650

0

▼a

Language and languages

▼x

Ability testing.
650

0

▼a

Language and languages

▼x

Study and teaching.
650

0

▼a

Second language acquisition.
700

1

▼a

Hidri, Sahbi.
830

0

▼a

Second Language Learning and Teaching.
945

▼a

KLPA
---
Holdings Information
No.
Location
Call Number
Accession No.
Availability
Due Date
Make a Reservation
Service

No.

1

Location

Main Library/Western Books/

Call Number

401.93 R454

Accession No.

111791536

Availability

Available

Due Date

Make a Reservation

Service
Contents information
Table of Contents
Part I: Assessing Speaking
Ch. 1: Assessing Spoken Language Ability: A Many-Facet Rasch Analysis (Sahbi Hidri)
Ch.2: Investigating the Use of an EBB Scale for the Assessment of English Language Spoken Proficiency (Stefan O'grady)
Ch.3: The Measurement of Language Ability and Impairment in Arabic-speaking Children (Areej Balilah and Lisa Archibald)
Ch. 4: Developing a Formative Assessment Instrument for an In-Service Speaking Course (Rezvan Rashidi Pourfard)
Part II: Assessing Writing
Ch. 5: Does the Feedback Feed Forward? Student Response to and Views of Teacher Feedback in an EFL Academic Writing class (Eddy White)
Ch.6: Designing and Rating Academic Writing Tests: Implications for Test Specifications (Amani Mejri)
Part III: Assessing English for Specific Purposes
Ch. 7: Academic Writing Needs Assessment: A Case Study of MPH Students, University of Khartoum (Abuelgasim Sabah Elsaid Mohammed)
Ch. 8: Teachers' Conceptions of Assessment in an ESP Context (Yosra Naimi)
Part IV: Assessing Translation and Literature
Ch. 9: Assessing Textual Competence in Translation into a Second Language (Tamara Kavytska and Olga Kvasova)
Ch. 10: Assessing Literature for the Classroom among Female Learners of English in an EFL Context in Saudi Arabia (Manal Qutub)
Part V: Assessing Reading, Vocabulary and Grammar
Ch. 11: Assessing Two Strategies of Vocabulary Learning (Manal Sabbah)
Ch. 12: Testing Usefulness of Reading Comprehension Exams among First Year Students of English at the Tertiary Level in Tunisia (Yassmine Mattoussi)
Ch. 13: Techniques in Teaching and Testing Vocabulary for Learners of English in an EFL Context (Imen Riahi)
Ch 14: Testing Grammar in an EFL Context (Yasmine Chniti)
Part VI: Assessment Literacy and Test Fairness
Ch.15: Continuous Cumulative Assessment in Higher Education: Coming to grips with Test Enhanced Learning (Katerina Popkova)
Ch 16: Developing Student Teachers' Classroom Assessment Literacy: The Ukrainian Context (Olga Ukrayinska)
Ch 17: Valid for the Elites? The Trade-off between Test Fairness and Test Validity (Kioumars Razavipour)
Ch 18: Student-Related Challenges of Performing Alternative Assessments from the Perspective of Kurdish Tertiary TESOL Teachers (Dler Abdullah Ismael)
Part VII: Standard Exams and Test-Taking Strategies
Ch 19: Washback on Language Skills: A Study of EFL Multi-Exam Preparation Classes (Irini Papakamenou)
Ch. 20: Extending the Scope of the English Exit Exam: A Study from a Ukrainian Classical University (Olesia Liubashenko and Olga Yashenkova)
Part VIII: Alternative Forms of Assessment
Ch. 21: Performance-Based Assessment: A Shift towards an Assessment for Learning Culture (Zineb Djoub)
Ch. 22: Utilizing Dynamic Assessment to Activate EFL Inert Grammar (Mahmoud Ibrahim)
Ch. 23: Analyzing the Impact of Formal Assessments on EFL Learner's Use of Language Learning Strategies (Misbah Rosheen Khan and Misbah Afsheen Khan).