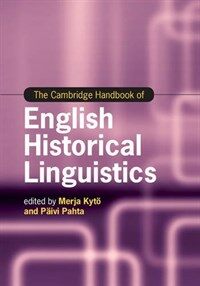 000
00000cam u2200205 a 4500
001
000045940742
005
20180502131312
008
180502t2016 enkab bf 001 0 eng d
010

▼a

2016299917
020

▼a

9781107039353 (hardback)
020

▼a

1107039355 (hardback)
035

▼a

(KERIS)BIB000014094889
040

▼a

211062

▼c

211062

▼d

211009
082

0

0

▼a

417/.7

▼2

23
084

▼a

417/.7

▼2

DDCK
090

▼a

417/.7

▼b

K99 c
100

1

▼a

Kytö, Merja.
245

0

4

▼a

The Cambridge handbook of English historical linguistics /

▼c

edited by Merja Kytö and Päivi Pahta.
246

3

0

▼a

English historical linguistics
260

▼a

Cambridge :

▼b

Cambridge University Press,

▼c

c2016.
300

▼a

xxv, 624 p. :

▼b

ill., maps ;

▼c

26 cm.
490

0

▼a

Cambridge handbooks in language and linguistics
504

▼a

Includes bibliographical references (p. 497-602) and indexes.
650

0

▼a

English language

▼x

History

▼v

Handbooks, manuals, etc.
650

0

▼a

Historical linguistics

▼v

Handbooks, manuals, etc.
700

1

▼a

Pahta, Paivi.
---
Holdings Information
No.
Location
Call Number
Accession No.
Availability
Due Date
Make a Reservation
Service

No.

1

Location

Sejong Academic Information Center/Humanities 1/

Call Number

417/.7 K99 c

Accession No.

151341347

Availability

Available

Due Date

Make a Reservation

Service
Contents information
Table of Contents
Introduction Merja Kyto and Paivi Pahta; Part I. Framework: Section 1. Theories and Methodologies: 1. The variationist approach Suzanne Romaine; 2. Quantitative approaches to diachronic corpus linguistics Martin Hilpert and Stefan Th. Gries; 3. English historical pragmatics Gabriella Mazzon; 4. Construction grammar Graeme Trousdale; 5. Generative frameworks and approaches Elly van Gelderen; 6. Philological methods Robert D. Fulk; Section 2. Evidence: Material and Data: 7. Manuscripts and early printed books Simon Horobin; 8. Corpora and online resources in English historical linguistics Maria-Jose Lopez-Couso; 9. Audio recordings Christian Mair; 10. Early and Late Modern English grammars as evidence in English historical linguistics Nuria Yanez-Bouza; 11. Extracting data from historical material Erik Smitterberg; Part II. Analyses: Section 3. Perspectives on Processes of Change: 12. Phonological change in English Raymond Hickey; 13. Change in the English lexicon Christian Kay and Kathryn Allan; 14. Morphosyntactic change Olga Fischer; 15. Semantic and pragmatic change Susan M. Fitzmaurice; 16. Genre dynamics in the history of English Irma Taavitsainen; 17. Processes of sociolinguistic and sociopragmatic change Minna Nevala; 18. Standardization Joan C. Beal; 19. Contact-related processes of change in the early history of English Peter Trudgill; 20. Global spread of English: processes of change Marianne Hundt; Section 4. Highlighting the Research Process: 21. Variationist versus text-linguistic approaches to grammatical change in English: nominal modifiers of head nouns Douglas Biber, with Jesse Egbert, Bethany Gray, Rahel Oppliger and Benedikt Szmrecsanyi; 22. Identifying micro-changes in a particular linguistic change-type: the case of subjectification Elizabeth Closs Traugott; 23. The OED and HTOED as tools in practical research: a test case examining the impact of loanwords on areas of the core lexicon Philip Durkin; 24. The individuality of English in the multilingual Middle Ages Tim William Machan; 25. Ambisyllabicity in English: present and past Donka Minkova and Kie Ross Zuraw; 26. Typological change: investigating loss of inflection in early English Cynthia Allen; 27. Third-person present singular verb inflection in Early Modern English: new evidence from speech-related texts Terry Walker; 28. Visual pragmatics: speech presentation and Middle English manuscripts Colette Moore.
Information Provided By: :