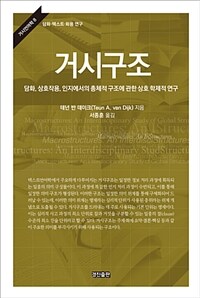 000
00000nam c2200205 c 4500
001
000045940535
005
20180501154355
007
ta
008
180430s2017 ggka b 001c kor
020

▼a

9788959965588

▼g

93370
035

▼a

(KERIS)BIB000014699404
040

▼a

221016

▼c

221016

▼d

211009
041

1

▼a

kor

▼h

eng
082

0

4

▼a

153

▼2

23
085

▼a

153

▼2

DDCK
090

▼a

153

▼b

2017z4
100

1

▼a

Dijk, Teun A. van,

▼d

1943-

▼0

AUTH(211009)45396
245

1

0

▼a

거시구조 :

▼b

담화, 상호작용, 인지에서의 총체적 구조에 관한 상호 학제적 연구 /

▼d

테넌 반 데이크 지음 ;

▼e

서종훈 옮김
246

1

9

▼a

Macrostructures :

▼b

an interdisciplinary study of global structures in discourse, interaction, and cognition
260

▼a

[광명] :

▼b

경진출판,

▼c

2017
300

▼a

447 p. :

▼b

삽화 ;

▼c

24 cm
440

0

0

▼a

거시언어학.

▼p

담화ㆍ텍스트ㆍ화용 연구 ;

▼v

6
504

▼a

참고문헌(p. 423-438)과 색인수록
650

0

▼a

Personality
650

0

▼a

Human information processing
650

0

▼a

Psycholinguistics
650

0

▼a

Social interaction
650

0

▼a

Cognition
700

1

▼a

서종훈

▼g

徐從熏,

▼e

역

▼0

AUTH(211009)24176
900

1

0

▼a

반 데이크, 테넌,

▼e

저
900

1

0

▼a

Suh, Jong-hoon,

▼e

역
945

▼a

KLPA
---
Holdings Information
No.
Location
Call Number
Accession No.
Availability
Due Date
Make a Reservation
Service

No.

1

Location

Main Library/Monographs(3F)/

Call Number

153 2017z4

Accession No.

111790616

Availability

Available

Due Date

Make a Reservation

Service
Contents information
Book Introduction
거시언어학 8권. 거시구조가 지니는 이론적 측면을 텍스트에 국한해서 진술하고 있지 않다. 대화, 행위, 화행, 나아가 다양한 인지적 측면에까지 두루 적용하고 그 타당성을 논의하고 있다. 책 전체는 총 6개의 장으로 구성된다. 거시구조의 개념에서부터 다양한 인지적 측면에서의 거시구조의 작용까지를 두루 다루고 있다.
담화나 텍스트의 처리 단위를 거시구조를 통해 밝혀내다

이른바 4차 혁명 시대다. 과연 인문학은 이러한 변혁의 시대를 어떻게 헤쳐 나가야 할까. 결국은 지식과 그 활용에서 일말의 해답을 찾아야 한다. 이 책은 거시구조를 통해 이러한 문제를 다룰 수 있는 단초를 제공한다. 즉 인간이 유용하게 사용할 수 있는 지식의 처리 단위, 즉 담화나 텍스트의 처리 단위를 거시구조를 통해 밝혀내고 있다.

거시구조의 개념에서부터 다양한 인지적 측면에서의 거시구조의 작용까지를 두루 다루다

이 책은 거시구조가 지니는 이론적 측면을 텍스트에 국한해서 진술하고 있지 않다. 대화, 행위, 화행, 나아가 다양한 인지적 측면에까지 두루 적용하고 그 타당성을 논의하고 있다. 책 전체는 총 6개의 장으로 구성된다. 거시구조의 개념에서부터 다양한 인지적 측면에서의 거시구조의 작용까지를 두루 다루고 있다.
1장은 거시구조의 직관적 개념과 그것의 표상 형식을 다룬다.
2장은 담화의 미시구조로부터 거시구조를 형성해가는 거시규칙, 이른바 요약규칙에 대한 이론과 실제를 다룬다.
3장은 상위구조(superstructures)를 다룬다. 거시구조가 총체적인 의미에 대한 것이라면 상위구조는 총체적 형식에 관한 구조라고 할 수 있다. 여기에서는 서사?논증?학술논문?신문기사 등에 부각되는 상위구조를 실증적으로 다루고 있다.
4장은 행위와 상호작용에서의 거시구조와 관련된다. 이 장은 이른바 말과 행위의 문제인 화행을 본격적으로 다루는 5장으로 가기 위한 앞선 장들과의 일종의 징검다리 역할을 한다. 즉 말과 행위의 문제가 본격적으로 결합되는 다루어지는 화행론으로 가기 위해 행위의 본질이 무엇인지를 앞선 담화의 장들과 구별해서 개별과 상호작용으로 구분해서 심층적으로 다룬다.
5장은 말과 행위가 겹치는 화용론의 영역에서 거시구조의 실제성을 논의한다. 여기에서 주된 논의 대상인 화행은 일반적으로 사회적 상호작용의 중요한 조직자로, 모든 종류의 사회적 관계가 화용적 맥락을 유형화한다.
6장은 인지구조 전반을 거시구조와 관련시켜 다룬다. 인지 모형은 거시해석이 실제로 어떻게 수행되는지, 어떤 과정과 국면이 수반되는지, 거시구조의 어떤 표상이 기억되고, 그것이 미시구조의 처리에 영향을 주는지를 구체화해야만 한다.

이 책이 현재 '인지과학'이라는 이름 아래 공통적으로 포함되는 인문학과 사회과학 분야에서 새로운 학제 간 발전에 기여할 것이라고 희망한다.
Information Provided By: :

Author Introduction
테는 반 데이크
(지은이)
네덜란드의 암스테르담 자유대학에서 학부를 졸업하고, 암스테르담 대학에서 문학석사(1968), 박사학위(1972)를 받음. 2004년까지 암스테르담 대학의 교수로 있었으며 그 뒤 2014년에 물러날 때까지 바르셀로나(Barcelona) 대학, 팜퓨 파브라(Pampeu Fabra) 대학의 방문 교수를 지냄. <담화와 지식>은 현재 그의 누리집인 www.discourse.org에서 찾을 수 있는 가장 최근의 책(2014년 출간)이며, 그의 저서 중 비교적 최근에 영어로 출간된 책은 다음과 같다. =Discourse and Context: A sociocognitive approach(2008, Cambridge University Press) =Discourse and Power(2008, Palgrave-MacMillan) =Discourse and racism in Spain and Latin America(2005, Benjamins) =Ideology and discourse: A Multidisciplinary Introduction(2003, on Website) =Ideology(1998, Sage)
서종훈
(옮긴이)
2018년 현재 대구가톨릭대학교 사범대학 국어교육과 교수로 재직 중이며, 단락과 쉼(pause) 등 언어 수행 전반에 대해 관심을 가지고 연구해 오고 있다. 국어 단락에 대한 연구서로 ≪국어교육과 단락≫(도서출판경진), 국어교육 전반에 대한 연구서로 ≪국어교과 교육론≫(도서출판 경진) 등이 있으며, 말하기 교육에 대한 번역서로 ≪모국어 말하기 교육≫(글로벌콘텐츠)과 ≪영어 말하기 교육≫(글로벌콘텐츠)이 있다.
Information Provided By: :

Table of Contents
옮긴이 머릿글 
글쓴이 머릿글 

제1장 거시구조의 개념 

제2장 담화에서의 거시구조 

제3장 거시구조와 상위구조 

제4장 행위와 상호작용에서의 거시구조 

제5장 화용적 거시구조 

제6장 거시구조와 인지 

참고문헌 
찾아보기 
추천의 글 
: 반 데이크의 저서 ≪거시구조≫의 학문사적 의의-이성만 
지은이 및 옮긴이 소개