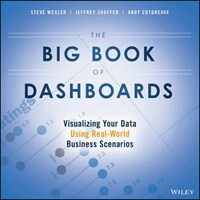 000
00000cam u2200205 a 4500
001
000045940397
005
20180427154751
008
180427s2017 njua b 001 0 eng d
010

▼a

2016052146
020

▼a

9781119282716 (paperback)
020

▼z

9781119282785 (Adobe PDF)
020

▼z

9781119282730 (epub)
035

▼a

(KERIS)REF000018338543
040

▼a

DLC

▼b

eng

▼e

rda

▼c

DLC

▼d

211009
050

0

0

▼a

HD30.213

▼b

.W43 2017
082

0

0

▼a

658.4/038011

▼2

23
084

▼a

658.4038011

▼2

DDCK
090

▼a

658.4038011

▼b

W545b
100

1

▼a

Wexler, Steve,

▼d

1958-.
245

1

4

▼a

The big book of dashboards :

▼b

visualizing your data using real-world business scenarios /

▼c

Steve Wexler, Jeffrey Shaffer, Andy Cotgreave.
260

▼a

Hoboken :

▼b

Wiley,

▼c

2017.
300

▼a

xv, 432 p. :

▼b

col. ill. ;

▼c

23 x 24 cm.
504

▼a

Includes bibliographical references and index.
505

8

▼a

Machine generated contents note: Introduction Part I A Strong Foundation Chapter 1 Data Visualization: A Primer Part II The Scenarios Chapter 2 Course Metrics Dashboard Chapter 3 Comparing Individual Performance with Peers Chapter 4 What-If Analysis: Wage Increase Ramifications Chapter 5 Executive Sales Dashboard Chapter 6 Ranking by Now, Comparing with Then Chapter 7 Are We On Pace to Reach Our Goals? Chapter 8 Multiple Key Performance Metrics Chapter 9 Power Plant Operations Monitoring Chapter 10 Showing Year-to-Date and Year-over-Year at the Same Time (YTD and YOY) Chapter 11 Premier League Player Performance Metrics Chapter 12 RBS 6 Nations Championship Match Performance Analysis Chapter 13 Web Analytics Chapter 14 Patient History Analysis of Recent Hospital Admissions Chapter 15 Hospitality Dashboard for Hotel Management Chapter 16 Sentiment Analysis: Showing Overall Distribution Chapter 17 Showing Sentiment with Net Promoter Score Chapter 18 Server Process Monitoring Chapter 19 Big Mac Index Chapter 20 Complaints Dashboard Chapter 21 Hospital Operating Room Utilization Chapter 22 Showing Rank and Magnitude Chapter 23 Measuring Claims across Multiple Measures and Dimensions Chapter 24 Showing Churn or Turnover Chapter 25 Showing Actual versus Potential Utilization Chapter 26 Health Care Provider Productivity Monitoring Chapter 27 Telecom Operator Executives Dashboard Chapter 28 The Economy at a Glance Chapter 29 Call Center Part III Dashboards in the Real World Chapter 30 Want to Engage People? Make Your Dashboards Personal Chapter 31 Visualizing Time Chapter 32 Beware the Dead-End Dashboard Chapter 33 The Allure of Red and Green Chapter 34 The Allure of Pies and Donuts Chapter 35 Clouds and Bubbles Chapter 36 A journey into the unknown Index.
520

▼a

"The definitive reference book with real-world solutions you won't find anywhere else The Big Book of Dashboards presents a comprehensive reference for those tasked with building or overseeing the development of business dashboards. Comprising dozens of examples that address different industries and departments (healthcare, transportation, finance, human resources, marketing, customer service, sports, etc.) and different platforms (print, desktop, tablet, smartphone, and conference room display) The Big Book of Dashboards is the only book that matches great dashboards with real-world business scenarios. By organizing the book based on these scenarios and offering practical and effective visualization examples, The Big Book of Dashboards will be the trusted resource that you open when you need to build an effective business dashboard. In addition to the scenarios there's an entire section of the book that is devoted to addressing many practical and psychological factors you will encounter in your work. It's great to have theory and evidenced-based research at your disposal, but what will you do when somebody asks you to make your dashboard 'cooler' by adding packed bubbles and donut charts? The expert authors have a combined 30-plus years of hands-on experience helping people in hundreds of organizations build effective visualizations. They have fought many 'best practices' battles and having endured bring an uncommon empathy to help you, the reader of this book, survive and thrive in the data visualization world. A well-designed dashboard can point out risks, opportunities, and more; but common challenges and misconceptions can make your dashboard useless at best, and misleading at worst. The Big Book of Dashboards gives you the tools, guidance, and models you need to produce great dashboards that inform, enlighten, and engage"--

▼c

Provided by publisher.
520

▼a

"In The Dashboard Book, the authors will lay out a variety of examples of successful dashboards so that the reader can find a scenario that closely matches what he or she is tasked with visualizing"--

▼c

Provided by publisher.
650

0

▼a

Dashboards (Management information systems).
650

0

▼a

Organizational effectiveness

▼x

Evaluation.
650

0

▼a

Management

▼x

Evaluation.
700

1

▼a

Shaffer, Jeffrey,

▼d

1972-.
700

1

▼a

Cotgreave, Andy,

▼d

1972-.
945

▼a

KLPA
---
Holdings Information
No.
Location
Call Number
Accession No.
Availability
Due Date
Make a Reservation
Service

No.

1

Location

Main Library/Western Books/

Call Number

658.4038011 W545b

Accession No.

111790494

Availability

Available

Due Date

Make a Reservation

Service
Contents information
Author Introduction
제프리 섀퍼
(지은이)
리커버리 디시전 사이언스 앤 유니펀드(Recovery Decision Science and Unifund)의 IT 및 분석 부문 부사장이다. 데이터 시각화를 가르치는 신시내티 대학의 겸임 교수로, 2016년에는 올해의 겸임 교수로 선정되기도 했다. 각종 컨퍼런스와 심포지움, 워크샵, 대학, 기업 교육 프로그램에서 데이터 시각화, 마이닝, 태블로 훈련에 관한 주제를 정기적으로 강연한다. 태블로 젠 마스터이자 2014년 태블로 퀀티파이드 셀프 시각화 대회(Tableau Quantified Self Visualization Contest) 우승자로, 2014년 태블로 아이언 비즈 대회에서 경합을 벌이기도 했다.
스티브 웩슬러
(지은이)
데이터 리빌레이션즈(DataRevelations.com)의 창업자이자 의장이다. 갤럽, 맥킨지, 티파니를 비롯한 전 세계 유명한 기업들과 일하며 데이터의 이해와 시각화를 도왔다. 스티브는 출중한 제품 활용력과 여러 고객의 수천 가지 시각화 개발로 얻은 실제 경험을 결합해, 프리젠테이션과 교육 과정을 진행한다. 또한, 데이터 시각화와 태블로의 공인받은 전문성 외에도 컴퓨터 기반 기술의 모든 영역에서 성공한 강사로서 수십 년의 경력을 쌓아왔다.
앤디 코트그리브
(지은이)
태블로 소프트웨어의 기술 에반젤리스트다. 10년 넘게 데이터 시각화와 BI 경력을 쌓았으며, 초반에는 옥스퍼드 대학의 애널리스트로서 스킬을 가다듬었다. 2011년 태블로에 입사한 이래, 기술 자문과 기업 내 데이터 주도 문화 구축법에 관한 아이디어로 수천 명과 함께 일하며 영감을 나눴다. 2018년 빅데이터 엑설런스 어워즈(Big Data Excellence Awards)에서 올해의 분석 전문가(Analytics Professional of the Year) 상을 수상했다.
Information Provided By: :

Table of Contents
Acknowledgments vii

 

About the Authors ix

 

Introduction xi

 

Part I A Strong Foundation

 

Chapter 1 Data Visualization: A Primer 2

 

Part II The Scenarios

 

Chapter 2 Course Metrics Dashboard 38

 

Chapter 3 Comparing Individual Performance with Peers 48

 

Chapter 4 What-If Analysis: Wage Increase Ramifications 62

 

Chapter 5 Executive Sales Dashboard 70

 

Chapter 6 Ranking by Now, Comparing with Then 80

 

Chapter 7 Are We on Pace to Reach Our Goals? 92

 

Chapter 8 Multiple Key Performance Metrics 98

 

Chapter 9 Power Plant Operations Monitoring 106

 

Chapter 10 Showing Year-to-Date and Year-over-Year at the Same Time 118

 

Chapter 11 Premier League Player Performance Metrics 130

 

Chapter 12 RBS 6 Nations Championship Match Performance Analysis 138

 

Chapter 13 Web Analytics 146

 

Chapter 14 Patient History Analysis of Recent Hospital Admissions 156Chapter 15 Hospitality Dashboard for Hotel Management 164

 

Chapter 16 Sentiment Analysis: Showing Overall Distribution 174

 

Chapter 17 Showing Sentiment with Net Promoter Score 186

 

Chapter 18 Server Process Monitoring 202

 

Chapter 19 Big Mac Index 210

 

Chapter 20 Complaints Dashboard 224

 

Chapter 21 Hospital Operating Room Utilization 236

 

Chapter 22 Showing Rank and Magnitude 246

 

Chapter 23 Measuring Claims across Multiple Measures and Dimensions 258

 

Chapter 24 Showing Churn or Turnover 268

 

Chapter 25 Showing Actual versus Potential Utilization 282

 

Chapter 26 Health Care Provider Productivity Monitoring 294

 

Chapter 27 Telecom Operator Executive Dashboard 306

 

Chapter 28 Economy at a Glance 316

 

Chapter 29 Call Center 328

 

Part III Succeeding in the Real World

 

Chapter 30 Want to Engage People? Make Your Dashboards Personal 338

 

Chapter 31 Visualizing Time 352

 

Chapter 32 Beware the Dead-End Dashboard 382

 

Chapter 33 The Allure of Red and Green 390

 

Chapter 34 The Allure of Pies and Donuts 396

 

Chapter 35 Clouds and Bubbles 404

 

Chapter 36 A Journey into the Unknown 410

 

Glossary 419

 

Bibliography 423

 

Index 425
Information Provided By: :