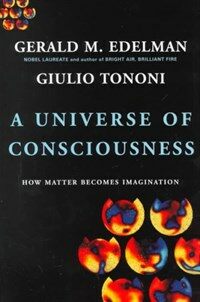 000
00000cam u2200205 a 4500
001
000045936232
005
20180323105836
008
180322s2000 nyua b 001 0 eng d
010

▼a

00271748
020

▼a

0465013767
020

▼a

0465013775 (pbk.)
035

▼a

(KERIS)REF000005980907
040

▼a

ORX

▼c

ORX

▼d

ABC

▼d

DLC

▼d

211009
050

0

0

▼a

QP411

▼b

.E345 2000
082

0

0

▼a

612.8/2

▼2

23
084

▼a

612.82

▼2

DDCK
090

▼a

612.82

▼b

E21u
100

1

▼a

Edelman, Gerald M.
245

1

2

▼a

A universe of consciousness :

▼b

how matter becomes imagination /

▼c

Gerald M. Edelman and Giulio Tononi.
250

▼a

1st ed.
260

▼a

New York, NY :

▼b

Basic Books,

▼c

c2000.
300

▼a

xiii, 274 p. :

▼b

ill. ;

▼c

21 cm.
504

▼a

Includes bibliographical references and index.
505

0

▼a

Illustrations -- Acknowledgments -- Preface -- Pt. I. The world knot. 1. Consciousness: philosophical paradox or scientific object? ; 2. The special problem of consciousness ; 3. Everyman's private theater: ongoing unity, endless variety -- Pt. II. Consciousness and the brain. 4. Building a picture of the brain ; 5. Consciousness and distributed neural activity ; 6. Neural activity integrated and differentiated -- Pt. III. Mechanisms of consciousness: the Darwinian perspective. 7. Selectionism ; 8. Nonrepresentational memory ; 9. Perception into memory: the remembered present -- Pt. IV. Dealing with plethora: the dynamic core hypothesis. 10. Integration and reenetry ; 11. Consciousness and complexity ; 12. Determining where the knot is tied: the dynamic core hypothesis -- Pt. V. Untangling the knot. 13. Qualia and discrimination ; 14. The conscious and the unconscious -- Pt. VI. Observer time. 15. Language and the self ; 16. Thinking ; 17. Prisoners of description -- Notes -- Bibliography -- Credits -- Index.
650

0

▼a

Consciousness

▼x

Physiological aspects.
650

0

▼a

Brain

▼x

Physiology.
650

0

▼a

Mind and body.
650

0

▼a

Thought and thinking.
700

1

▼a

Tononi, Giulio.
945

▼a

KLPA
---
Holdings Information
No.
Location
Call Number
Accession No.
Availability
Due Date
Make a Reservation
Service

No.

1

Location

Science & Engineering Library/Sci-Info(Stacks2)/

Call Number

612.82 E21u

Accession No.

121243869

Availability

Available

Due Date

Make a Reservation

Service
Contents information
Author Introduction
제럴드 M. 에델만
(지은이)
미국 신경과학연구소 소장이자 신경과학연구재단의 창립자이다. 1972년 노벨생리의학상을 수상했고, 《신경 다윈주의Neural Darwinism》(1987년), 《위상생물학Topobiology》(1988년), 《기억된 현재The Remembered Present》(1989년), 《신경과학과 마음의 세계Bright Air, Brilliant Fire》(1992년) 등을 저술했다. 2014년 5월, 84세를 일기로 타계하였다.
줄리오 토노니
(지은이)
신경과학연구소 이론 및 실험신경생물학 연구실 선임연구원을 거쳐 현재 위스콘신 매디슨 대학교 수면 및 의식 연구소 소장을 맡고 있다. 올라프 스폰즈와 《자연선택론과 뇌Selectionism and the Brain》를 엮었으며, 《의식은 언제 탄생하는가Nulla di piu' grande》, 《파이Phi》 등을 저술했다.
Information Provided By: :

Table of Contents
Illustrations
Acknowledgments
Preface
Pt. I. The world knot. 1. Consciousness: philosophical paradox or scientific object? ; 2. The special problem of consciousness ; 3. Everyman''s private theater: ongoing unity, endless variety
Pt. II. Consciousness and the brain. 4. Building a picture of the brain ; 5. Consciousness and distributed neural activity ; 6. Neural activity integrated and differentiated
Pt. III. Mechanisms of consciousness: the Darwinian perspective. 7. Selectionism ; 8. Nonrepresentational memory ; 9. Perception into memory: the remembered present
Pt. IV. Dealing with plethora: the dynamic core hypothesis. 10. Integration and reenetry ; 11. Consciousness and complexity ; 12. Determining where the knot is tied: the dynamic core hypothesis
Pt. V. Untangling the knot. 13. Qualia and discrimination ; 14. The conscious and the unconscious
Pt. VI. Observer time. 15. Language and the self ; 16. Thinking ; 17. Prisoners of description
Notes
Bibliography
Credits
Index.