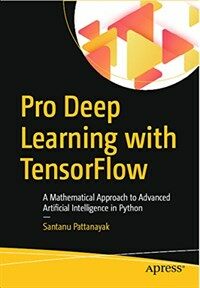 Pro deep learning with TensorFlow : a mathematical approach to advanced artificial intelligence in Python
000
00000nam u2200205 a 4500
001
000045936230
005
20190709115835
008
180322s2017 caua 001 0 eng d
020

▼a

9781484230954
040

▼a

211009

▼c

211009

▼d

211009
082

0

4

▼a

006.31

▼2

23
084

▼a

006.31

▼2

DDCK
090

▼a

006.31

▼b

P315p
100

1

▼a

Pattanayak, Santanu.
245

1

0

▼a

Pro deep learning with TensorFlow :

▼b

a mathematical approach to advanced artificial intelligence in Python /

▼c

Santanu Pattanayak.
260

▼a

[Berkeley, CA] :

▼b

Apress,

▼c

2017.
300

▼a

xxi, 398 p. :

▼b

ill. ;

▼c

26 cm.
500

▼a

Includes index.
505

0

▼a

Chapter 1: Mathematical Foundations -- Chapter 2: Introduction to Deep Learning Concepts and TensorFlow -- Chapter 3: Convolutional Neural Networks -- Chapter 4: Natural Language Processing Using Recursive Neural Networks -- Chapter 5: Unsupervised Learning with Restricted Boltzmann Machines and Auto Encoders -- Chapter 6: Advanced Neural Networks.
630

0

0

▼a

TensorFlow (Electronic resource).
650

0

▼a

Machine learning.
650

0

▼a

Artificial intelligence.
776

0

8

▼i

Online version:

▼a

Pattanayak, Santanu.

▼t

Pro deep learning with TensorFlow

▼z

9781484230961

▼w

(211009)000045989196
945

▼a

KLPA
---
Holdings Information
No.
Location
Call Number
Accession No.
Availability
Due Date
Make a Reservation
Service

No.

1

Location

Science & Engineering Library/Sci-Info(Stacks2)/

Call Number

006.31 P315p

Accession No.

121243867

Availability

Available

Due Date

Make a Reservation

Service
Contents information
Author Introduction
산타누 파타나야크
(지은이)
현재 GE에서 수석 데이터 과학자로 근무하고 있다. 데이터 분석 및 데이터 과학 분야에서 쌓은 6년의 경력을 비롯해 총 10년 동안 이 분야에서 근무했다. 또한 개발과 데이터베이스 기술 분야도 경험했다. GE에 입사하기 전에는 RBS, 캡게미니(Capgemini), IBM 등의 회사에서 근무했다. 인도의 콜카타 자다브푸르 대학에서 전기공학 학사를 받았고, 열렬한 수학 애호가다. 현재는 하이데라바드 소재 인도 기술연구소(IIT)에서 데이터 과학 석사 과정을 밟고 있다. 데이터 과학 해커톤(hackathon)과 캐글(Kaggle) 경연 대회에 참가하는 데 많은 시간을 투자하고 있으며, 전 세계 500등 이내에 위치한다. 인도의 웨스트 벵갈에서 태어나고 자랐으며, 현재 인도 벵갈루루에서 아내와 함께 살고 있다. http://www.santanupattanayak.com/에서 최근 활동을 확인할 수 있다.
Information Provided By: :

Table of Contents
Chapter 1: Mathematical Foundations
Chapter 2: Introduction to Deep Learning Concepts and TensorFlow
Chapter 3: Convolutional Neural Networks
Chapter 4: Natural Language Processing Using Recursive Neural Networks
Chapter 5: Unsupervised Learning with Restricted Boltzmann Machines and Auto Encoders
Chapter 6: Advanced Neural Networks.