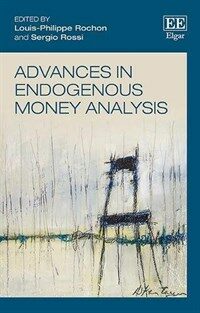 000
00000nam u2200205 a 4500
001
000045936135
005
20231128085537
008
180322s2017 enka b 001 0 eng d
020

▼a

9781845429430
040

▼a

211009

▼c

211009

▼d

211009
082

0

4

▼a

332.4

▼2

23
084

▼a

332.4

▼2

DDCK
090

▼a

332.4

▼b

A244
245

0

0

▼a

Advances in endogenous money analysis /

▼c

edited by Louis-Philippe Rochon, Sergio Rossi.
260

▼a

Cheltenham, UK :

▼b

Edward Elgar Publishing,

▼c

c2017.
300

▼a

xxii, 441 p. :

▼b

ill. ;

▼c

24 cm.
504

▼a

Includes bibliographical references and index.
650

0

▼a

Money.
650

0

▼a

Endogenous growth (Economics).
650

0

▼a

Monetary policy.
650

0

▼a

Keynesian economics.
700

1

▼a

Rochon, Louis-Philippe

▼0

AUTH(211009)158975.
700

1

▼a

Rossi, Sergio,

▼d

1967-

▼0

AUTH(211009)158976.
945

▼a

KLPA
---
Holdings Information
No.
Location
Call Number
Accession No.
Availability
Due Date
Make a Reservation
Service

No.

1

Location

Main Library/Western Books/

Call Number

332.4 A244

Accession No.

111788146

Availability

Available

Due Date

Make a Reservation

Service

No.

2

Location

Main Library/Western Books/

Call Number

332.4 A244

Accession No.

111864645

Availability

Available

Due Date

Make a Reservation

Service
Contents information
Table of Contents
Contents: Introduction: The need to discuss endogenous money again / Louis-Philippe Rochon and Sergio Rossi
Part I Endogenous money in the real world
1. Money endogeneity before central banking: perspectives from monetary history / Jane Knodell
2. Modern central bank operations: the general principles / Scott T. Fullwiler
3. The theory of endogenous money and the LM schedule: prelude to a reconstruction of IS-LM / Thomas I. Palley
4. Money and interest rate determination in a system with no reserve requirements / Sergio Rossi
5. New insights on the money-supply-endogeneity debate and the new ''equity'' multiplier: some evidence from the euro area / Yannis Panagopoulos and Aristotelis Spiliotis
6. Liquidity, finance, and economic growth: some unresolved issues for developing economies / Noemi Levy-Orlik
Part II Endogenous money in the economic thought
7. Money endogeneity and the quantity theory: the case of commodity-money / Allin Cottrell
8. Nicholas Kaldor and the war on monetarism / John E. King
9. The principle of effective demand and the state of post-Keynesian monetary economics / Colin Rogers
10. Endogenous money and the tyranny of demand and supply / Malcolm Sawyer
11. An evolutionary-institutionalist re-appraisal of the endogenous-money-supply theory / Christopher J. Niggle
12. Interest rate determination and endogenous money / John Smithin
Part III Endogenous money in post-Keynesian analysis
13. The analytical role of endogenous money and the horizontalist-structuralist debate / Peter Docherty
14. The horizontalist debate: lessons from New Zealand / Paul Dalziel
15. The rate of interest as a macroeconomic distribution parameter: horizontalism and post-Keynesian models of distribution and growth / Eckhard Hein
16. Assessing some structuralist claims through a coherent stock-flow framework / Marc Lavoie
17. Horizontalism and structuralism: a suggested re-interpretation / Louis-Philippe Rochon and Sergio Rossi
18. An essay on horizontalism, structuralism and historical time / Mark Setterfield
19. A revisitation of the debate between the horizontalist and structuralist analyses of endogenous money: single-period analysis versus continuation analysis / Giuseppe Fontana
Index.