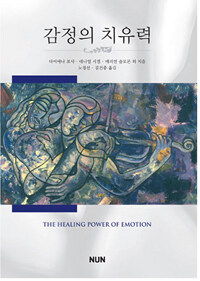 000
00000cam c2200205 c 4500
001
000045931011
005
20180222184133
007
ta
008
180221s2013 ulka b 001c kor
020

▼a

9788994347271

▼g

93180
035

▼a

(KERIS)BIB000013335923
040

▼a

241008

▼c

211006

▼d

211009
041

1

▼a

kor

▼h

eng
082

0

4

▼a

152.4

▼2

23
085

▼a

152.4

▼2

DDCK
090

▼a

152.4

▼b

2013z10
245

0

0

▼a

감정의 치유력 :

▼b

정서신경과학, 발달, 임상실제 /

▼d

다이애나 포샤,

▼e

대니얼 시겔,

▼e

매리언 솔로몬 외 지음 ;

▼e

노경선,

▼e

김건종 옮김
246

1

9

▼a

The healing power of emotion :

▼b

affective neuroscience, development, and clinical practice
246

3

9

▼a

Healing power of emotion
260

▼a

서울 :

▼b

NUN,

▼c

2013

▼g

(2017 3쇄)
300

▼a

372 p. :

▼b

삽화 ;

▼c

25 cm
504

▼a

참고문헌(p. 339-362)과 색인수록
650

0

▼a

Emotions
650

0

▼a

Affective neuroscience
650

0

▼a

Neuropsychology
650

2

▼a

Emotions
650

2

▼a

Mental Health
650

2

▼a

Mind-Body Therapies
650

2

▼a

Psychotherapy

▼x

methods
700

1

▼a

Fosha, Diana,

▼e

저

▼0

AUTH(211009)112580
700

1

▼a

Siegel, Daniel J.,

▼d

1957-,

▼e

저

▼0

AUTH(211009)108577
700

1

▼a

Solomon, Marion Fried,

▼e

저
700

1

▼a

노경선,

▼e

역

▼0

AUTH(211009)113839
700

1

▼a

김건종,

▼e

역

▼0

AUTH(211009)14339
900

1

0

▼a

포샤, 다이애나,

▼e

저
900

1

0

▼a

시겔, 대니얼,

▼e

저
900

1

0

▼a

솔로몬, 매리언,

▼e

저
945

▼a

KLPA
---
Holdings Information
No.
Location
Call Number
Accession No.
Availability
Due Date
Make a Reservation
Service

No.

1

Location

Main Library/Monographs(3F)/

Call Number

152.4 2013z10

Accession No.

111786629

Availability

Available

Due Date

Make a Reservation

Service
Contents information
Book Introduction
인간의 감정과 뇌 발달을 이해하는 데 공헌한 뛰어난 뇌과학자 및 임상가, 애착 연구자, 정신치료자들이 함께 저술한 책으로 마음의 치유를 위해서 뇌에 기반한 통찰과 우리가 늘 함께하는 감정을 어떻게 이용해야 하는지를 보여주며 감정에 대한 깊고 방대한 시선을 보여주어 임상과 과학 사이에서 탁월한 균형을 잡고 있다.
우리는 서로 관계를 맺고 살도록 태어났으며 이는 감정을 통해서 이루어진다. 우리 뇌와 몸과 마음은 여기에 활기를 불어넣어 주는 감정가 분리될 수 없으며 이렇게 감정은 생각과 행동, 나와 타인, 인간과 환경, 생물학과 문화가 만나는 교차점이다. <감정의 치유력>은 '노튼 대인관계 신경생물학 시리즈'로 복잡한 인간의 마음에 대한 신경생물학적 이해를 확장하는 최첨단의 다학제간 관점을 제시하고 있다. <감정의 치유력>;은 인간의 감정과 뇌 발달을 이해하는 데 공헌한 뛰어난 뇌과학자 및 임상가, 애착 연구자, 정신치료자들이 함께 저술한 책으로 마음의 치유를 위해서 뇌에 기반한 통찰과 우리가 늘 함께하는 감정을 어떻게 이용해야 하는지를 보여주며 감정에 대한 깊고 방대한 시선을 보여주어 임상과 과학 사이에서 탁월한 균형을 잡고 있다.
Information Provided By: :

Author Introduction
대니얼 J. 시겔
(지은이)
하버드 의과대학을 졸업하고 UCLA 의과대학 정신과 임상교수로 재직 중이며 마음챙김자각연구센터(Mindful Awareness Research Center)의 책임 대표이다. 한국에서 번역된 그의 책은 『마음을 여는 기술: 심리학이 알려주는 소통의 지도(Mindsight: The New Science of Personal Transformation)』와 『내 아이를 위한 브레인 코칭: 0세부터 12세까지 혁신적인 두뇌기반 양육 프로젝트(The Whole-Brain Child: 12 Revolutionary Strategies to Nurture Your Child's Developing Mind)』가 있다. 그의 웹사이트는 DrDanSiegel.com이다.
매리언 솔로몬
(지은이)
라이프스팬러닝연구소의 임상 실습 디렉터이자 LA 소재 UCLA Extension의 인문?과학?사회과학 학부의 교육 세미나 코디네이터로 활약하고 있다. 또한 캘리포니아대학 정신의학과의 '커팅 에지Cutting Edge' 컨퍼런스 시리즈의 공동 디렉터이다.
다이애나 포샤
(지은이)
is the developer of AEDP(Accelerated Experiential-Dynamic Psychotherapy), and the director of the AEDP Institute in New York City. She is the author of 『The Transforming Power of Affect』(Basic Books, 2000). 대니얼시겔 Daniel J. Siegel, MD is Clinical Professor of Psychiatry at the UCLA School of Medicine and co-editor of 『Healing Trauma: Attachment, Mind, Body, and Brain』(Norton, 2003). He is also the author of the internationally acclaimed, best-selling『 The Mindful Brain』(Norton, 2007). 매리언솔로몬 Marion F. Solomon, PhD is a Lecturer at the David Geffen School of Medicine at UCLA, and Senior Extension Faculty in the Department of Humanities, Sciences and Social Sciences at UCLA. She is the author of 『Narcissism and Intimacy』(Norton, 1992) and co-editor of 『Healing Trauma』(Norton, 2003).
노경선
(옮긴이)
연세대 의대를 졸업하고 미국으로 건너가 30여 년간 정신과 및 소아정신과 전문의로 활동하면서 콜롬비아 대학, 메릴랜드 주립대학, 일리노이 주립대학의 소아정신과 교수를 역임했으며 미국소아청소년정신의학회의 종신 펠로로 추대됐다. 한국에 돌아와서는 강북삼성병원 소아정신과장, 성균관대 의대 정신과 임상교수, 연세대 의대 정신과 임상교수, 대한소아청소년정신의학회 회장을 지내면서 국내 소아정신과 치료의 지평을 열었다는 평가를 얻었다. 이 분야 최고의 명의로, 현재는 정년 퇴임 후 연세대 의대, 성균관대 의대, 가톨릭대 의대 등에서 강의를 하면서 노경선정신치료연구소를 운영하고 있다. 지은 책으로는 『아이를 잘 키운다는 것』이 있고 옮긴 책으로는 『정신 치료와 임상적 직관』, 『애착 중심 가족 치료』, 『몸, 뇌, 마음』, 『환자와 치료자를 위한 실용정신분석』, 『감정의 치유력』, 『트라우마 탈출 8가지 열쇠』, 『단기역동정신치료의 최신 이론과 기법』 등이 있다.
김건종
(옮긴이)
서울대학교 의과대학을 졸업하고 동 대학병원에서 정신건강의학과 전공의 과정을 수료했다. 낙향하여 남도에 작은 의원을 열고 매일 같은 자리에 앉아 사람들을 만나고 있다. 퇴근하면 아이들과 놀고 음악을 듣고 책을 읽는다. 해야 하는 일과 하고 싶은 공부와 놀기 사이에서 균형을 맞추려 노력하고 있다. 밭 갈듯 꼼지락꼼지락 문장 만지는 일이 좋아 틈틈이 『자아와 방어기제』 『감정의 치유력』 『리딩 위니코트』 『정신적 은신처』 『수치 어린 눈』 『황홀』 등을 우리말로 옮겼다. 마음의 병리와 건강, 일상과 학문 사이의 간극을 연결해보려는 시도로 『마음의 여섯 얼굴』을 썼다.
Information Provided By: :

Table of Contents
서문 
제 1장 뇌 감정 체계와 정신적 삶의 질 
제 2장 정서인식과 표현에서 몸과 뇌의 상호작용 
제 3장 영아에서의 감정의 기능 
제 4장 다층적 의미 형성과 의식 이론의 이자적 확장 
제 5장 우뇌 정서 조절 
제 6장 통합으로서의 감정 
제 7장 감정과 인식의 작용 
제 8장 감정, 마음챙김, 움직임 
제 9장 낭만적 연인 사이의 감정 
제 10장 과도한 감정 
제 11장 가족치료에서 감정 소통 및 자율성과 친밀성의 성장 

References 
주제 색인 
이름 색인