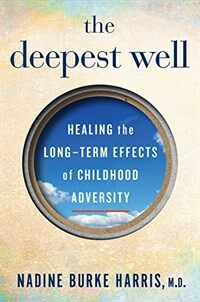 000
00000nam u2200205 a 4500
001
000045930455
005
20180212174412
008
180212s2018 mau b 001 0 eng d
020

▼a

9780544828704
040

▼a

211009

▼c

211009

▼d

211009
082

0

4

▼a

618.92/8521

▼2

23
084

▼a

618.928521

▼2

DDCK
090

▼a

618.928521

▼b

B959d
100

1

▼a

Burke Harris, Nadine,

▼d

1975-.
245

1

4

▼a

The deepest well :

▼b

healing the long-term effects of childhood adversity /

▼c

Nadine Burke Harris, M.D..
260

▼a

Boston :

▼b

Houghton Mifflin Harcourt,

▼c

c2018.
300

▼a

xvi, 251 p. ;

▼c

24 cm.
504

▼a

Includes bibliographical references and index.
650

0

▼a

Psychic trauma in children

▼x

Complications.
650

0

▼a

Post-traumatic stress disorder in children

▼x

Complications.
650

0

▼a

Adult child abuse victims

▼x

Health and hygiene.
945

▼a

KLPA
---
Holdings Information
No.
Location
Call Number
Accession No.
Availability
Due Date
Make a Reservation
Service

No.

1

Location

Science & Engineering Library/Sci-Info(Stacks2)/

Call Number

618.928521 B959d

Accession No.

121243474

Availability

Available

Due Date

Make a Reservation

Service
Contents information
Author Introduction
네이딘 버크 해리스
(지은이)
소아과 의사이자 샌프란시스코의 베이뷰 헌터스 포인트에 있는 '아이들을 위한 웰니스 센터The Center for Youth Wellness' 설립자다. 아동기에 받은 극심한 스트레스를 성인병과 정신 건강의 위험 요소로 다루는 혁신적인 접근으로 세계적인 관심을 받고 있다. 그가 아동을 대상으로 실시한 아동기의 부정적 경험Adverse Childhood Experience 검사는 어린이가 신체 및 정신적 학대, 약물 남용, 빈곤 및 정신 질환과 관련된 경험이 있는지 보호자에게 묻고 부정적 경험의 정도를 0~10점으로 평가한다. 이 점수를 기초로 어린이가 건강한 성인으로 성장할 수 있도록 어린이와 보호자에게 적절한 사회적 뒷받침과 치료가 제공되어야 한다고 주장한다. 실제로 '아이들을 위한 웰니스 센터'에서는 아이들을 위한 건강 프로그램을 아동기의 부정적 경험 점수를 토대로 실시하고 성과를 거두고 있다. 캘리포니아대학교 버클리 캠퍼스에서 생물학을 전공했고, 캘리포니아대학교 데이비스 캠퍼스에서 의학을 공부했다. 하버드의학대학원에서 공중보건 석사 학위를 받았으며 스탠퍼드대학교 병원에서 소아과 레지던트로 수련했다. 캘리포니아주 최초로 수석 의사the state's first surgeon general로 임명되어 공중보건 수장으로서 예방의학 관점에서 캘리포니아 지역의 주민의 건강을 돌보고 있다. '어린 시절의 트라우마가 평생 동안 건강에 미치는 영향'을 주제로 진행한 TED 강연은 약 800만 회 조회되었으며, 이 책 《불행은 어떻게 질병으로 이어지는가》는 출간 즉시 아마존 베스트셀러에 이름을 올리며 학계와 보건 당국은 물론 독자들의 큰 지지를 받았다.
Information Provided By: :

Table of Contents
Discovery. Something''s just not right -- To go forward, go back -- Forty pounds -- Diagnosis. The drive-by and the bear -- Dynamic disruption -- Lick your pups! -- Prescription. The ACE antidote -- Stop the massacre! -- Sexiest man alive -- Maximum-strength bufferin'' -- Revolution. The rising tide -- Listerine -- In the rearview -- Epilogue -- Appendix 1: What''s my ACE score? -- Appendix 2: CYW Adverse Childhood Experiences Questionnaire.