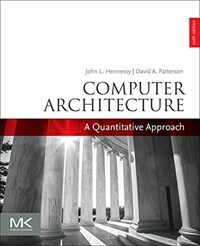 000
00000nam u2200205 a 4500
001
000045926625
005
20190327133011
008
180111s2019 maua b 001 0 eng d
020

▼a

9780128119051
020

▼a

9780123838728 (pbk.)
040

▼a

211009

▼c

211009

▼d

211009
082

0

0

▼a

004.2/2

▼2

23
084

▼a

004.22

▼2

DDCK
090

▼a

004.22

▼b

P317c6
100

1

▼a

Hennessy, John L.
245

1

0

▼a

Computer architecture :

▼b

a quantitative approach /

▼c

John L. Hennessy, David A. Patterson ; with contributions by Krste Asanović ́... [et al.].
250

▼a

6th ed.
260

▼a

Waltham, MA :

▼b

Morgan Kaufmann/Elsevier,

▼c

c2019.
300

▼a

xxix, 617, [284] p. :

▼b

ill. ;

▼c

24 cm.
504

▼a

Includes bibliographical references and index.
650

0

▼a

Computer architecture.
700

1

▼a

Patterson, David A.
700

1

▼a

Asanović, Krste.
945

▼a

KLPA
---
Holdings Information
No.
Location
Call Number
Accession No.
Availability
Due Date
Make a Reservation
Service

No.

1

Location

Main Library/Western Books/

Call Number

004.22 P317c6

Accession No.

111807038

Availability

Available

Due Date

Make a Reservation

Service

No.

2

Location

Science & Engineering Library/Sci-Info(Stacks2)/

Call Number

004.22 P317c6

Accession No.

121243001

Availability

In loan

Due Date

2022-06-23

Make a Reservation

Available for Reserve

Service
No.
Location
Call Number
Accession No.
Availability
Due Date
Make a Reservation
Service

No.

1

Location

Main Library/Western Books/

Call Number

004.22 P317c6

Accession No.

111807038

Availability

Available

Due Date

Make a Reservation

Service
No.
Location
Call Number
Accession No.
Availability
Due Date
Make a Reservation
Service

No.

1

Location

Science & Engineering Library/Sci-Info(Stacks2)/

Call Number

004.22 P317c6

Accession No.

121243001

Availability

In loan

Due Date

2022-06-23

Make a Reservation

Available for Reserve

Service
Contents information
Author Introduction
데이비드 패터슨
(지은이)
그의 가족 중에서는 대학을 졸업(1969 A. B. UCLA)한 첫 번째 사람이며 공부를 즐겼기에 PhD(1976 UCLA)까지 멈추지 않았다. 이후 1977년도에 U.C.Berkeley에 부임하였으며 Berkeley CS 학부장, CRA 사장, ACM 회장을 역임하였고 200편의 논문과 5권의 책을 집필하고 서른 개 가량의 상을 받았다. 현재 그는 RAD Lab과 ParLab의 Director이다.
존 헤네시
(지은이)
2019년 현재 구글 모회사 알파벳의 이사회 의장이자 나이트-헤네시재단의 대표다. 1977년 스탠퍼드대학교 조교수로 부임한 뒤 같은 대학교 컴퓨터시스템연구소 소장, 학과장, 공대 학장, 부총장 등을 거쳤다. 2000년에는 10대 총장으로 임명되어 2016년까지 역임했으며, 총장으로 재임하는 동안 탁월한 리더십으로 스탠퍼드를 세계 최고의 대학으로 성장시켰고, 일반적인 대학 총장의 범주를 넘어 학계와 업계 그리고 사회 전반에 걸쳐 영향력을 발휘했다. 전기공학과 컴퓨터과학 분야의 세계적 석학으로서 교수로 재직하는 동안 벤처 기업 '밉스 컴퓨터 시스템스'를 설립해 현재 컴퓨터 칩의 99퍼센트에 쓰이는 RISC(축소 명령 집합 컴퓨터) 아키텍처를 개발하고 상용화했으며, 그 공로로 컴퓨터 업계의 노벨상으로 불리는 튜링상을 공동 수상했다. 구글 창립자들인 세르게이 브린과 래리 페이지를 비롯한 여러 제자를 길러 내는 등 인재 양성에도 힘을 쏟았다. 또 구글과 시스코 시스템스 등의 이사진으로 오랫동안 활동하며 디지털 혁명에 공헌했다. 2016년 총장 퇴임 이후에는 나이키 회장 필 나이트와 함께 나이트-헤네시 장학 사업을 설립하고 7억 5000만 달러 규모의 장학 기금을 조성해 스탠퍼드 대학원생들의 학업을 지원하고 있다. 나이트-헤네시 장학금 첫 수여를 기념해 출간한 책 《어른은 어떻게 성장하는가》에서 존 헤네시는 자신의 오랜 경험을 통해 얻은 '성장의 조건'을 10가지로 집약해 새로운 시대를 열어 갈 이들에게 전한다.
Information Provided By: :

Table of Contents
Fundamentals of quantitative design and analysis -- Memory hierarchy design -- Instruction-level parallelism and its exploitation -- Data-level parallelism in vector, SIMD, and GPU architectures -- Thread-level parallelism -- Warehouse-scale computers to exploit request-level and data-level parallelism -- Instruction set principles -- Review of memory hierarchy -- Pipelining: basic and intermediate concepts -- Online appendices. Storage systems -- Embedded systems -- Interconnection networks -- Vector processors in more depth -- Hardware and software for VLIW and EPIC -- Large-scale multiprocessors and scientific applications -- Computer arithmetic -- Survey of instruction set architectures -- Historical perspectives and references.