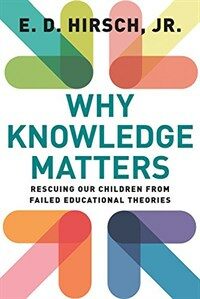 000
00000cam u2200205 a 4500
001
000045925306
005
20180105172939
008
180104s2016 maua b 001 0 eng d
010

▼a

2016012718
020

▼a

9781612509525 (pbk.)
020

▼a

9781612509532 (library edition)
035

▼a

(KERIS)REF000018013141
040

▼a

MH/DLC

▼b

eng

▼c

MH

▼e

rda

▼d

DLC

▼d

211009
050

0

0

▼a

LB1570

▼b

.H57 2016
082

0

0

▼a

372

▼2

23
084

▼a

372

▼2

DDCK
090

▼a

372

▼b

H669w
100

1

▼a

Hirsch, E. D.

▼q

(Eric Donald),

▼d

1928-.
245

1

0

▼a

Why knowledge matters :

▼b

rescuing our children from failed educational theories /

▼c

E. D. Hirsch, Jr.
260

▼a

Cambridge, Massachusetts :

▼b

Harvard Education Press,

▼c

c2016.
300

▼a

270 p. :

▼b

ill. ;

▼c

23 cm.
504

▼a

Includes bibliographical references and index.
505

0

▼a

Prologue: the tyranny of three ideas -- The invalid testing of students -- The scapegoating of teachers -- Preschool and the persistence of fadeout -- The dilution of the elementary curriculum -- The persistence of achievement gaps -- The tribulations of the common core -- The educational fall of France -- The knowledge-based school -- Epilogue: breaking free -- Appendix i: the origins of natural-development theories of education -- Appendix ii: translations of French reports -- Appendix iii: the Japanese early science curriculum.
520

▼a

In this provocative book, influential scholar E.D. Hirsch, Jr., addresses critical issues in contemporary education reform - over-testing, teacher blaming, preschool fadeout, and the persistence of achievement gaps over time. In each case, he shows how cherished truisms about education and child development have led to unintended and negative consequences. Drawing on recent findings in neuroscience and new data from France, he provides new evidence for the argument that a coherent, knowledge-based elementary curriculum is essential to providing the foundations for children's life success and ensuring equal opportunity for students of all backgrounds.
650

0

▼a

Education, Elementary

▼x

Curricula.
650

0

▼a

Educational change.
650

0

▼a

Educational accountability.
650

0

▼a

Education

▼x

Standards.
650

0

▼a

Education

▼x

Aims and objectives.
650

0

▼a

Educational innovations.
945

▼a

KLPA
---
Holdings Information
No.
Location
Call Number
Accession No.
Availability
Due Date
Make a Reservation
Service

No.

1

Location

Main Library/Western Books/

Call Number

372 H669w

Accession No.

111783830

Availability

Available

Due Date

Make a Reservation

Service
Contents information
Author Introduction
E. D. Hirsch, Jr.
(지은이)
1928년 미국 멤피스에서 태어나 코넬대와 예일대에서 영문학을 전공하고 최근까지 약 50년 간 미국의 예일대와 버지니아대에서 영문학 교수로 재직했다. 영문학 박사이자 미국을 대표하는 교육자이고, 문학 비평가 겸 베스트셀러 작가이기도 한 허쉬는 중고등학생을 포함해 모든 미국인들이 각 과목별로 반드시 알아야 하는 상식을 담은 《문화 교양 사전Cultural Literacy: What Every American Needs to Know》의 저자로도 잘 알려져 있다. 주요 저서로는 전 세계적으로 4천만 부 이상 팔린 미국 초등 교과서 핵심 지식(The Core Knowledge) 시리즈와《The Philosophy of Composition》《The Aims of Interpretation》《The Making of Americans: Democracy and Our Schools》《The Schools We Need: And Why We Don't Have Them》등이 있다.
Information Provided By: :

Table of Contents
Prologue: the tyranny of three ideas -- The invalid testing of students -- The scapegoating of teachers -- Preschool and the persistence of fadeout -- The dilution of the elementary curriculum -- The persistence of achievement gaps -- The tribulations of the common core -- The educational fall of France -- The knowledge-based school -- Epilogue: breaking free -- Appendix i: the origins of natural-development theories of education -- Appendix ii: translations of French reports -- Appendix iii: the Japanese early science curriculum.