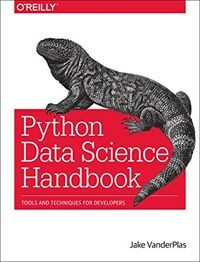 000
00000nam u2200205 a 4500
001
000045920437
005
20171113151104
008
171113s2017 caua 001 0 eng d
010

▼a

2017385426
020

▼a

9781491912058 (paperback)
020

▼a

1491912057 (paperback)
035

▼a

(KERIS)REF000018433214
040

▼a

BTCTA

▼b

eng

▼e

rda

▼c

BTCTA

▼d

YDXCP

▼d

OCLCQ

▼d

CLE

▼d

BDX

▼d

JRZ

▼d

OCLCF

▼d

CHVBK

▼d

OCLCO

▼d

TMA

▼d

CUY

▼d

NZHMA

▼d

DLC

▼d

211009
050

0

0

▼a

QA76.73.P98

▼b

V365 2016
082

0

4

▼a

006.312

▼2

23
084

▼a

006.312

▼2

DDCK
090

▼a

006.312

▼b

V239p
100

1

▼a

Vanderplas, Jacob T.
245

1

0

▼a

Python data science handbook :

▼b

essential tools for working with data /

▼c

Jake VanderPlas.
260

▼a

Sebastopol, CA :

▼b

O'Reilly Media, Inc.,

▼c

2017.
300

▼a

xvi, 529 p. :

▼b

ill. ;

▼c

24 cm.
500

▼a

Includes index.
505

0

▼a

IPython: beyond normal Python -- Introduction to NumPy -- Data manipulation with Pandas -- Visualization with Matplotlib -- Machine learning.
650

0

▼a

Python (Computer program language).
650

0

▼a

Data mining.
945

▼a

KLPA
---
Holdings Information
No.
Location
Call Number
Accession No.
Availability
Due Date
Make a Reservation
Service

No.

1

Location

Science & Engineering Library/Sci-Info(Stacks2)/

Call Number

006.312 V239p

Accession No.

121242308

Availability

Available

Due Date

Make a Reservation

Service
Contents information
Author Introduction
Table of Contents
Copyright; Table of Contents; Preface; What Is Data Science?; Who Is This Book For?; Why Python?; Python 2 Versus Python 3; Outline of This Book; Using Code Examples; Installation Considerations; Conventions Used in This Book; O''Reilly Safari; How to Contact Us; Chapter 1. IPython: Beyond Normal Python; Shell or Notebook?; Launching the IPython Shell; Launching the Jupyter Notebook; Help and Documentation in IPython; Accessing Documentation with?; Accessing Source Code with??; Exploring Modules with Tab Completion; Keyboard Shortcuts in the IPython Shell; Navigation Shortcuts.
Text Entry Shortcuts; Command History Shortcuts; Miscellaneous Shortcuts; IPython Magic Commands; Pasting Code Blocks: %paste and %cpaste; Running External Code: %run; Timing Code Execution: %timeit; Help on Magic Functions:?, %magic, and %lsmagic; Input and Output History; IPython''s In and Out Objects; Underscore Shortcuts and Previous Outputs; Suppressing Output; Related Magic Commands; IPython and Shell Commands; Quick Introduction to the Shell; Shell Commands in IPython; Passing Values to and from the Shell; Shell-Related Magic Commands; Errors and Debugging; Controlling Exceptions: %xmode.
Debugging: When Reading Tracebacks Is Not Enough; Profiling and Timing Code; Timing Code Snippets: %timeit and %time; Profiling Full Scripts: %prun; Line-by-Line Profiling with %lprun; Profiling Memory Use: %memit and %mprun; More IPython Resources; Web Resources; Books; Chapter 2. Introduction to NumPy; Understanding Data Types in Python; A Python Integer Is More Than Just an Integer; A Python List Is More Than Just a List; Fixed-Type Arrays in Python; Creating Arrays from Python Lists; Creating Arrays from Scratch; NumPy Standard Data Types; The Basics of NumPy Arrays; NumPy Array Attributes.
Array Indexing: Accessing Single Elements; Array Slicing: Accessing Subarrays; Reshaping of Arrays; Array Concatenation and Splitting; Computation on NumPy Arrays: Universal Functions; The Slowness of Loops; Introducing UFuncs; Exploring NumPy''s UFuncs; Advanced Ufunc Features; Ufuncs: Learning More; Aggregations: Min, Max, and Everything in Between; Summing the Values in an Array; Minimum and Maximum; Example: What Is the Average Height of US Presidents?; Computation on Arrays: Broadcasting; Introducing Broadcasting; Rules of Broadcasting; Broadcasting in Practice.
Comparisons, Masks, and Boolean Logic; Example: Counting Rainy Days; Comparison Operators as ufuncs; Working with Boolean Arrays; Boolean Arrays as Masks; Fancy Indexing; Exploring Fancy Indexing; Combined Indexing; Example: Selecting Random Points; Modifying Values with Fancy Indexing; Example: Binning Data; Sorting Arrays; Fast Sorting in NumPy: np.sort and np.argsort; Partial Sorts: Partitioning; Example: k-Nearest Neighbors; Structured Data: NumPy''s Structured Arrays; Creating Structured Arrays; More Advanced Compound Types; RecordArrays: Structured Arrays with a Twist; On to Pandas.